https://www.seattletimes.com/nation-world/nation/trump-administration-official-who-questions-global-warming-to-run-key-u-s-climate-program/
By Brady Dennis, Jason Samenow and Andrew Freedman
The Washington Post
David Legates, a meteorologist who claims that excess carbon dioxide in the atmosphere is good for plants and that global warming is harmless, has been tapped to run the federal agency that oversees a major scientific report on how climate change is affecting the United States.
Legates, a controversial figure who joined the National Oceanic and Atmospheric Administration (NOAA) in September, will move into a new slot as head of the U.S. Global Change Research Program as early as Thursday, according to two people familiar with the move who spoke on the condition of anonymity because they were not authorized to discuss it publicly.
Legates could not be reached for comment.
His views on climate run counter to the scientific consensus that human activities – primarily the burning of fossil fuels – have generated greenhouse gases that are causing global temperatures to rise, ice sheets to melt, sea levels to rise and other irreversible damage to the planet.
A NOAA spokesman declined to confirm Legates's move.
The shift would put Legates in position at least to influence the authors chosen to craft the National Climate Assessment, a congressionally mandated report that periodically examines climate change damage and includes projections for the United States, down to the local and regional level.
The assessment is used by federal and state governments and industry to make decisions about infrastructure projects, to allocate resources and to plan for disasters.
The version released in 2018 has been cited in court cases in which cities, states and individuals sued fossil fuel companies and the U.S. government for failing to reduce greenhouse gas emissions despite knowing about the severity of the problem.
That same assessment was released under the Trump administration but largely completed by federal agencies and outside scientists under former president Barack Obama. It angered the White House by warning of how the effects of human-caused climate change already were fueling deadlier wildfires, increasingly intense hurricanes and brutal heat waves.
The report's authors warned that climate change poses a severe threat to Americans' health and pocketbooks, as well as to the country's infrastructure and natural resources.
"I don't believe it," President Donald Trump later said of those findings.
A former NOAA official, who spoke on the condition of anonymity, said Legates's appointment made little sense.
"Sometimes these moves are made at end of an administration. It's like titling at a windmill: It's a nice move to your base, but there's no substance to it," the former agency official said.
As a political appointee, Legates would serve until the end of Trump's term. The position of executive director of the research program is typically filled by someone on loan from another agency, and in this case Legates would be coming from NOAA.
…
Myron Ebell, a climate change skeptic at the Competitive Enterprise Institute who is close to the administration, called Legates "an excellent scientist" and said he'd make a successful executive director of the office that produces the assessment.
Legates has a long record of criticizing fundamental findings of climate science studies. He has been affiliated with the Heartland Institute, a free market think tank that hosts an annual conference bringing together climate change doubters. More recently, he has also questioned the accuracy of models projecting the severity of the coronavirus pandemic, arguing in an April essay that models of potential covid-19 deaths could lead to unsound government policies and economic shutdowns.
#
Related:
Morano in Bloomberg News: 'Trump should undertake a hiring bonanza of skeptical climate scientists' in Govt – 'A scientific version of affirmative action hiring practices'
"The Trump administration should undertake a hiring bonanza of skeptical climate scientists to fill positions ," said Marc Morano, a former Republican staffer for the Senate Environment and Public Works Committee who runs the ClimateDepot.com website. "I expect to see the Trump administration partake in a scientific version of affirmative action hiring practices in the government for the next 10 weeks."
#
Also in Yahoo News here.
White House plans to put 'denier' in charge of climate program
Finally! Trump Admin is 'listening to the science' & seeks to rebut previous unscientific 'extreme scenario' National Climate Assessment
NYT: Marc Morano, a prominent denier of established climate change science, cheered the departure of Mr. Kuperberg and said he expects Mr. Legates to be named. "The Trump administration is 'listening to the science' by clearing out the anti-science promoters of extreme climate scenarios. These moves are long, long overdue," he said.
…
Update: Fed climate con job : Obama's UN Paris negotiator & green activists helped prepare dire federal climate report – Obama official helped prepare dire National Climate Assessment  – "The National Climate Assessment report reads like a press release from environmental pressure groups — because it is," said Marc Morano, author of "The Politically Incorrect Guide to Climate Change."
Morano described two of the authors — Texas Tech professor Katharine Hayhoe and Donald J. Wuebbles of the University of Illinois — as "longtime Union of Concerned Scientist activists." "These are not 'Trump's own scientists' as the media likes to claim," Mr. Morano said. "The key authors are in fact left-wing environmental activists with the Union of Concerned Scientists, Center for American Progress, and the Obama Administration. And they cited outlier studies funded by Steyer and [Michael] Bloomberg."
Scientists rip new federal climate report as 'tripe' – 'embarrassing' – 'systematically flawed' – Key claim based on study funded by Steyer & Bloomberg
'Ridiculous Climate Prophecy': How the UN & National Climate Assessment used 'fairy tail' extreme climate models to scare the public
Donna Laframboise: "RCP8.5, I think of it as Ridiculous Climate Prophecy" – "Fairy tales to describe how humans might impact the climate by the year 2100."
It can't become reality, they point out, unless humanity burns five times more coal than we currently do, "an amount larger than some estimates of recoverable coal reserves." Whenever RCP8.5 gets mentioned, they say, it should be clearly labelled as an "unlikely worst case."
Incredibly, that 'major scientific report' (National Climate Assessment) takes RCP8.5 seriously. Calling it a "core scenario," page 6 of the report presents it as a realistic possibility rather than a farfetched hallucination:
"RCP8.5 is generally associated with higher population growth, less technological innovation, and higher carbon intensity of the global energy mix."
This means the report is junk. No matter how many federal agencies were involved in its creation. But the New York Times didn't tell readers that.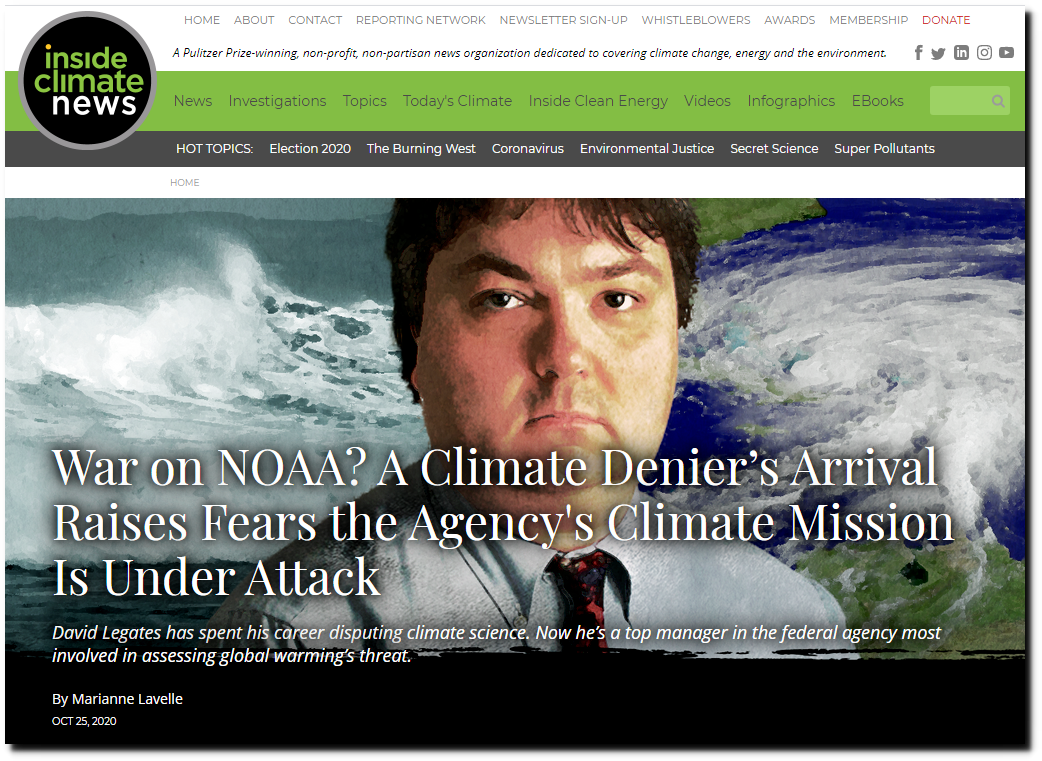 'You are a murderer!' – 'You are an evil fat man!' Listen: Nasty voicemails greet NOAA's new skeptical climate scientist Dr. David Legates
Matt Briggs: "Then came the hate calls. I have permission for you to delight in this mad woman's ravings." (Listen at bottom of this page:)
Listen to hate voice mails left on Dr. Legates phone:
Selected Excerpts: "You have not heard the last of me. Don't you dare have anything to do with NOAA. Somebody who doesn't believe in climate change?!
"Lose some weight, you're fat. Worse than that, you are stupid!"
"You are an evil disgusting man and you will hear more from me. Shame on you and lose some weight!
"Trump is a murderer!" … "You are a murderer."
She then begins to sob. Then adds climate change is "killing people because you don't care, because you are an evil fat man! Don't you dare go head up NOAA!"
Prominent skeptic set for NOAA Position: CLIMATOLOGIST DR. DAVID LEGATES SCARES MEDIA
Cheers! NPR: 'Scientist Who Denies Climate Change Hired At NOAA By Trump Administration' – Great news for science! Climatologist Dr. David Legates to join NOAA
NY Times Disparages the Scientific Method While Attacking NOAA Scientists