ClimateDepot.com publisher Marc Morano argues mainstream media is skewing temperature data to make it an issue on climate change on 'Varney & Co.'
Fox Business – Varney & Co. – Broadcast July 19, 2023 
Stuart Varney: Marc Morano from the Climate Depot joins me now. We just heard in Phoenix, they had 19 straight days above 110 degrees. Now, wait, you're a climate skeptic, is this not the result of climate change?
Marc Morano: "This is not outside the normal bounds of hot summer weather. Yes, it's a record year. It could be one of the hottest, but here's the thing. Joe Biden's EPA has a chart of the heatwave index going back to the 1930s. The 1930s are probably 8 to 10 or 12 times hotter in the United States than anything we're currently seeing.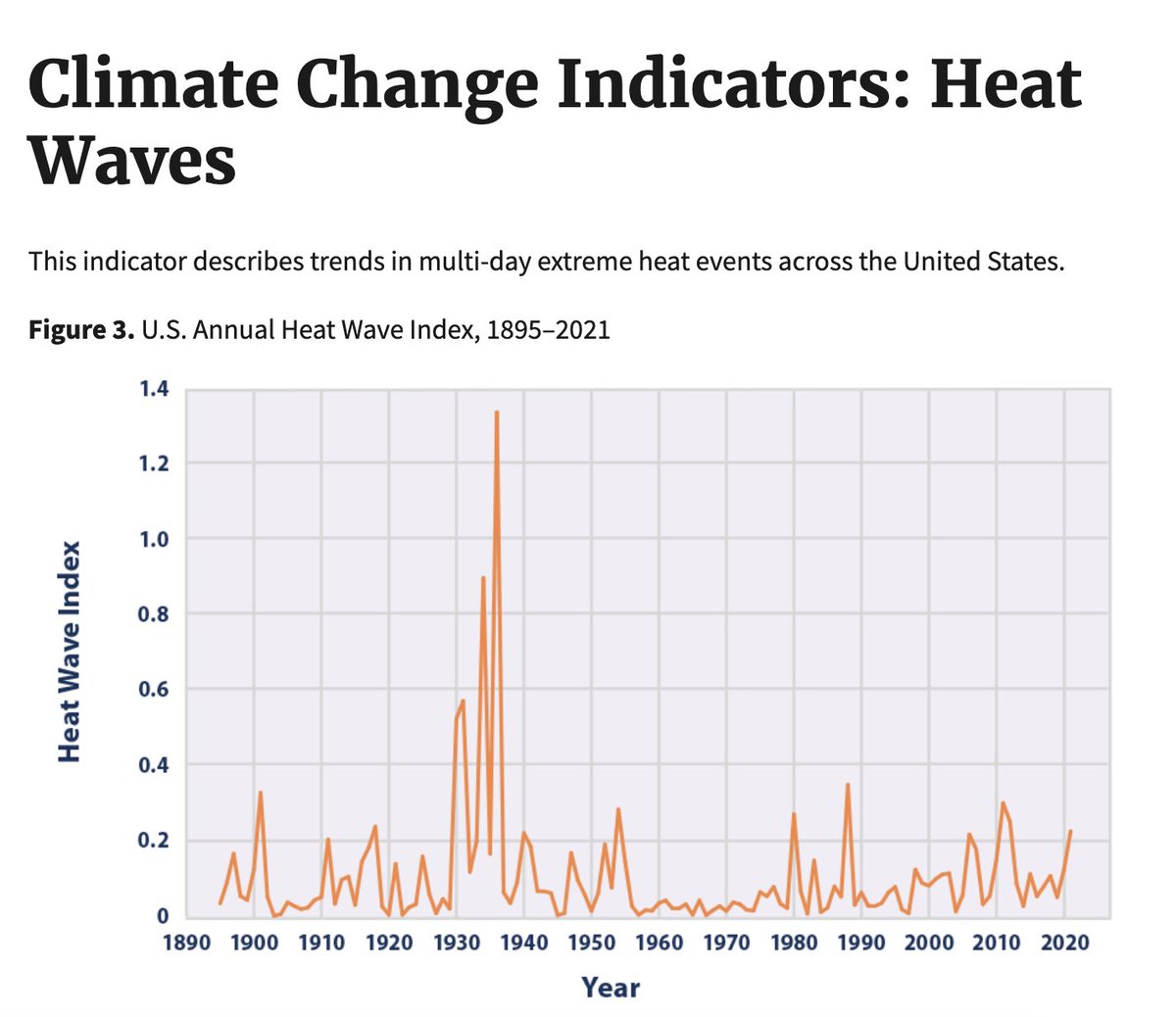 75% of all state temperature records were broken before the 1950s — these records still stand. Now. This is a way that statistics — when you heard things like CNN or New York Times or others have said this is the 'hottest' in Earth's history. Those claims were based on climate models, which even the NOAA –National Oceanic Atmospheric Administration — backed away from. They are weaponizing hot summers,  heat waves to turn it into some kind of call for climate action. This is not outside the bounds of normal weather, I'm sorry.
Stuart Varney: Wait a second. What are you telling me that this extraordinary weather which has been prevalent around the world, you're telling me that that is not the result of CO2 emissions?
Marc Morano: "It possibly could have impacted the temperatures, absolutely. But keep in mind thermometer data went on in about the 1880s and we were coming out of a Little Ice Age. Now hold on. The 1930s is what Biden's EPA shows is the hottest heat waves in the US. 80% of our carbon dioxide globally came after World War Two — after 1940. So to blame the 1930s on climate change when there were worse heat waves doesn't add up here.
Stuart Varney: Marc. You're losing me here. Look. How many days is it straight in Phoenix? What is it, 19 straight days above 110 degrees? There's nothing like that in the 1930s.
Marc Morano:  Absolutely, you can go back and look. 1936 was the hottest year, according to this EPA data
.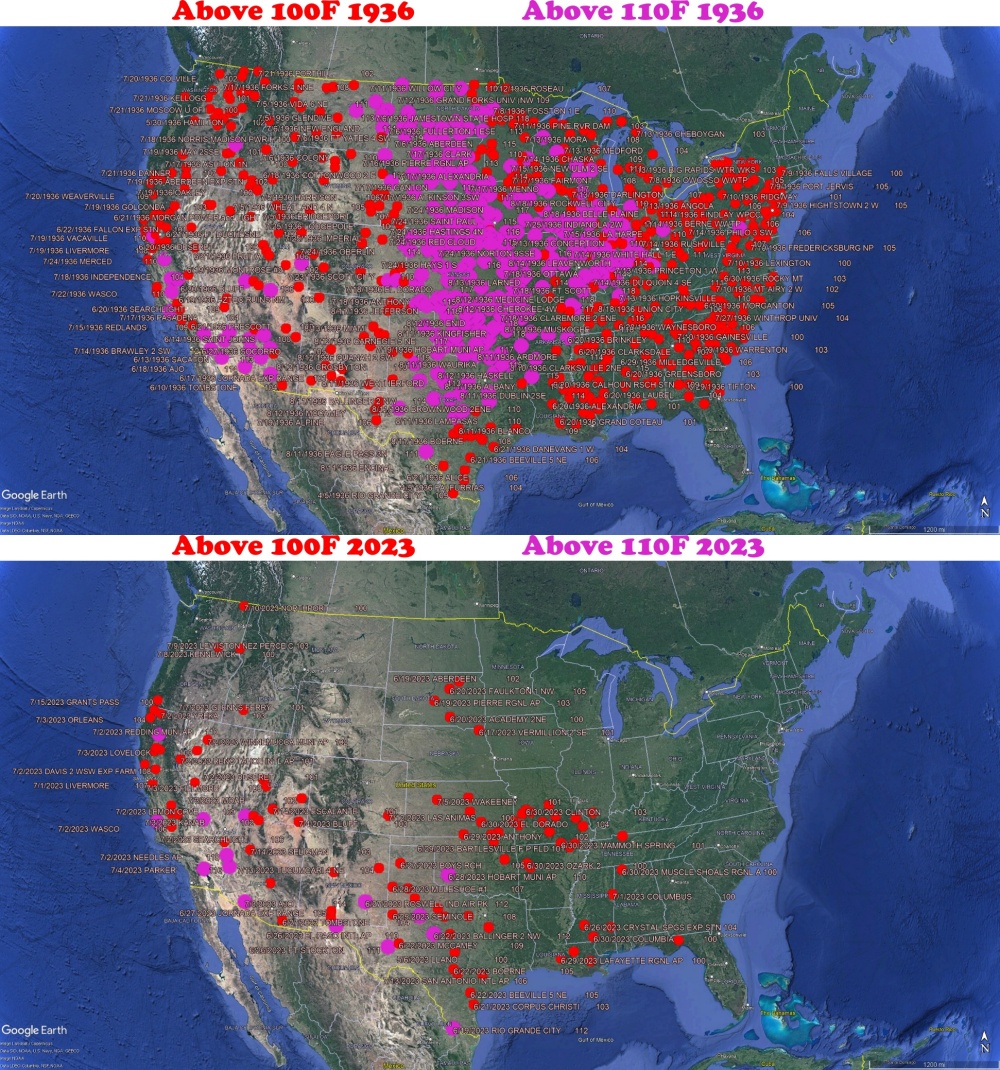 Now hold on. When you're looking at these, you're anecdotally picking a city, Stuart. This is what they do. They can do this with floods, droughts. Meanwhile, even the UN acknowledges all this extreme weather is either declining or no trend on climate timescales, 50 to 100 years. Any weather event you can get and say 'Look at this city here' or 'Look at this area of California. This is unprecedented drought, this is climate change.' You want to look at it globally. And if you look at it globally, in the first United Nations report in 1990, it had that Medieval Warm Period much warmer than today.
They then later said quote, 'We have to get rid of the Medieval Warm Period.' So they altered data, cooled the past, and erased it. There is now an effort, Stuart, led by a scientist in Texas, Andrew Dessler, who wants to get rid of the 1930s EPA chart because it has the same problem. You can't blame today's heat waves on CO2 when heat waves were worse in the United States before 80% of our CO2 went into the atmosphere. Sorry…
Stuart Varney: It's a good debate. This is a very good debate. And I'm glad you're on the show to make it. That's a good point.
Marc Morano: One last thing…
Stuart Varney: I'm terribly sorry. I'm out of time. I'm very sorry. I'm out of time. We'll bring you back again. It's a good debate, and I want more of it. Marc Morano.
#
'Unprecedented Propaganda': 'Phoenix previous record of 18 consecutive days over 110F was set in 1974, the same week Time Mag was warning of new ice age'
Phoenix previous record of 18 consecutive days over 110F was set the same week Time Magazine was warning of new ice age.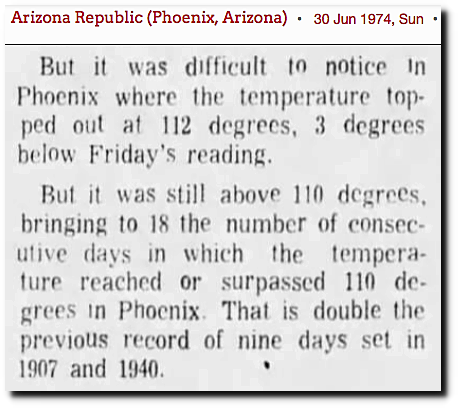 30 Jun 1974, Page 31 – Arizona Republic at Newspapers.com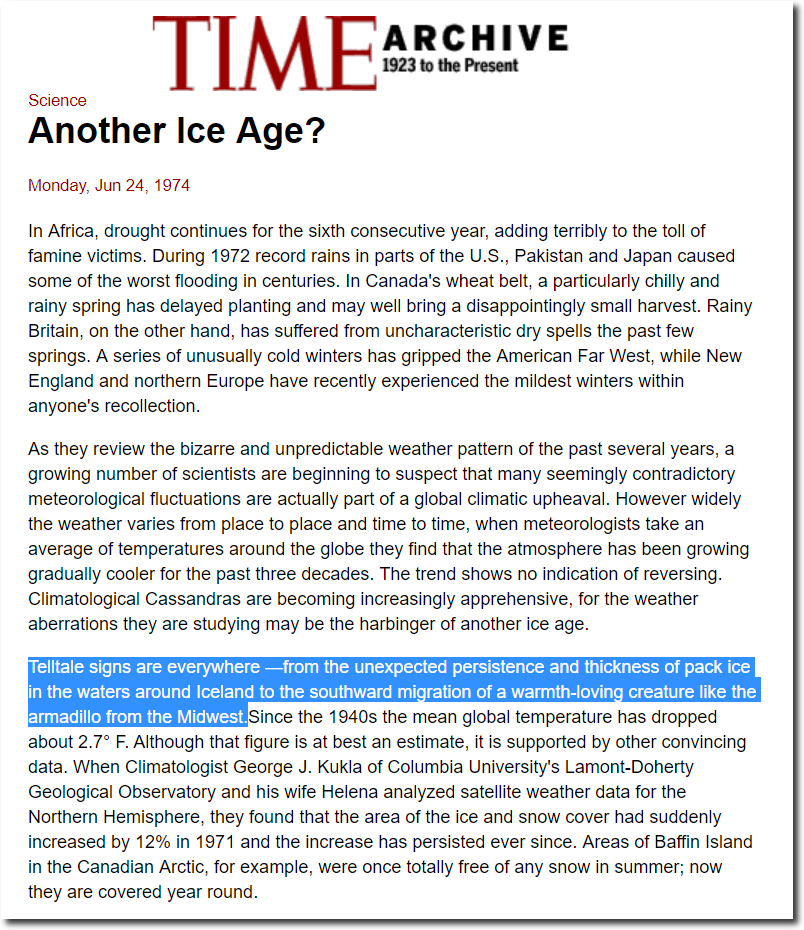 TIME Magazine Archive Article — Another Ice Age? — Jun. 24, 1974
#
10,000 stations times 100 days means 1,000,000 opportunities to break a record. The odds of breaking a daily temperature record at each station on each day is 100:1 – so about 10,000 records would be set during the summer.
I used to be a high school teacher and am very patient https://t.co/qbSAoreoVI

— Tony Heller (@TonyClimate) July 20, 2023
The percent of the US to reach 95F (35C) this year continues at a record low 36%, down from 93% in 1931#ClimateScam

ftp://ftp.ncdc.noaa.gov/pub/data/ghcn/daily/ghcnd_hcn.tar.gz pic.twitter.com/0CMyKATltt

— Tony Heller (@TonyClimate) July 20, 2023
Morano: "The climate establishment is now reduced to hyping NOT the hottest decade or the hottest year, but the hottest day! We have always been told that one record cold winter day is just 'weather', not climate. But when a heatwave serves the climate agenda purposes, we are told it was just what 'scientists' expected. They are weaponizing every weather event from a hot day to hurricanes, floods, tornadoes, and droughts."
Here we go again. The claimed unprecedented 'hottest day' record was given an asterisk – but only after the unsupportable claim achieved its goal of weaponizing the weather in support of the climate agenda.
Morano on media & climate activists' heatwave hysteria:
"What is happening is very similar to how COVID 'case counts' were used to justify all sorts of government restrictions, from school closures to mask mandates to lockdowns during the peak of Covid. They pick a statistically arbitrary data point – 'case counts' during COVID — and average global temperature statistics in climate – – and widely overstate their significance to push policy positions they could never otherwise justify. As one epidemiologist said of using COVID 'case counts' to push mask mandates, "That is like tying masking to the phases of the moon." https://twitter.com/VPrasadMDMPH/status/1494108544173412352…
Pushing government climate regulations based on global average temperatures or a heatwave is just as unscientific. They get a hot summer and try to weaponize it with average global temperature statistics to scare people into submitting to more climate regulations.
Biden's EPA shows the 1930s heat waves were much, much worse in the US than in recent times. We also know that many studies and data reveal that the Roman Warming Period and the Medieval Warm Period were as warm or warmer than today. Even the United Nations acknowledged that in their first climate report in 1990 before they later altered the data and erased the Medieval Warm Period.
#
Tweet
See new Tweets
Conversation
Tony Heller
@TonyClimate
So far this year, just over one-third of the US has reached 95F (35C) – down from 93% of the US in 1931. US summers are much cooler now than they used to be.
Global warming saves 166,000 lives a year
#
False claims create despair:
Obama's daughter says her friends tell her 'what's the point?' Cause the world's burning, and there's nothing I can do.
Media Chases 'Climate Enhanced' Heat Waves, Misses Data Showing They are Less Frequent

despite what the media says, real-world data shows heat waves are NOT getting worse in the United States due to climate change.