Heatwaves?! Book reveals '75% of the U.S. states recorded their hottest temperature prior to 1955'
Editor's Note: The following is an excerpt from author Marc Morano's new best-selling book, The Politically Incorrect Guide to Climate Change.
The World Is Not Burning
Al Gore has likened the Earth to a sick child. "The Earth has a fever that is growing more, and more intense," the former vice president insisted. The Earth does not have a "fever." Greenpeace co-founder Patrick Moore explains, "I do not believe the earth has a fever because it's colder now it has been through most of the history of life."
As Nobel Prize-winning physicist Ivar Giaever points out, ".8 degrees is what we're discussing in global warming. .8 degrees. If you ask people in general what it is they think—it's 4 or 5 degrees. They don't know it is so little."
And climatologist Pat Michaels explained that in any case the world's "temperature should be near the top of the record given the record only begins in the late 19th century when the surface temperature was still reverberating from the Little Ice Age."
The late geologist Bob Carter dismissed warming claims: "I call this sort of stuff kindergarten science…. The fact that the temperature was warmer at the end of the 20th century than it was in the preceding hundred years, is such a piece of kindergarten science. It's true, and it is completely meaningless in telling you anything about climate change."
Climatologist John Christy's research on the United States has found that "about 75% of the states recorded their hottest temperature prior to 1955, and over 50 percent of the states experienced their record cold temperatures after 1940."
Data from the Environmental Protection Agency agrees with Christy: the EPA website features a 2016 chart labeled "the U.S. Heat Wave Index from 1895 to 2015," and it reveals that the worst U.S. heatwaves by far happened in the 1930s.
EPA: "This figure shows the annual values of the U.S. Heat Wave Index from 1895 to 2015." 57
*
Be Not Afraid
"We are creating great anxiety without it being justified . . .there are no indications that the warming is so severe that we need to panic. . . . The warming we have had the last 100 years is so small that if we didn't have meteorologists and climatologists to measure it we wouldn't have noticed it at all." —Lennart Bengtsson, award-winning climate scientist
#
End Excerpt
#
Related:
Darn records are surprisingly hard to break. pic.twitter.com/54987M1h3r

— Wei . Zhang (@WeiZhangAtmos) February 2, 2021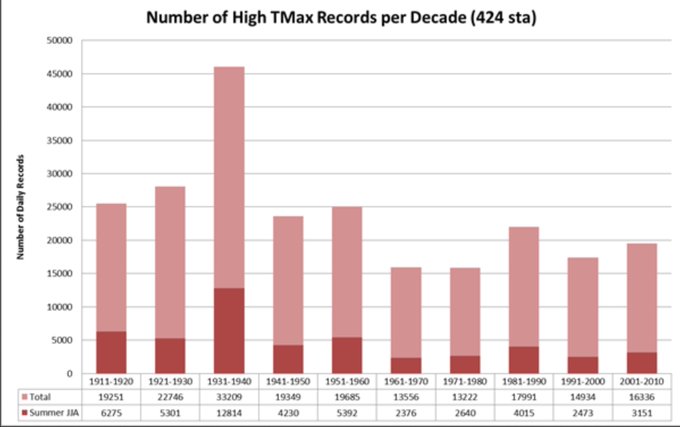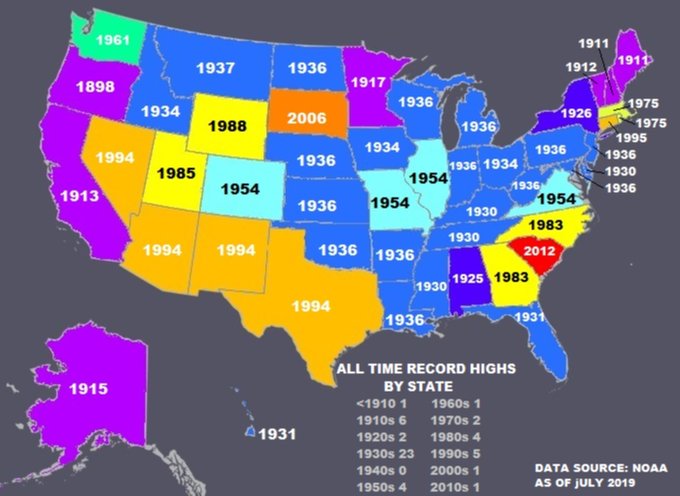 Move over Rachel Carson! – Morano's Politically Incorrect Climate Book outselling 'Silent Spring' at Earth Day
Book excerpt: 'The Politically Incorrect Guide to Climate Change' – Five Things to Teach Your Kids about Climate Change –  Morano: 'Kids from kindergarten through college are prime targets for the climate change fear promoters' propaganda.' 'Black and brown people are essentially being told they can never be allowed to have the same standard of living that the predominantly white Western world has enjoyed since the Industrial Revolution.' 'It's not enough for the warmists to regulate our light bulbs, coal plants, and SUVs. Now they want to regulate the size of our families.'
'Fat, healthy polar bears' prompt Gore to abandon their use as a 'global warming' icon – New Book Excerpt – In 2017, the case for polar bear alarm has grown so weak that it appeared even climate activists were finally abandoning the animal as an icon for their cause. "There have been no new reports of falling polar bear numbers, and images of fat, healthy polar bears abound," paleozoologist Susan Crockford noted. "A number of recent climate change reports even failed to mention polar bears in their discussion of Arctic sea ice decline…Crockford, "Even Al Gore seems to have forgotten to include the plight of polar bears in his newest climate change movie. The polar bear played a prominent role in his 2007 documentary, An Inconvenient Truth, the polar bear example was left out of [2017's] An Inconvenient Sequel: Truth to Power. It doesn't even get a mention. After years of campaigners' and researchers' claims that populations were in terminal decline, the 'canary in the coal mine' has been retired."
Trump vindicated for withdrawing USA from failing and fraudulent UN Paris pact – New Book Excerpt
President Donald Trump's decision to withdraw the U.S. vindicated as UN Paris climate pact goes down in flames in 2018. A new book, 'The Politically Incorrect Guide to Climate Change," reveals the absurdity of the UN Paris climate pact.
Book Excerpt: President Trump was right to reject the Paris pact. "Trump's climate plan might not be so bad after all," wrote Danish statistician Bjorn Lomborg, adding that Trump withdrawing from the UN treaty "will stop the pursuit of an expensive dead-end" because even if you accept the climate claims of the UN, the agreement "will matter very little to temperature rise." As the statistician explained, the debate about the UN Paris agreement is "about identity politics. It's about feeling good…but the climate doesn't care about how you feel." The bottom line? "If the U.S. delivers for the whole century on the President Obama's very ambitious rhetoric, it would postpone global warming by about eight months at the end of the century."