John Kerry discloses millions in income from finance, energy firms
An Earth Day Reminder: 'Global Warming' is Only ~50% of What Models Predict – Climatologist Dr. Roy Spencer 'There is no Climate Crisis. There is no Climate Emergency. Yes, irregular warming is occurring.'
#
'Requires abolishing the police' – 'There's No Green New Deal Without Police Abolition' – Are you ready to join the 'abolitionist climate movement'
Read the new best-selling book Green Fraud for more on how identity politics has invaded the climate debate.
Watch: Kids TV channel Nickelodeon teaches kids to 'learn the meaning of environmental racism' – 'A form of systemic racism'
'The connection between climate anxiety & white fragility' – 'Many of the students experiencing climate anxiety most viscerally are white'
#
Climate activists now trying to cancel pets! Pet Police have arrived: 'Expert suggested reducing rate of dog & cat ownership in favor of other animals' to reduce 'pets' carbon footprint' – Equal to emissions of 13 million cars!
#
Bill Nye's Death Wish for 'climate deniers': 'There's an old saying — 'science proceeds one funeral at a time', … but it's not happening fast enough' – The only definitive way to see significant action to prevent climate change is to simply wait for deniers and contrarians to "age out," according to Nye. "There's an old saying — 'science proceeds one funeral at a time,'" Nye said, "but it's not happening fast enough."
Psychiatric Times goes full climate woke? Psychoanalyst links 'racism & climate change with unconscious primitive narcissistic states'
Climate Depot Response: "Biden admits it's all a waste of time and he joins John Kerry in admitting it as well! First off, the climate accords not only won't impact the climate or weather, but these climate pacts do not even impact global emissions!
See: Shock graph of rising CO2 emissions despite 'planet-saving' UN climate pacts shows 'farce' of 'climate action'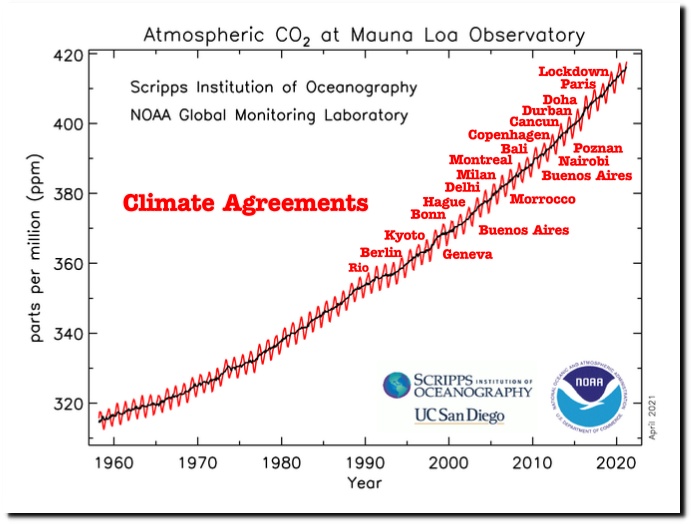 See: John Kerry again admits climate futility: If U.S. & China 'could go to zero (CO2 emissions) tomorrow… the world would still have a problem'
Scientist holds 'funeral' for Oregon glacier: 'Inside the casket was not a body, but a vial of meltwater' – Greenpeace co-founder Patrick Moore mocks stunt: 'Glaciers are not alive'
UK Guardian: "The funeral, a stunt held by worried glacier researchers on the steps of the state capitol in Salem…Worried researchers hold ceremony for Clark glacier to illustrate how the climate crisis is eroding icepacks. 'It's like a rotting carcass of its former self': funeral for an Oregon glacier.
Greenpeace co-founder Dr. Patrick Moore responds: "Ridiculous, a requiem for melting ice. Glaciers are not alive. Now some trees will be able to grow where the glacier had rendered the land lifeless. There is nothing "good" about glaciers except perhaps their scenic appeal. When they advance they gouge massive scars in the landscape, destroying all life before them. Would the 'greens' prefer that the glaciers were advancing into what is forest and farmland today? Or do they think glaciers can just freeze in time and never shrink or advance again? Given the choice between advancing versus retreating I say let them melt in peace to expose new land for greening. Our CO2 emissions will accelerate the greening so the Earth will be more bountiful as it was before this Pleistocene Ice Age set in 2.5 million years ago, ending 250 million years of a much warmer climate during which life flourished from pole-to-pole."
2019: Media still hyping melting glaciers despite historical context of faster melting in 1930s– Study finds glaciers in Glacier National Park retreated up to 6 times faster during the 1930's than the past 40 years — Paper published in Quaternary Science Reviews
'We have to fight back': John Kerry calls on scientists to lead fight against climate denial – Warns world is 'right now crossing the long-awaiting tipping point'
John Kerry discloses millions in income from finance, energy firms
James Bond takes up 'green spying'? MI6 Chief Suggests Spying On Nations To Ensure Compliance With Climate Pledges
Climatologist Dr. Roy Spencer 'There is no Climate Crisis. There is no Climate Emergency. Yes, irregular warming is occurring.'
Prof. Roger Pielke Jr. urges investigation into 'revolving door between climate science & policy & private sector climate services' – 'Promote implausible scenarios & keep bad science going'
Pielke Jr.: "There is an interesting investigative journalism project to be done on the revolving door between climate science & policy and private sector climate services. Just as one example, John Kerry's predecessor as 'climate envoy' co-founded a consulting firm that feeds off of RCP8.5. Absolutely fascinating how climate scenarios (RCPs, SSPs & their derivatives) are enabling entirely new markets for consulting based on financial risk assessments of fictional futures.
It is also amazing how much money is being paid to explore these outdated, fictional futures…
Here is a cozy eco-system:
Former gov't officials
Scientists w/ specialized knowledge
Venture capital
Energy companies
Current federal policymaking
Has always been so. But it is interesting how these dynamics promote implausible scenarios & keep bad science going."
Warren Buffett sinks climate measure, says world will adapt
Biden Energy Dept. nominee praises Green New Deal, calls for industry 'transformation' in new book – 'Transition away' from the fossil fuels 'offers an opportunity to upend existing socioeconomic inequality'
BBC: Climate change: Net zero targets are 'pie in the sky' – India declares poor nations want to continue using fossil fuels & the rich countries 'can't stop it'