https://www.zerohedge.com/geopolitical/not-onion-britains-mi6-now-conducting-green-spying-biggest-foreign-polluters
BY TYLER DURDEN
With the CIA branding itself as a woke Western intelligence agency, it was only a matter of time before the UK's MI6 tried to one-up their US counterpart; potentially spying on the world's biggest polluters. In something that sounds like it should belong on The Onion or Babylon Bee, the head of the UK's Secret Intelligence Service (SIS) – commonly known as MI6 – suggested that they should engage in so-called  "Green Spying" on nations which make climate change pledges in order to make sure they're keeping them.
In comments to Times Radio, MI6 head Richard Moore – known as "C" – claimed that man-made climate change is "foremost international foreign policy item for this country and for the planet," adding: "Our job is to shine a light in places where people might not want it shone and so clearly we are going to support what is the foremost international foreign policy agenda item for this country and for the planet, which is around the climate emergency, and of course we have a role in that space."
"Where people sign up to commitments on climate change, it is perhaps our job to make sure that what they are really doing reflects what they have signed up to," he continued, which – depending on one's read of his wording – could imply this is already happening.
"As somebody used to say – 'trust, but verify'," said Moore, adding "On climate change, where you need everyone to come on board and to play fair, then occasionally just check to make sure they are."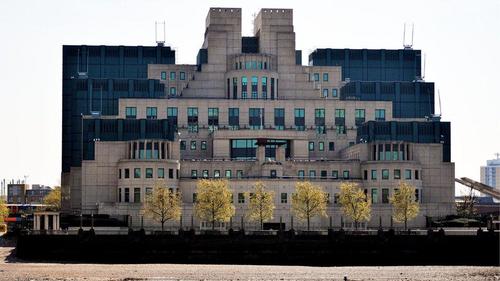 No doubt actual terrorists and enemy operatives will feel relieved that countless valuable resources will be poured into this supposed top agenda of ensuring industrialized countries will "keep climate change promises". We can imagine they're having a good laugh in the halls of Beijing's intelligence bureaus…
To some degree the Brits appear to be following the lead of the United States. The Biden administration was the first to elevate climate change to the level of a "national security" matter after he made John Kerry his 'Climate Envoy' – with a seat on the National Security Council. Last week, Biden announced at a climate summit that the United States would cut emissions in half by 2030 after having rejoined the Paris Climate agreement shortly after taking office.
Perhaps it's only a matter of time before the CIA or NSA launches their own "green spying" operations – if they haven't already.
https://news.sky.com/story/mi6-green-spying-on-biggest-polluters-to-ensure-nations-keep-climate-change-promises-12286458