Climate 'case counts' & 'death tolls' coming soon! Did they die from climate change or 'with' climate change?!

'Climate crisis' illness?! NBC News: White House to unveil a 'national dashboard' for tracking 'heat-related illnesses nationwide' due to the 'growing impacts of the… pic.twitter.com/aOaI8L9s1V

— Marc Morano (@ClimateDepot) August 12, 2023
https://www.nbcnews.com/politics/white-house/white-house-unveil-dashboard-tracking-heat-related-illnesses-nationwid-rcna98927
By Monica Alba and Peter Nicholas
WASHINGTON — The Biden administration plans to announce on Wednesday a new federal system to track heat-related illness nationwide and is considering additional measures amid pressure to do more to help Americans deal with crippling summer heat, according to White House officials.
The new national dashboard, which will be overseen by the Health and Human Services Department, maps emergency services responding to heat-related illness calls across the country, officials said. The "EMS HeatTracker" is intended to help ensure sufficient medical aid gets to Americans who need it most during severe heat, officials said.
"Heat is no longer a silent killer. From coast-to-coast, communities are battling to keep people cool, safe and alive due to the growing impacts of the climate crisis," Health and Human Services Secretary Xavier Becerra said in a statement. "President Biden is committed to providing communities with the resources they need to stay safe."
Federal data shows that millions have experienced unprecedented stretches of record-breaking temperatures, with little respite, making heat waves the largest weather-related killer nationwide.
Biden is under increasing pressure from lawmakers, local and state elected officials and Americans across the country to do more to address an extreme heat crisis that has defined the summer of 2023. The issue has elicited calls from some of the president's key supporters as he campaigns for reelection — namely climate activists and elected Democrats — to take stronger action, such as formally declaring a climate "emergency."
While the president hasn't formally declared a climate emergency, he argued in a recent interview that his administration has "in practice." "We already done that. Nationally, we've conserved more land. We've moved into rejoining the Paris Climate Accord. We passed a $360 billion climate control facility," he said.
White House officials said discussions about possible additional measures are ongoing. For now, they hope Wednesday's announcement will be welcomed, while acknowledging some limitations the government has when it comes to heat.
Officials said the "EMS HeatTracker" will break down patient characteristics by age, race, gender and urbanicity so local officials can better understand which populations are most at-risk for heat-related illness or death.
More people die from extreme heat than floods, hurricanes and tornadoes combined, according to National Weather Service figures cited by Biden this week. But the Federal Emergency Management Agency is restricted in what it can do to allocate critical resources for heat crises in the way it can for other deadly disasters.
Lawmakers like Arizona Rep. Ruben Gallego, who introduced the "Extreme Heat Emergency Act" in June, are calling on the Biden administration to do more, particularly to address recent life-threatening temperatures in Phoenix, which saw 31 straight days of 110-degree highs.
Gallego told MSNBC on Tuesday that he personally appealed to Biden on the tarmac after Air Force One touched down in Arizona this week.
"It's only going to get worse. FEMA has not been very responsive to this growing problem. We Arizonans pay taxes to the federal government and we should be able to receive some of those services back because it is severely taxing a lot of our municipalities and counties trying to deal with this extreme heat," Gallego said. "We need them to understand that this is a very severe situation."
For many, the unrelenting heat in places like Phoenix has led residents to alter the way they do basic, everyday tasks.
Valerie Harris, who chairs a local Democratic Party organization, said that she wakes up before dawn just to walk her family's two 10-pound dogs so they don't suffer in the heat.
"I've lived here more than 50 years. It's literally getting hotter and hotter," Harris said. One of her dogs, a chihuahua, "has no hair and it's too hot for him. The pavement gets so hot. We get up literally before the sun comes up so that we can walk him around the block."
Marilyn Behrens, secretary of the group, said: "The overnight lows are so warm. When it doesn't get below 90 degrees at night, it exhausts you in a different way."
Arizona officials have pointed to the fact that the nighttime is considered just as dangerous as the daytime in some instances because high temperatures aren't coming down enough and many people can't afford the proper air conditioning to contend with such overwhelming warmth.
…
Last month, the U.S. Conference of Mayors and the National League of Cities urged Congress to act quickly in a series of letters.
"Enabling extreme heat events as eligible for disaster declarations would widen the amount of crucial federal resources available to cities as they continue to work towards saving lives, protecting infrastructure, and adapting to the impacts of a rapidly warming climate," wrote Tom Cochran, CEO of the Conference of Mayors, which represents 1,400 cities.
Typically, when a major winter storm is looming, states and municipalities can ask the federal government for things like snow plows or heating centers. That's not the case with oppressive heat.
The White House has taken action to help Americans battle blazing temperatures but states like California, Arizona and Nevada say they would like to see even more cooling centers and water stations for those who are experiencing homelessness.
One of the challenges, even if FEMA could declare a disaster for heat, would be deciding how to deploy teams to a weather event that could span dozens of states at a time and could go on for unpredictable amount of time, whereas other natural disasters are usually more limited in location and duration.
Another issue is just how FEMA would delegate resources, since it currently offers individual and public assistance for damage from things like tornadoes and hurricanes, but heat affects people more than it does infrastructure.
In its existence, FEMA has only received three requests for extreme heat declarations (two in 1980 and one in 1995), and all were denied because "they did not demonstrate that state and local capacity had been exceeded," an agency spokesperson said.
"The most effective way to save lives from extreme heat incidents will be through an increased focus on preparedness and resilience," the spokesperson told NBC News. "Key actions include improved messaging and public education, modifying structures and landscapes to reduce urban heat impacts, and addressing economic issues or other community challenges that result in lack of access to air conditioning."
Some cities have appointed chief heat officers to help manage the blistering temperatures. White House officials said the president fully supports such moves, encouraging states to do everything they can on their own.
#
Related Articles: 
'Unprecedented Propaganda': 'Phoenix previous record of 18 consecutive days over 110F was set in 1974, the same week Time Mag was warning of new ice age'
Cold Kills: Lancet Study: Since 2000 There Were 85 Times More UK Excess Deaths Due To Cold Than Heat (60,753 cold deaths vs. 791 heat deaths)
A bit of sanity in a typically stupid story from AP science reporter Seth Borenstein: 'The increase in heat wave deaths is more than offset by reduced cold deaths in milder winters'
3 New Studies Conclude 21st Century Cold Temps Led To 7-10 Times More Deaths Than Warm Temps
Lancet's Heat-Related Deaths Con Trick: 'Lancet conveniently forget to mention that cold kills far more people than warmth does'
Bjorn Lomborg: 'Warming saves 166,000 lives each year:
Heat deaths 
make up about 1%
 of global fatalities a year—almost 600,000 deaths—but cold kills eight times as many people, totaling 4.5 million deaths annually. As temperatures have risen since 2000, heat deaths have increased 0.21%, while cold deaths have dropped 0.51%. Today about 116,000 more people die from heat each year, but 283,000 fewer die from cold. Global warming now prevents more than 166,000 temperature-related fatalities annually.
Study published Environmental Research: Cold Weather Linked To Nearly All Temperature-Related Deaths – 'Cold responsible for 94% of temp-related deaths'
2 New Papers: World's Heat-Related Deaths Are Declining…Cold Weather Is 20-42 Times More Deadly
Cold Kills: Lancet Study: Since 2000 There Were 85 Times More UK Excess Deaths Due To Cold Than Heat (60,753 cold deaths vs. 791 heat deaths)
#
Recent scientific research has countered the claims of a health threat from climate change.
After 100 years of climate change, 'climate-related deaths' approach zero – Dropped by over 99% since 1920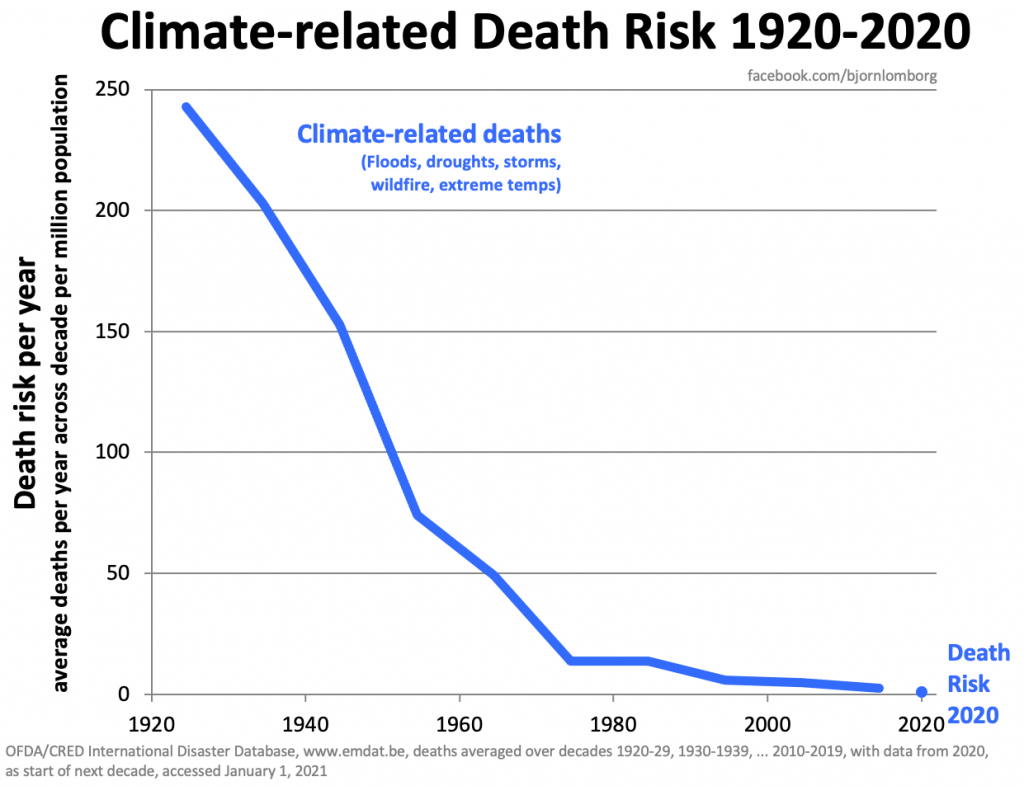 Meteorologist Anthony Watts: "New data shows the global climate-related death risk has dropped by over 99% since 1920. Despite the near constant caterwauling from climate alarmists that we are in a "climate emergency", real-world data, release at the end of 2020 shows that climate related deaths are now approaching zero. The data spans 100 years of "global warming" back to 1920 and shows "climate related" deaths now approaching zero. Above is an update of the graph in the 2020 peer-reviewed article by Bjørn Lomborg: Welfare in the 21st century: Increasing development, reducing inequality, the impact of climate change, and the cost of climate policies."
Also See:Study Finds We're Winning The War On Climate-Related Diseases – 'A wholesale rolling back of the biggest killers like diarrhea and malaria'
&
UK Guardian: Authors of paper accepted for publication in Harvard Environmental Law Review argue firms are 'killing members of the public at an accelerating rate'
Climate Homicide: Prosecuting Big Oil For Climate Deaths – Harvard Environmental Law Review, Vol. 48, No. 1, 2024
'Climate homicide': Could Big Oil be sued for disaster deaths? 'Prosecuting Big Oil for Climate Death' urges new paper in the Harvard Environmental Law Review– The paper, "Climate Homicide: Prosecuting Big Oil for Climate Death" — written by Arkush and Donald Braman, an associate professor at George Washington University Law School — will be published next spring in the Harvard Environmental Law Review. "We concluded there aren't really any legal or factual barriers to prosecution," Arkush said.
#
Flashback 2020: 'Experts say' name heatwaves like hurricanes – Seek shelter, a 'Category 2' heatwave is heading your way
Morano: "Climate change concerns are also limiting medical treatments for patients. We have seen calls for cancer treatments to be cognizant of its 'carbon footprint' and efforts to restrict anesthesia based on climate concerns. We already have academics demanding that 'climate change' be added to death certificates as a cause of death." See:Calls to add 'climate change' to death certificates – New study demands 'climate change' be added as 'pre-existing condition'
Morano: "Of course, the reality is exactly the opposite. During the era of fear about 'global warming,' climate-related deaths have dropped dramatically, proving that mankind has adapted to climate change by using the very oil and other fossil fuels that Harvard Law now wants to charge companies with murder over!" See:After 100 years of climate change, 'climate-related deaths' approach zero – Dropped by over 99% since 1920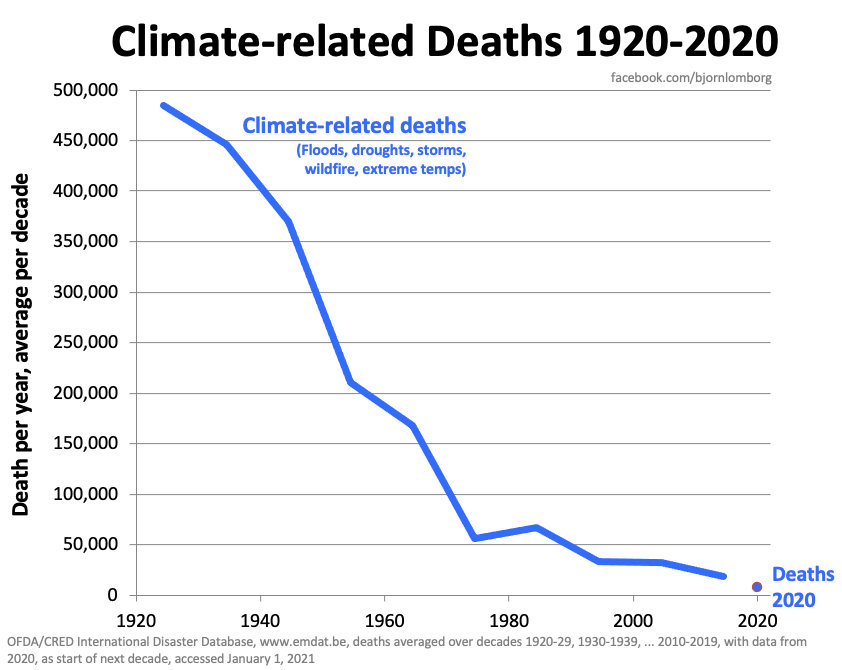 .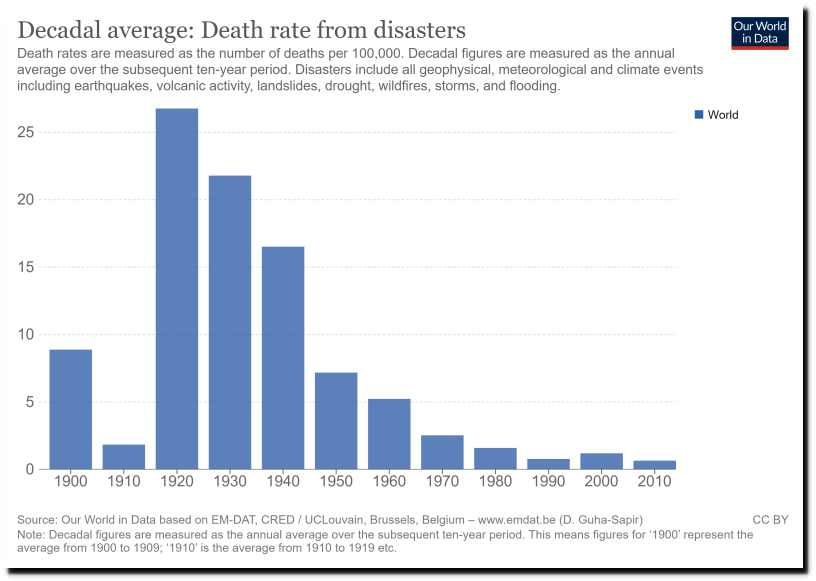 Get ready CNN and MSNBC to pound stories like this frequently, and couple it with daily tallies of an alleged climate change "death toll", all designed to spur calls for the need to take drastic "climate action" to stop the deaths from our alleged "climate emergency."
Recent scientific research has countered the claims of a health threat from climate change.
After 100 years of climate change, 'climate-related deaths' approach zero – Dropped by over 99% since 1920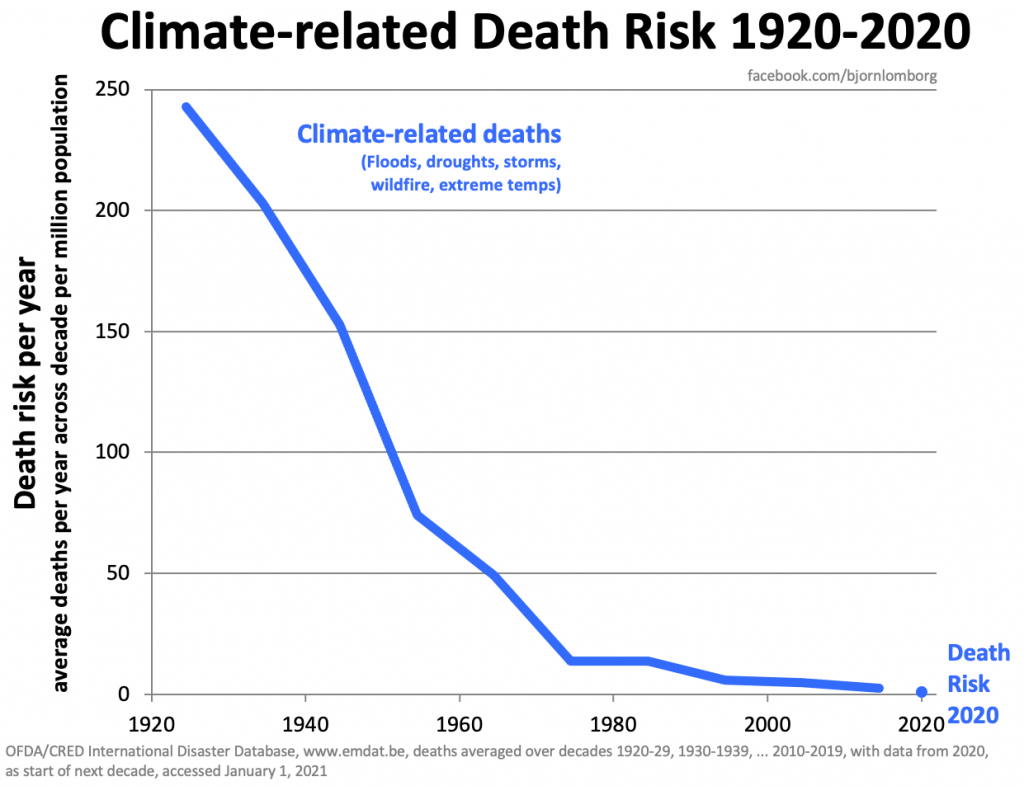 Meteorologist Anthony Watts: "New data shows the global climate-related death risk has dropped by over 99% since 1920. Despite the near constant caterwauling from climate alarmists that we are in a "climate emergency", real-world data, release at the end of 2020 shows that climate related deaths are now approaching zero. The data spans 100 years of "global warming" back to 1920 and shows "climate related" deaths now approaching zero. Above is an update of the graph in the 2020 peer-reviewed article by Bjørn Lomborg: Welfare in the 21st century: Increasing development, reducing inequality, the impact of climate change, and the cost of climate policies."
Also See: Study Finds We're Winning The War On Climate-Related Diseases – 'A wholesale rolling back of the biggest killers like diarrhea and malaria'
&