Climate Depot Special Report 
The United Nations showed prescient powers in November 2019 when they demanded that global carbon dioxide emissions be reduced 7.6% every year to meet the UN Paris climate goals. Eerily, their wish became a reality when global COVID lockdowns hit just four months later; global emissions of CO2 were reduced by a record 7% year by December 2020.
Nov. 2019: United Nations: "Cut global emissions by 7.6 percent every year for next decade to meet 1.5°C Paris target – UN report"
Presto! By Dec. 2020, eerily, the UN got what it demanded!
World carbon dioxide emissions fell record 7 per cent in 2020 because of Covid-19 lockdowns – Agence France-Presse – Dec 11, 2020:

Carbon emissions fell a record seven per cent in 2020 as countries imposed lockdowns and restrictions on movement during the Covid-19 pandemic, the Global Carbon Project said Friday in its annual assessment. The fall of an estimated 2.4 billion tonnes is considerably larger than previous annual record declines, such as 0.9 billion tonnes at the end of World War II or 0.5 billion tonnes in 2009 at the height of the financial crisis.
Even more prescient was that in 2013, a top UN official seemed to predict the necessity of global lockdowns to meet the UN Paris climate temperature goals. "The only way that a 2015 agreement can achieve a 2-degree goal is to shut down the whole global economy," Yvo de Boer, former UNFCCC (United Nations Framework Convention on Climate Change) executive secretary, said in 2013.  Yvo de Boer's words sound prophetic when compared to the comments of climate campaigners in 2020 excited about the impact of the COVID lockdowns. See: Flashback 2013: Fmr. UN climate head predicted COVID lockdowns?!: 'The only way a 2015 agreement can achieve a 2-degree goal is to shut down the whole global economy'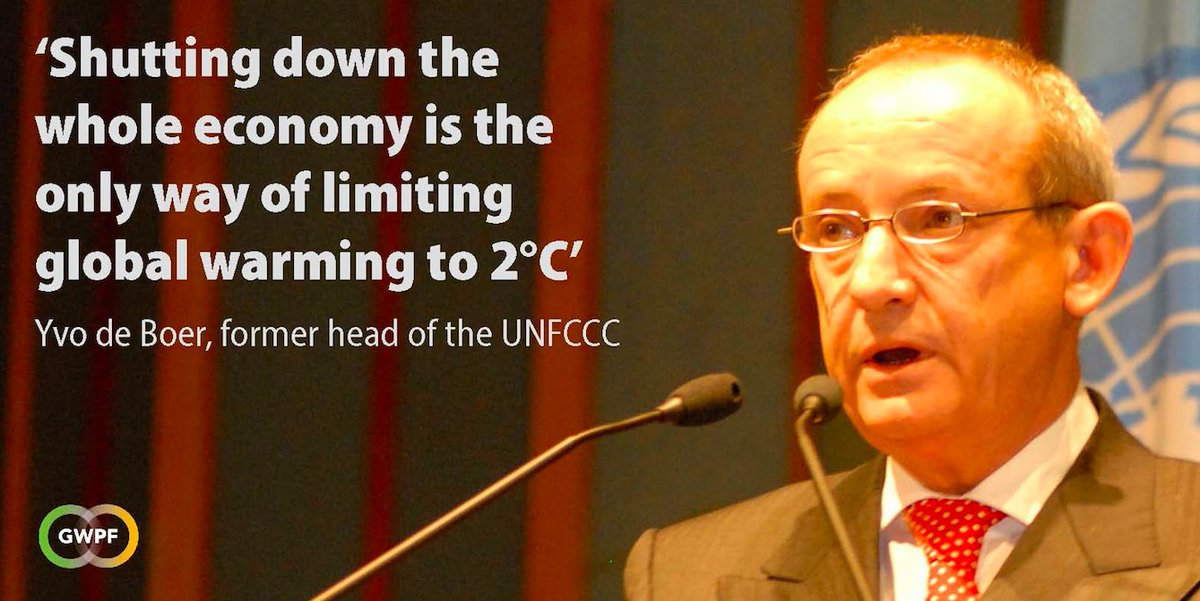 Climate activist Eric Holthaus said on April 22, 2020, about the impact of lockdowns on global CO2 emissions: "This is roughly the same pace that the IPCC says we need to sustain every year until 2030 to be on pace to limit global warming to 1.5C and hit the Paris climate goals. This is what 'rapid, far-reaching and unprecedented changes in all aspects of society' looks like."
Other climate activist organizations and outlets chimed in with hopes that the COVID-style lockdowns could be employed in the future to meet climate goals.
UK Guardian: 'Global lockdown every two years needed to meet Paris CO2 goals – study' – CO2 emissions must fall by equivalent COVID global lockdown every two years for next decade to combat global warming
Guardian then alters headline: 

UK Guardian: Carbon dioxide emissions must fall by the equivalent of a global lockdown roughly every two years for the next decade for the world to keep within safe limits of global heating, research has shown. Lockdowns around the world led to an unprecedented fall in emissions of about 7% in 2020, or about 2.6bn tonnes of CO2, but reductions of between 1bn and 2bn tonnes are needed every year of the next decade to have a good chance of holding temperature rises to within 1.5C or 2C of pre-industrial levels, as required by the Paris agreement. … The paper [was], published in the journal Nature Climate Change.
#
The climate establishment saw COVID lockdowns as a path forward for climate regulations.

Flashback: 'Fantastic' for the climate: Activists See Coronavirus Lockdowns As A Dress Rehearsal for 'Climate Emergency'

Flashback: The 'Great Reset': Rule by Unelected 'Experts' – COVID-Climate Technocracy has arrived – 'The danger of letting lab coats run the world' – Special Report
UK Guardian laments lockdowns 'too short'! – 'Could Covid lockdown have helped save the planet?' — 'The short answer is: not enough…the respite was too short'
UK Guardian:  "When lockdown began, climate scientists were horrified at the unfolding tragedy, but also intrigued to observe what they called an "inadvertent experiment" on a global scale. To what extent, they asked, would the Earth system respond to the steepest slowdown in human activity since the second world war? 
Environmental activists put the question more succinctly: how much would it help to save the planet? Almost one year on from the first reported Covid case, the short answer is: not enough. … 

The respite was too short to reverse decades of destruction, but it did provide a glimpse of what the world might feel like without fossil fuels and with more space for nature."

#
Related: 
UK Guardian editorial: "The brakes placed on economic activities of many kinds, worldwide, have led to carbon emission cuts that would previously have been unthinkable: 18% in China between February and March; between 40% and 60% over recent weeks in Europe. Habits and behaviours once regarded as sacrosanct have been turned on their heads: road traffic in the UK has fallen by 70%. Global air traffic has halved." …
"Huge political shifts are under way, with fiscally conservative governments such as Boris Johnson's intervening in economies to an unprecedented extent. What was once impossible (socialist, reckless) now turns out not to be, at all. Could the renewed shock of human vulnerability in the face of Covid-19 make way for an increased willingness to face other perils, climate chaos among them?" …
"But with the postponement of crucial UN biodiversity and climate conferences, it has never been more important to keep up the pressure. There is no exit strategy from our planet."
Update July 19, 2022: AP source: Biden holds off on climate emergency declaration – Biden "will stop short of issuing an emergency declaration that would unlock federal resources to deal with the issue, according to a person familiar with the president's plans."
Flashback: 'Climate lockdowns' touted by Gates & Soros funded professors, Govts, media, & academia
Watch: Morano's full 25 min speech on Climate Lockdowns at Heartland Skeptic Conference in Las Vegas – October 2021
Watch: COVID lockdowns morphing into climate lockdowns – Morano on Tucker Carlson  in 2021
Watch: Morano on Tucker Carlson: We Will Go From COVID Lockdowns To 'Climate Lockdowns' Under Biden in 2020
Watch: Morano on Tucker Carlson: Ukraine war, 'emergency declarations' & crises are being used to bypass democracy to implement Green New Deal
Climate Depot's Morano July 19, 2022 comments on reports Biden is set to declare a national "climate emergency": "The Biden administration believes that when democracy fails to achieve its climate goals, it's time to bypass democracy and Congress and follow the COVID model. Climate activists have lusted after the COVID lockdowns as the model for climate lockdowns. The plan is to declare a 'climate emergency,' toss out elected representatives and follow China's one-party rule model by implementing energy restrictions through the bureaucracy. They don't need no stinkin' democracy. Throughout history, emergency declarations have been used and abused to crush freedom. For those who loved how unelected officials ruled our lives under COVID lockdowns, prepare for the attempts to make climate lockdowns permanent. For an idea of what the world would look like under a climate lockdown." See: 2021 International Energy Agency's 'Net-Zero' report urges 'behavioral changes' to fight climate: 'A shift away from private car use…. upper speed limits' & thermostat controls; limits on hot water & more!
2022 Intl Energy Agency report urges ENERGY LOCKDOWNS: 'Banning use of private cars on Sundays…Reducing highway speed limits…more working from home…cutting business air travel' & SUV 'tax'
U.S. Greenhouse Gas Emissions Bounced Back Sharply in 2021: Up 6 % in 2021 'after a record 10% decline in 2020' – Fueled by a rise in coal power & truck traffic
Flashback:  Global carbon dioxide emissions decline 7% in 2020 – 'The biggest drop ever' – USA CO2 drops 12%, Europe drops 11% & China only drops 1.7%