Zero Hedge: Doctor Tells NBC: Americans Should Consider Wearing Four Face-Masks
According to Dr. Scott Segal, chair of anesthesiology at Wake Forest Baptist Health in Winston-Salem, North Carolina, even that may not be enough.
"If you put three or four masks on, it's going to filter better because it's more layers of cloth," Segal told NBC News. …
However, Segal's advice is contradicted by CBS4 Medical Editor Dr. Dave Hnida, who said, "Three masks may be going too far, since that could interfere with the ability to breathe."
What will Americans tolerate next? In China, more than a million people have undergone "anal swab coronavirus tests" because authorities say they are more effective.
https://www.nbcnews.com/health/health-news/what-do-coronavirus-variants-mean-your-masks-n1255518?cid=sm_npd_ms_tw_ma
What do coronavirus variants mean for your masks? https://t.co/xnxKvXi5wN

— MSNBC (@MSNBC) January 27, 2021
#
CNBC: 
I thought it was a parody. Nope… it's real. pic.twitter.com/ExawCs10Q1

— Justin Hart (@justin_hart) January 27, 2021
Not a parody! 'Public health experts' now call for three masks to stop the spread of Covid – Doubling up these cloth masks increases the efficacy from 50 to 75%," said CNBC correspondent Contesse Brewer. https://t.co/8TtlO6eucV pic.twitter.com/fVkf5o9m26

— Marc Morano (@ClimateDepot) January 27, 2021
#
Washington Post: 
https://www.washingtonpost.com/health/2021/01/27/double-mask-variants-guidance/
Anthony S. Fauci, the nation's top infectious-disease expert, touted double-masking during a Monday appearance on the "Today" show, saying two layers "just makes common sense that it likely would be more effective."
But on a Wednesday town hall appearance on CNN, Fauci appeared to reverse course and instead stressed following CDC guidance, which does not call for wearing two masks or N95s. New CDC Director Director Rochelle Walensky, appearing alongside Fauci, also warned that N95 masks are uncomfortable to wear and may dissuade consistent use if expanded to the general public.
…
"If we could get every famous influencer and celebrity to wear new masks and wear double masks … that might actually be a great way to start a new social norm to getting the kind of masks they want worn," Aldoory said.
Danny Ryan, a 27-year-old who works in communications in D.C., said he was swayed to switch to two cloth masks in part after he saw Biden and Vice President Harris doubling up in recent weeks. He also reconsidered the protection of a single mask after seeing his breath while waiting outside for a coronavirus test, although experts say that is not a sign of a malfunctioning mask.
"It just stuck in my head — they are wearing two masks, protecting them underneath and maybe more above," said Ryan, who now keeps extra masks by his door. "To be perfectly honest, I just feel safer doing it with updates in the news about the new variants."
#
CNN: 
Wearing two masks instead of one is probably more effective to stop the spread of coronavirus, Dr. Anthony Fauci sayshttps://t.co/n9bBTPQuA5

— CNN Breaking News (@cnnbrk) January 25, 2021
#
Related: 
5 days apart. pic.twitter.com/8QXNOMex79

— Justin Hart (@justin_hart) February 1, 2021
Fauci on double masking:

"There's no data that indicates that that is going to make a difference" pic.twitter.com/ptVivQfuwt

— Eli Klein (@TheEliKlein) January 31, 2021
SUPERCUT!

Meet the highest-paid federal employee, the Janus-faced Fauci pic.twitter.com/rJH7L5JkBU

— Tom Elliott (@tomselliott) February 3, 2021
The CDC's double mask mannequin 'study' is lunacy dressed up as science – 'No human beings were involved in this study' – The Dossier https://t.co/U2hbto9X0V

— Marc Morano (@ClimateDepot) February 12, 2021
WATCH: This shocking video from @SamBrockNBC shows a market in Naples, FL where many customers and employees are not wearing face masks.

Florida does not have a mask mandate, but the CDC has said that wearing masks can help control the Covid pandemic. https://t.co/WFatRrjnYa pic.twitter.com/IMQJz4p0Ox

— Last Call (@LastCallCNBC) February 4, 2021
The Texas Division of Emergency Management: You should consider wearing a mask even when you're in your own home https://t.co/0SqinzRnUJ

— Marc Morano (@ClimateDepot) July 10, 2020
White House Chief of Staff Ron Klain speaks with @LesterHoltNBC about the plan to send masks to every American.

"We're gonna do whatever we can to make masks more available to people."

Tune in to @NBCNightlyNews at 6:30 ET / 5:30 CT for more (check your local listings). pic.twitter.com/b0TusxmI2p

— NBC Nightly News with Lester Holt (@NBCNightlyNews) February 4, 2021
Here is why it is so critically important for you to wear a mask:

Because if people didn't wear masks, 99% of us wouldn't even know there was a "pandemic" on.

The mainstream media is too discredited to sustain fear.

But seeing masks everywhere in real life: that's "proof".

— Ezra Levant 🍁🚛 (@ezralevant) February 8, 2021
Study: Masks harm children – Impairments include: Irritability (60%), headache (53%), difficulty concentrating (50%), less happiness (49%), (42%), impaired learning (38%) & drowsiness or fatigue (37%) – First scientific study of its kind
Study: Elastic of Surgical Face Masks Could Stimulate Ear Protrusion in Children –

Elastic loops 'cause constant compression on the skin…children have undeveloped auricular cartilage with less resistance to deformation' –

Published in 2020https://t.co/2xiAebxelJ

— Marc Morano (@ClimateDepot) January 9, 2021
Endless Mask Mandates: 'When the pandemic is over we should continue wearing masks' – Should 'continue to be used as a tool in managing public health'
"What if, even after the worst of the pandemic is behind us, face masks continue to be used as a tool in managing public health during the regular flu season, which the World Health Organization says kills as many as 650,000 people a year? … What if we stopped politicizing the face covering, which has been maligned as a muzzle and a violation of civil liberties, and normalize the mask as simply an effective barrier to keep our harmful germs in, and deadly particle pollution out?"
Flashback March 2020: Face masks could increase risk of infection, medical chief warns – Jenny Harries, deputy chief medical officer, said the masks could "actually trap the virus" and cause the person wearing it to breathe it in. "For the average member of the public walking down a street, it is not a good idea" to wear a face mask in the hope of preventing infection, she added. … Asked about their effectiveness, Dr Harries told BBC News: "What tends to happen is people will have one mask. They won't wear it all the time, they will take it off when they get home, they will put it down on a surface they haven't cleaned. "Or they will be out and they haven't washed their hands, they will have a cup of coffee somewhere, they half hook it off, they wipe something over it. "In fact, you can actually trap the virus in the mask and start breathing it in." Asked if people are putting themselves more at risk by wearing masks, Dr Harries added: "Because of these behavioural issues, people can adversely put themselves at more risk than less."
Shock research shows masks ineffective during surgeries: 'A lack of substantial evidence to support claims that facemasks protect either patient or surgeon from infectious contamination'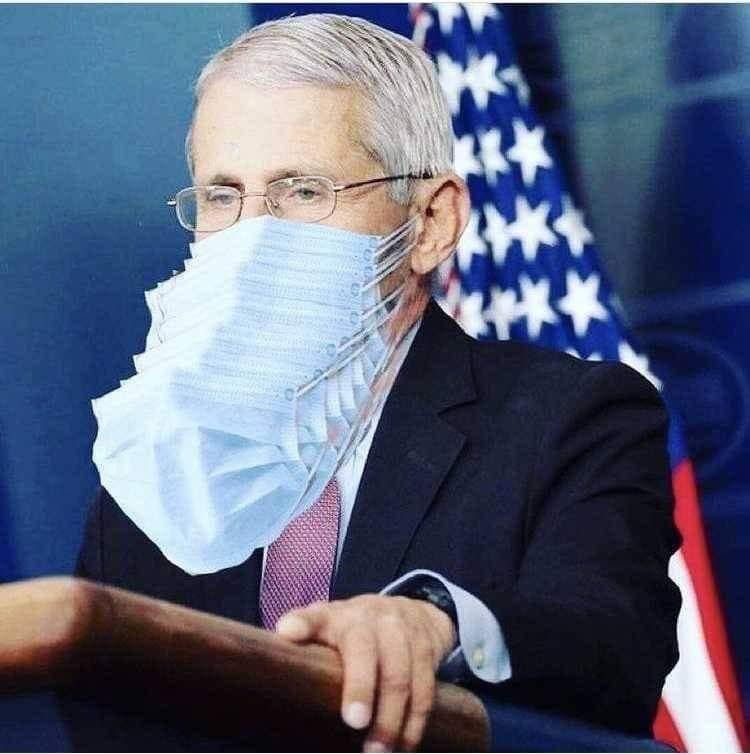 NY Times: Mask Mandates DO NOT Work. (Duh)