https://wattsupwiththat.com/2023/06/07/media-wrong-again-about-quebec-wildfires/
By Robert Girouard
Canada has been plagued by numerous forest fires in recent weeks. Almost all provinces, including Quebec, have been affected. True to form, mainstream media has been quick to associate these terrifying and spectacular natural events with (anthropogenic) climate change. Let's look at the facts.
According to Canada's Department of Natural Resources, natural disturbances such as forest fires, insect infestations, droughts, and floods have been part of the natural forest cycle for thousands of years and most often contribute to their regeneration. They release valuable nutrients contained in the litter and create openings that allow light to reach the forest floor, stimulating the growth of new trees. Fire is also essential for the reproduction of certain species, such as the jack pine, whose cones covered in wax only open under very high temperatures.
The boreal forest is particularly vulnerable to fires because it is mainly composed of resinous trees, which have a high flammability index compared to deciduous trees. Spring is also a season particularly conducive to forest fires because once the snow melts, the fuel accumulated on the ground quickly dries out. It should be noted that this is also the time when human activities responsible for 50% to 75% of vegetation fires resume.
Forest fires are part of the natural history of Quebec's territory, just like snow, ice, and long winters. Since the Laurentide Ice Sheet melted ten thousand years ago, Quebec has likely burned hundreds of times.
Historian Stephen J. Pine, in "My Country is Fire – Quebec, Canada, Forests, and Fire" published in the International Journal of Quebec Studies, reports that immediately after the creation of Canadian Confederation in 1867, Quebec experienced a significant wave of forest fires, particularly in Gaspésie and the Lower North Shore. Then, a "Great Fire," likely ignited by settlers' slash-and-burn practices, devastated the Lac-Saint-Jean region, and nearly a quarter of the resident population required immediate government assistance. In March 1869, the government appointed a special commission to investigate, and it was in the wake of this commission that the first legislation and measures to protect forests were introduced. In 1901, it was the turn of the Abitibi-Témiscamingue region, recently opened to colonization, to be ravaged by flames. The year 1923 was one of the most devastating, with over three million hectares burned. After the severe droughts of the early 1930s, the number and extent of fires began to decrease, except in certain exceptional years.
According to a document from the Ouranos experts' firm, based on dendrochronological studies, "the fire cycle in Quebec has lengthened since the mid-19th century, corresponding to the end of the Little Ice Age. In the boreal forest of Abitibi and central Quebec, the fire cycle changed from 70 to 80 years before 1850, from 90 to 150 years between 1850 and 1920, and from 190 to 330 years between 1920 and 1999. This decrease in fire activity is mainly attributed to a reduction in drought periods and possibly to the use of better methods and greater investments in fire control."
However, a fire erupting in a forest that has not burned for 100 years will generally be more intense than fires that occur every 20 or 30 years, due to the densification of vegetation cover and the accumulation of fuel.
That being said, 2023 is on track to be an exceptional year in Quebec, especially compared to the past ten years, which have been rather less than ordinary in terms of forest fires, despite being "the hottest years ever recorded."
As of June 5, the Society for the Protection of Forests against Fire (SOPFEU) has recorded a total of 417 fires since the beginning of the year, compared to an average of 199 fire incidents for the past ten years. Furthermore, a total of 160,342 hectares have been affected, compared to an average of only 247 hectares for the past ten years.
The year 2022 was particularly calm, with only 26 fires and an insignificant area of 34 hectares. Yet, we were in the midst of a "climate crisis" according to the UN. It goes to show that one should never play with fire when making inflammatory statements.
#
USA Today: Smoke 'keeping temperatures cooler than average – Temps 'running 5-8 degrees cooler than forecast due to smoke in the atmosphere'
USA Today: As Canada burns, smoke makes US air unhealthy and skies eerie. Is climate change to blame? – "Climate change is real and having a huge impact on Canadians right now with forest fires burning across the country," tweeted Catherine McKenna, Canada's former climate minister. …
USA Today: Smoke 'keeping temperatures cooler than average – Temps 'running 5-8 degrees cooler than forecast due to smoke in the atmosphere': Due to an area of low pressure that's hovering offshore, along with an area of high pressure over Canada, a northerly flow of air was funneling the smoke south into the U.S. from Canada, AccuWeather said. This was keeping temperatures cooler than average, as the smoke filters out the blazing June sunshine.For example, the weather service in Washington, D.C., said in an online forecast discussion Tuesday that "temperatures this morning have been running 5-8 degrees cooler than forecast due to the smoke in the atmosphere."
#
Canada Wildfires Create Terrifying Skies At Yankee Stadium That Had To Have Fans Thinking It Was The End Of The World
"Since NASA satellites program MODIS began collecting measurements there has been a decrease in the total number of square kilometers burned each year. Between 2003 and 2019, that number has dropped by roughly 25 percent." –NASA Earth Observatory, August 2019
"News reports about the Amazon fires strike a fear that one of the last great forests is disappearing.  That's completely untrue. Forests are making a comeback! More precisely, the tree cover of the planet is increasing.  Since 1982, a recent peer-reviewed paper in Nature suggests, the planet's tree cover increased by 2.24 million km2 (an increase of roughly 7%)."  –Vincent Geloso, American Institute for Economic Research, 26 August 2019
Shellenberger: Forget The Amazon Hype, Fires Globally Have Declined 25% Since 2003 Thanks To Economic Growth – Burning 'is declining thanks to development'
Michael Shellenberger: "Against the picture painted by celebrities and the mainstream media that fires around the world are caused by economic growth, the truth is the opposite: the amount of land being burned is declining thanks to development, including urbanization. That's because the amount of land being converted into ranches and farms has been going down, not up, and because more of it is being done with machines than with fire. For the last 35 years, the world has been re-foresting, meaning new tree growth has exceeded deforestation. The area of the Earth covered with forest has increased by an area the size of Texas and Alaska combined.
Less land is being converted into agriculture globally in part because farmers are growing more food on less land. Much of the re-forestation is occurring in deserts and tundra that had been barren, thanks to human-led reforestation initiatives, such as in China and Africa, and because of global warming. Warmer temperatures are what have allowed forests to grow in tundra.
"The wealthy countries hold big speeches on the need to avoid deforestation but they already deforested everything. "Few countries have the moral authority to talk about deforestation with Brazil." – Luis Inácio "Lula" da Silva (2007)

Pielke Jr. : "What is climate attribution about? Politics first, science second So let's err on the side of claiming every weather event is linked, connected, fueled by climate."
Biden after touring wildfire damage in Colorado that destroyed more than 1,000 homes: "We're gonna have windmills, you're gonna see that have 100-yard wingspans, each, each propeller on that on that windmill, 100 yards long. So there's so much that's going to be able to be done."
#
Ben Pile: "Climate scientists are the worst people to listen to about floods. They are overwrought with emotion, self-importance and ideology. The best people to speak to are engineers. The engineer's solution to flooding is to build and maintain waterways and drainage, properly zone development, and to raise land levels or barriers where appropriate… And so on…The climate scientist's solution to the possibility — or even inevitability — of flooding is to completely transform society, to regulate lifestyles and to enforce austerity. But it will still flood."
Never ones to let a "serious crisis go to waste," Green pressure groups are shamelessly attributing the fires to global warming and claiming that this year's fires ravaged the largest area ever recorded. "But that is because the National Interagency Fire Center curiously – and somewhat conveniently – only shows the annual burnt area back to 1960, when fire suppression indeed was going strong, and hence we had some of the lowest amounts of burnt forests ever," explains Bjørn Lomborg, President of the Copenhagen Consensus Center. "Yet, the official historical data of the United States tells a different story. Look at the Historical Statistics of the United States – Colonial Times to 1970,  There we have statistics for area burnt since 1926 and up to 1970. Reassuringly, the data for 1960-1970 'completely overlap.'  This is the same data series."  Professor Lomborg shared the graph above.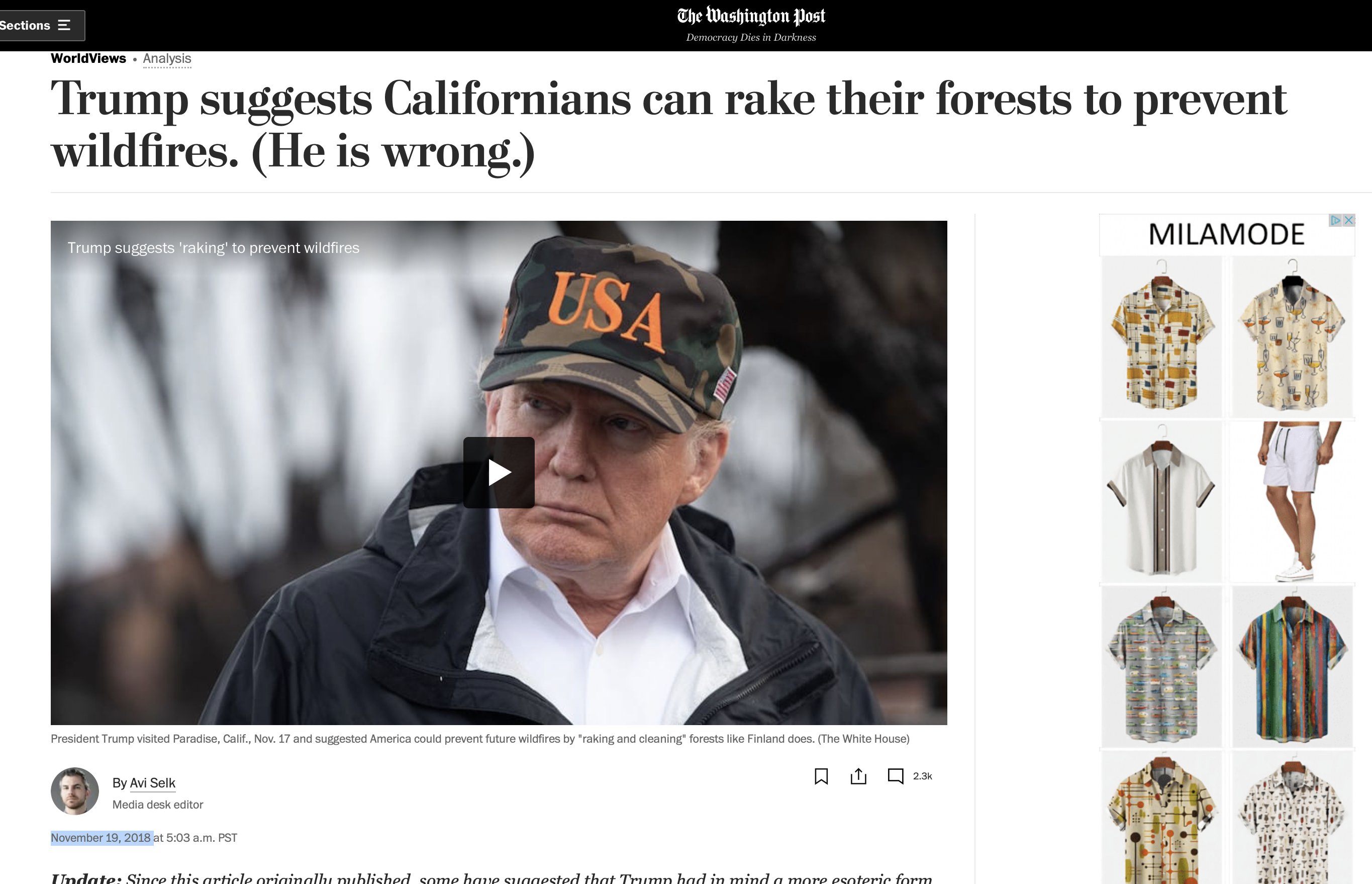 .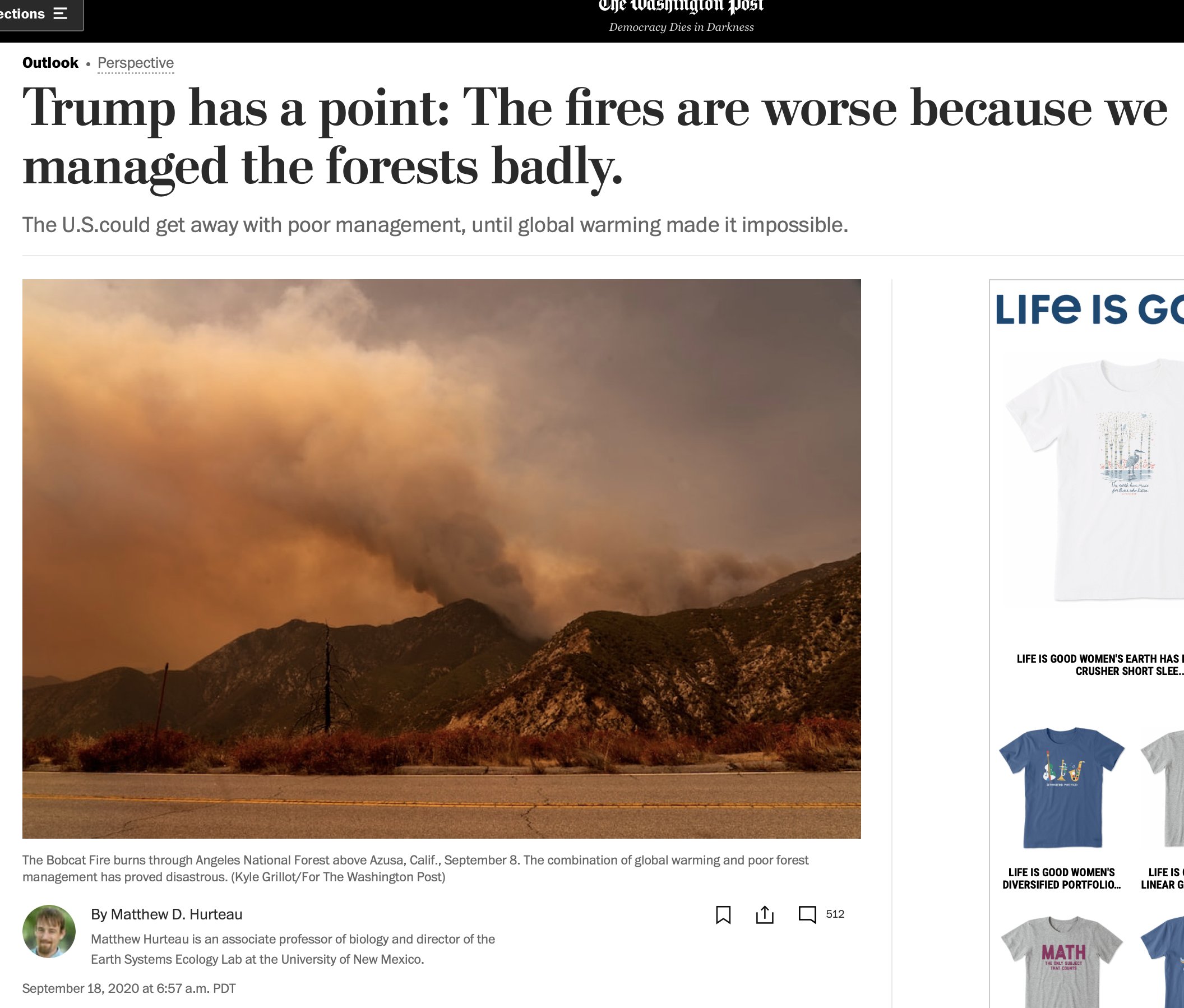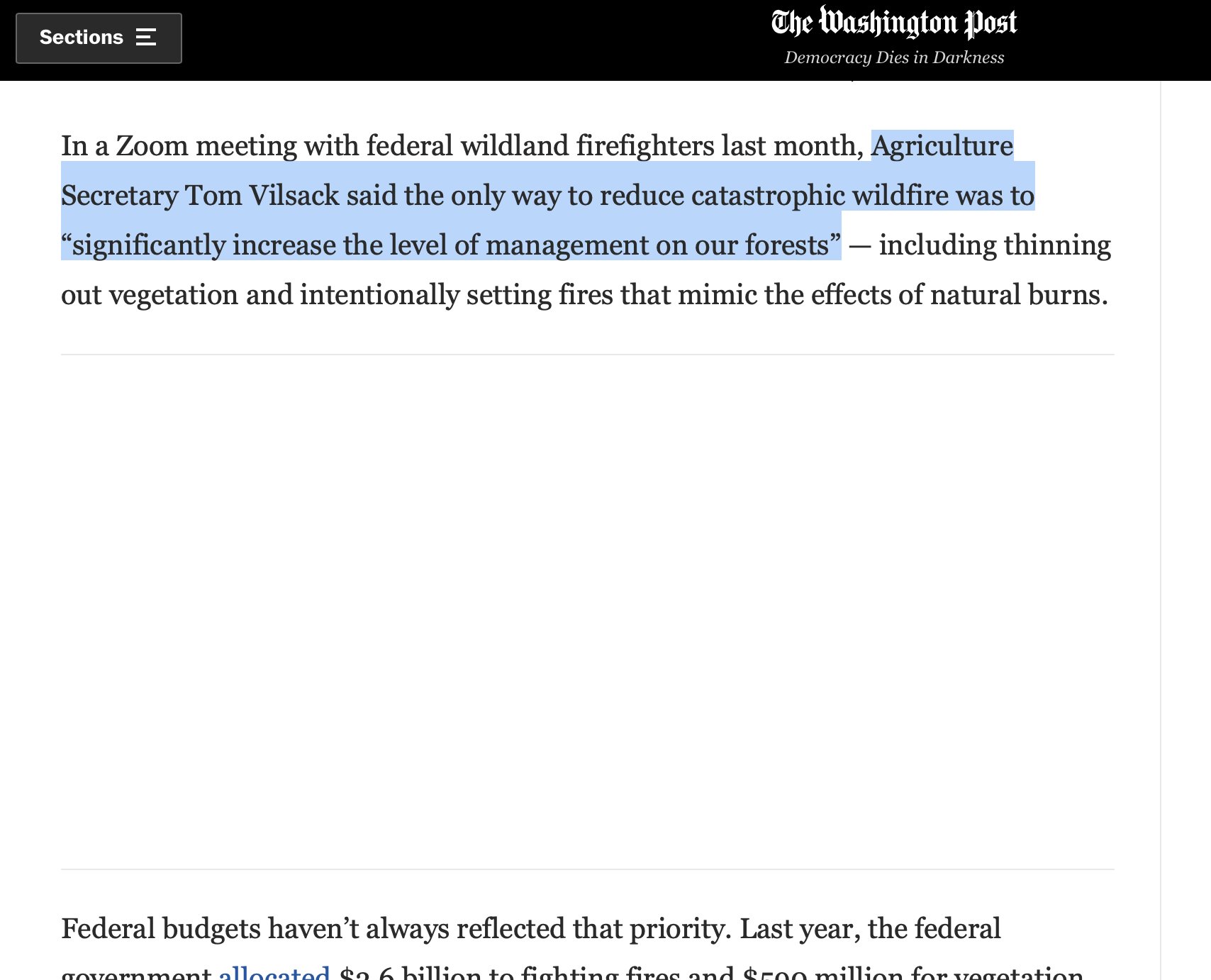 California Wildfire Devastation Was Entirely Preventable Through Proper Land Management – 'Nearly every major forest fire…reveals deadly blazes either start or grow on federally mismanaged land'
A quick examination of the map for nearly every major forest fire to make national headlines will reveal the deadly blazes either start or grow on federally mismanaged land. "I don't think you can call it a coincidence," said Jonathan Wood, the vice president of policy and law at the Property and Environment Research Center (PERC), adding that two-thirds of fires start on federal property. "If it were one, maybe it would be a coincidence, but when you've got a series, you've got a trend." Wood told The Federalist the outbreak of current forest fires was entirely predictable, raising alarm in a report published in April that the U.S. Forest Service confronted a backlog of 63 million acres with a "high risk or very high risk of wildfire" and another 80 million acres in need of restoration.
We definitely do not want to go back to the fires during the pre-industrial climate of 150-years ago. America burned 🔥 continuously, set by settlers, farmers, and indigenous population.

Excellent essay on history of fires: https://t.co/0L0grv708k

1880 Census of Fire 🔥 pic.twitter.com/a6EeHqpB1p

— Ryan Maue (@RyanMaue) June 8, 2023