Absolutely off-the-scale false:

Michael Mann claims wildfires, droughts, floods, heatwaves, and coastal inundation caused by climate

kill more people than Covid19

No. Just no.

2020-21 such climate deaths total 21,500
2020-21 Covid total 18,100,000

Covid 𝟴𝟰𝟬𝘅 bigger pic.twitter.com/wY5NQUPHuo

— Bjorn Lomborg (@BjornLomborg) December 14, 2021
Here is full clip (@ 25:44): https://t.co/8bRm6YBi0I

Here is Covid 18.1m dead: https://t.co/miSUrLkSDB

Deaths from floods, droughts, storms, wildfire, and extreme temps from https://t.co/M8rMVqoX9I, here from https://t.co/hEYbOcAEqa, update of https://t.co/kJetO61F8J pic.twitter.com/hWhxzsIajl

— Bjorn Lomborg (@BjornLomborg) December 14, 2021
Bonkers

"If you look at the total impact of climate change around the world, wildfires, droughts, floods, heat waves, coastal inundation, climate change is already costing more lives than COVID-19. It is deadlier." (25:44)https://t.co/SaoVG5nx84

COVID-19 = ~18m deaths

— The Honest Broker (@RogerPielkeJr) December 13, 2021
#
(1/2) Michael Mann goes full non-science "Make no mistake, we have been seeing an increase in these massive tornado outbreaks that can be attributed to the warming of the planet," Of course, he completely ignores the tornado data. https://t.co/KKbxAuR46J

— Wei. Zhang (@WeiZhangAtmos) December 13, 2021
Data matters. Michael Mann is an embarrassment to what was once the nation's finest atmospheric science program. pic.twitter.com/ugfZKHc5QW

— Wei. Zhang (@WeiZhangAtmos) December 13, 2021
The entire "Extreme weather is getting worse" mantra is just fabricated. https://t.co/7xf5A0caKC

— Wei. Zhang (@WeiZhangAtmos) December 13, 2021
No wait. I found some data that shows extreme weather is in fact increasing…. pic.twitter.com/DJ0JBPWZag

— Wei. Zhang (@WeiZhangAtmos) December 13, 2021
The normally mild mannered @BjornLomborg goes ballistic on Michael Mann's absurd fabrications. And he should. @MichaelEMann pic.twitter.com/1lL8oDxTTU

— Wei. Zhang (@WeiZhangAtmos) December 22, 2021
would you buy a used temperature reconstruction from a salesman who told you, with a straight face, that 5 million people per year are dying from climate CHANGE? https://t.co/sbxMQkn4PS

— Stephen McIntyre (@ClimateAudit) December 21, 2021
https://www.bloomberg.com/news/articles/2021-07-07/climate-change-linked-to-5-million-deaths-a-year-new-study-shows
Bloomberg News: Climate Change Linked to 5 Million Deaths a Year, New Study Shows – Almost 10% of global deaths can be attributed to abnormally hot or cold temperatures, according to new research linking extreme weather to mortality – The extraordinarily hot and cold temperatures that are becoming more common as climate change accelerates are responsible for 5 million deaths globally every year. Extreme weather accounted for 9.4% of all deaths globally between 2000 and 2019, according to researchers who on Wednesday published the first study linking changes in temperatures to annual increases in mortality. While most deaths have been caused by exposure to the cold, the trend is likely to reverse as the planet warms, they said. 
Related:
Michael Mann: 'Now it's time for you to remove climate denial videos'
Climate activist Michael Mann's solution to deadly tornadoes: 'We need to pass Build Back Better…to address this problem at its core' – 'Preventing it most importantly, from getting worse by acting on climate'
Michael Mann claims climate will climate change kills more than COVID-19 – Bjorn Lomborg Corrects: 'COVID 840x' bigger death rate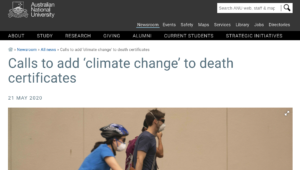 Cause of Death? Climate Change.
"Climate change is a killer, but we don't acknowledge it on death certificates," co-author Dr Arnagretta Hunter, from The Australian National University (ANU) Medical School, said. "There is second component on a death certificate which allows for pre-existing conditions and other factors.
"If you have an asthma attack and die during heavy smoke exposure from bushfires, the death certificate should include that information. We can make a diagnosis of disease like coronavirus, but we are less literate in environmental determinants like hot weather or bushfire smoke." … 
"Climate change is the single greatest health threat that we face globally even after we recover from coronavirus," Dr. Hunter said.
#
Your CO2-laden breath is killing people…science says so! STUDY: 'Three Americans create enough carbon emissions to kill one person' – Claim: 'For every 4,434 metric tons of CO2 produced, one person globally will die'
Climate Death Certificates are Coming – Watch New Morano Minute