https://www.washingtonexaminer.com/news/jerry-brown-us-work-world-speed-up-climate-action
'Like we're suffering an attack from Mars': Jerry Brown urges US to work with world to speed up climate action
by Mica Soellner,
Former 
California
 Gov. Jerry Brown said the Biden administration is moving in the right direction on climate change, but the country must also work with its global counterparts to mitigate the crisis and come to what he called "planetary realism."
Brown, a climate activist and executive chairman of Bulletin of the Atomic Scientists, a nonprofit science organization that focuses on global security issues, said in an interview with the Washington Examiner that the president is on course to reverse former President Donald Trump's climate policy rollbacks.
The United States has to work with the world on fixing the problems created by climate change, Brown added.
"This is almost like we're suffering an attack from Mars — some extraterrestrial species," the former governor said. "We have to come together in what I call planetary realism."
#
MSNBC's Joy Reid says "I always feel like if aliens ever really exist and they come and attack us, it's going to be because we destroyed the planet. That will be our punishment." pic.twitter.com/R6oqFtSRbs

— Daily Caller (@DailyCaller) January 28, 2021
Related: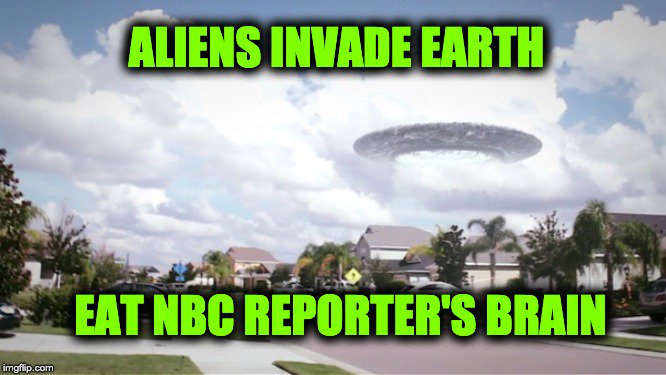 NBC reporter Jacob Ward: "You look at it, and you think this should be our great unifying moment, right?" Ward rhetorically asked. "This is the moment when space aliens land with ray guns and are threatening all of us and we all band together like you see in the movies. This is it. And yet, that's not somehow happening."
Even Ruhle halted that analogy calling it "not fair" and reminding him that "space aliens" aren't coming for anyone."It's not," she interjected. "For your average American at home, there are not space aliens coming out and saying, 'We're going to take you over.'"
'So why don't we see advanced civilisations swarming across the universe? One problem may be climate change. It is not that advanced civilisations always destroy themselves by over-heating their biospheres (although that is a possibility). Instead, because stars become brighter as they age, most planets with an initially life-friendly climate will become uninhabitably hot long before intelligent life emerges.'
'Humanity may just now be entering the period in which its rapid civilizational expansion could be detected by an ETI because our expansion is changing the composition of Earth's atmosphere (e.g. via greenhouse gas emissions), which therefore changes the spectral signature of Earth," the study says' — Update here.