Rough Transcript:
Jesse Watters:
Author of The
Green Fraud
Marc Morano joins me now. So Marc, can you distinguish between an arsonist fire or winds blowing and an already hot forest?
Marc Morano: No, not really. It looks like they started these fires, the arsonists at the worst possible times, with high winds, with dry conditions, with heat. So it sounds like they may even know what they're doing. And there are two different islands in Greece, there's Rhodes island and Corfu island, and in both of them now, the officials are saying these are intentionally started and they actually said they're basically sick individuals who get pleasure out of causing other people pain.
This is a global problem of people starting fires. Now is it climate change? Well, this would be the equivalent of blowing up a dam or sabotaging a dam and allowing a valley to flood and then saying 'Oh look, climate change is causing more floods.'  There are other forces at work here, Jesse.
Jesse Watters: All right Marc. Thank you so much. You're always on top of this. We appreciate it. Have a great weekend.
Marc Morano: Thank you, Jesse.
Background Info: 
Most fires in Greece were started 'by human hand', government says
The Guardian, 28 July 2023
Most of the 667 fires that have erupted across Greece in recent weeks were started "by human hand", the country's senior climate crisis official has said.
As the Mediterranean country emerges from an unprecedented, 15-day period of heatwave-induced infernos, the scale of the destruction is finally being laid bare.
While weather conditions have been different from any other year – with experts calling the first three weeks of July the hottest on record – most of the fires could have been prevented, the government claimed on Friday.  Vassilis Kikilias, the Greek minister of climate crisis and civil protection, told reporters: "During this time 667 fires erupted, that is more than 60 fires a day, almost all over the country. Unfortunately, the majority were ignited by human hand, either by criminal negligence or intent.  Kikilias said that, in certain places, blazes had broken out at numerous points in close proximity at the same time, suggesting the involvement of arsonists intent on spreading fires further.   He added: "The difference with other years were the weather conditions. Climate change, which yielded a historic and unprecedented heatwave, is here. There were very few days where the extreme weather was not combined with strong winds."
Full story
Eco activists have jumped on the devastating wildfires in Rhodes, Greece claiming it proves Climate Change has reached a dangerous new phase.

However, Greek Emergency Services have confirmed that they believe the fires were started by arson.

"Fires are set by human hands.… pic.twitter.com/GWHHEFzVeA

— Oli London (@OliLondonTV) July 23, 2023
Spoof headline: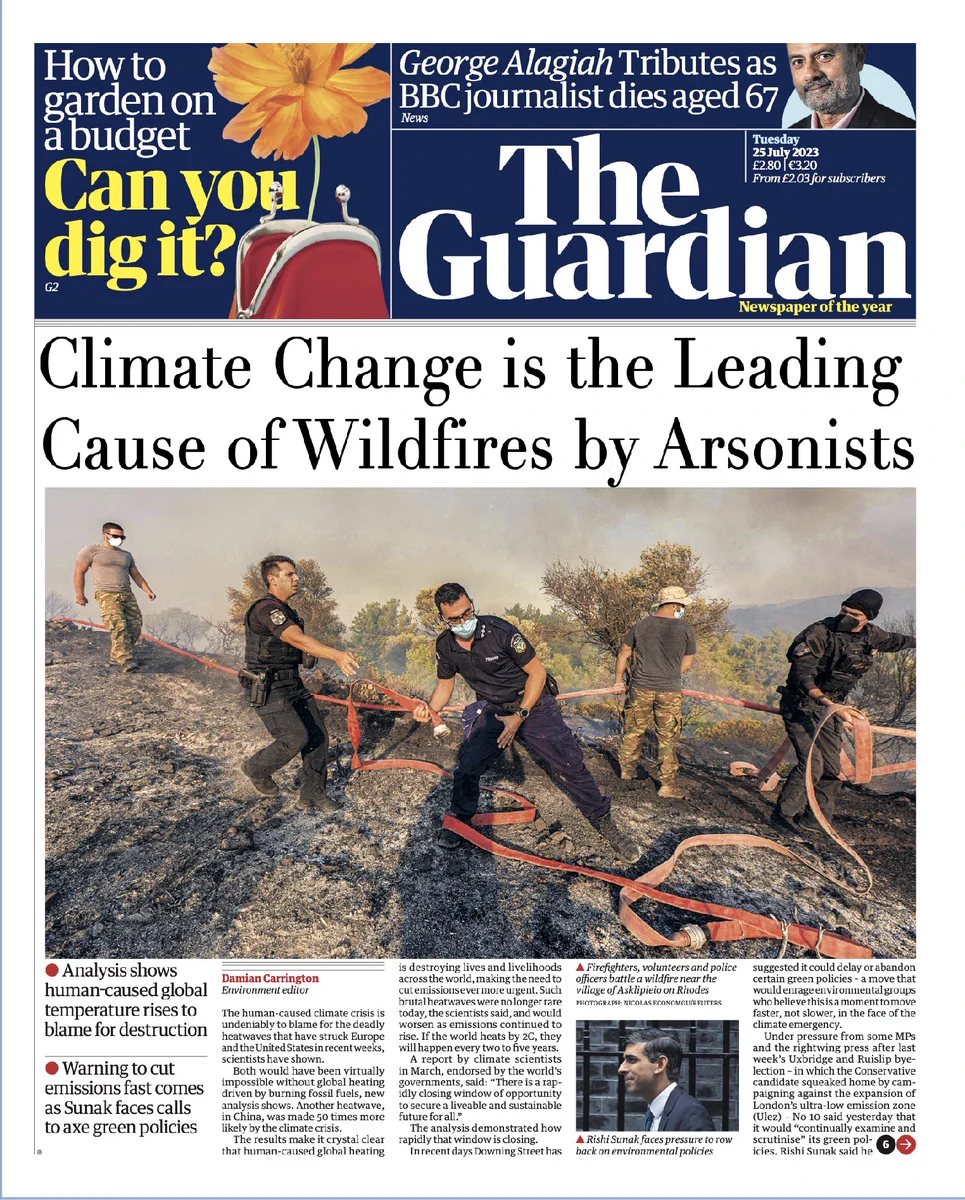 https://www.spectator.com.au/2023/07/set-by-human-hands-are-arsonists-burning-rhodes/
'Fires are set by human hands. Whether it is due to negligence or fraud will be seen [but] people have been summoned for statements and others will be summoned. As soon as we have complete information – because the investigation is in full swing, we will make announcements…' said Vassilis Vathrakogiannis, speaking on behalf of the Rhodes Fire Department.
Rhodes has been burning for seven days, while other tourist locations, such as Corfu, face smaller localised fires. Corfu's fires are also believed to have been deliberately lit, with the Deputy Mayor for Tourism and Construction speaking to the BBC about suspicions that they were started 'by a group of people'. '[They] get pleasure out of this with the pain of other people,' he said.
Fewer Europeans would die if they installed a couple of air-conditioners instead of basking under ceiling fans like it's 1976.
"Fires are set by human hands. Whether it is due to negligence or fraud will be seen."
The Mediterranean is on fire as countries have been caught unprepared for the inevitable impact of climate change due to their disastrous capitalist policies. Austerity measures have hampered responses to the deadly wildfires that have paralyzed the region
Prime Minister Giorgio Meloni has branded EU targets "climate fundamentalism".
Thousands of people evacuated as devastating wildfire threats Rhodes, Greece.
Massive explosion in a NATO ammunition warehouse in Central Greece amid wildfires.
When climate change doesn't increase global fires… Activists take it upon themselves. There is NO climate emergency but there is an emergency surrounding mental health and climate anxiety that is leading people to start fires to save the planet.
Corfu's fires are also believed to have been deliberately lit, with the Deputy Mayor for Tourism and Construction speaking to the BBC about suspicions that they were started 'by a group of people'. '[They] get pleasure out of this with the pain of other people,' he said.
Greece has been here before. Many people were arrested and charged over the 2021 fires in Greece, which were considered to be some of the worst on record. Some of the blazes were described as a 'deliberate organised criminal activity'. In the devastating fires of 2007, arson was listed as a major cause of the blaze and some of the blazes were even suspected to be a form of terror attack. Charges of arson and murder were eventually brought.
As over 32,000 precautionary evacuations are carried out for the fires on Rhodes and surrounding areas, the Prime Minister of Greece, Kyriakos Mitsotakis, told his nation that they had 'more difficult days ahead'.
Yiannis Artopios, a fire service spokesperson on Rhodes, told Greek television network Skai TV that authorities are currently questioning suspected arsonists.
"Fires are not sparked on their own," he told Skai TV. "They are triggered by the human hand, be it intentionally or not. We currently have several people being questioned in connection with their probable involvement."
In Corfu, the region's deputy mayor for tourism and construction told the BBC the fires there were started by "a group of people." Chariton Koutscouris said officials had a "suspicion" fires would be started this weekend.
Officials are said to have been warned on Friday by the fire department chief that someone who started two fires last week would start another.
"He was right," Koutscouris said, adding that the apparent arsonists "get pleasure out of this with the pain of the other people."
Global wildfires are not historically unusual and have been part of the natural forest cycle for thousands of years and contribute to their regeneration.
But the media blaming 'climate change' anyway — even when humans start the fires!
There is no trend in wildfires, no trend at all the extreme weather, but it doesn't matter. This is the narrative, and if they need an arsonist to help The Science along apparently they're not beneath doing that at this point. And again, this is the same thing — blaming the wildfires on climate
"The 'wildfire problem' is essentially more a social than a natural one." Researchers from the Universidad Carlos III de Madrid found that "climate change" is not to blame for increased forest fires in the Mediterranean basin."…
"In the United States, wildfires are also due in part to a failure to thin forests or remove dead and diseased trees.
Dr. Roger Pielke Jr: What the media won't tell you about … Wildfires – 'Wildfires used to be much more extensive in past centuries'
Pielke Jr.: "The IPCC has not detected or attributed fire occurrence or area burned to human-caused climate change
Globally, emissions from wildfires has decreased globally over recent decades, as well as in many regions
Canada wildfire trends show no increase in recent decades
Wildfires used to be much more extensive in past centuries
Wildfires are a part of the natural eco-system."
US burn acreage so far this year has been the lowest on record, down 98% from the early 1930s. #ClimateScam https://t.co/4A3JpCSyzt pic.twitter.com/PBLN8qi81V

— Tony Heller (@TonyClimate) July 25, 2023
Bjorn Lomborg: Climate alarmists falsely claim the world is literally on fire – Satellites reveal global area burned annually has trended downward in past 2 decades
Lomborg on Global wildfires: For more than two decades, satellites have recorded fires across the planet's surface. The data are unequivocal: Since the early 2000s, when 3% of the world's land caught fire, the area burned annually has trended downward.  In 2022, the last year for which there are complete data, the world hit a record low of 2.2% burned area…The latest report by the United Nations' climate panel doesn't attribute the area burned globally by wildfires to climate change.  Instead, it vaguely suggests the weather conditions that promote wildfires are becoming more common in some places. Still, the report finds that the change in these weather conditions won't be detectable above the natural noise even by the end of the century. …
America wildfires: While the complete data aren't in for 2023, global tracking up to July 29 by the Global Wildfire Information System shows that more land has burned in the Americas than usual. But much of the rest of the world has seen lower burning — Africa and especially Europe.  Globally, the GWIS shows that burned area is slightly below the average between 2012 and 2022, a period that already saw some of the lowest rates of burned area.
Australian Wildfires: Likewise, while Australia's wildfires in 2019-20 earned media headlines such as "Apocalypse Now" and "Australia Burns," the satellite data show this was a selective narrative. The burning was extraordinary in two states but extraordinarily small in the rest of the country. Since the early 2000s, when 8% of Australia caught fire, the area of the country torched each year has declined. The 2019-20 fires scorched 4% of Australian land, and this year the burned area will likely be even less.
When reading headlines about fires, remember the other climate scare tactics that proved duds. Polar bears were once the poster cubs for climate action, yet are now estimated to be more populous than at any time in the past half-century.  We were told climate change would produce more hurricanes, yet satellite data shows that the number of hurricanes globally since 1980 has trended slightly downward.
#
Climate denier Marc Morano on Jesse Watters Primetime blamed global wildfires on arsonists, dismissing the role of climate change: "This is a global problem of people starting this. Now, is it climate change? Well, this would be the equivalent of blowing up a dam or sabotaging a dam and allowing a valley to flood and then saying, oh, look, climate change is causing more floods." [Fox News, Jesse Watters Primetime, 7/28/23]