The Great Food Reset has arrived: Expect 'real' food shortages, Biden declares – Meanwhile, Bill Gates & China buy up U.S. farmland
Climate Depot's Morano: "If the Davos crowd of the World Economic Forum were looking for a better global environment on which to enact their central planning vision of a Great Reset, it would be hard to imagine a more conducive chaotic time than right now."  See: Watch video: World Economic Forum's utopian Great Reset vision of 2030 – 'You'll own nothing, and you'll be happy' – 'Whatever you want you'll rent & it'll be delivered by drone' – Meat will be 'an occasional treat'
.
Morano: "The vision of transforming the world into unelected bureaucrats taking even more control of everyday life, has now all the ingredients to push it along. The last 2 years have seen endless emergency declarations, wars, massive government spending, debt, runaway inflation, supply chain issues, food shortages, no privacy from big-brother style government snooping of your movements, skyrocketing energy prices, chipping away at car and homeownership, climate lockdowns, oppressive censorship and crushing of dissent, limits on freedom of travel, and physical autonomy.
The chaos is music to the ears of those who don't like the idea or the messiness of human freedom. The World Economic Forum's vision is to crowd us all in cities, they want to have us own nothing, they want to regulate literally every aspect of our lives. Food shortages are a great way to collapse the current system and install a Great Reset." See: "When there is food on the table there are many problems. When there is no food on the table there is one problem." -- Chinese proverb.
Also see: 'Americans May Have to Say Goodbye to Steak & Burgers as Beef Costs Rise' as inflation soars – Just what the climate activists always wanted!
Biden Says to Expect 'Real' Food Shortages Due to Ukraine War
(Bloomberg) — President Joe Biden said that the world will experience food shortages as a result of Russia's invasion of Ukraine, and production increases were a subject of discussions at a Group of Seven meeting on Thursday. "It's going to be real," Biden said at a news conference in Brussels. "The price of the sanctions is not just imposed upon Russia. It's imposed upon an awful lot of countries as well, including European countries and our country as well."
Russia-Ukraine war worsens fertilizer supply issues, potential widespread famine on the horizon, experts say: Excerpt: "High gas prices are in turn raising the price of fertilizer, which is crucial for the nutrients in crops that billions of people need to live. … But problems were brewing even before Russian tanks rolled into Ukraine, with fertilizer prices surging to historic highs because of higher input costs and supply chain issues…"All three source materials that go into fertilizer (phosphate, nitrogen, potash) are subject to abject shortage. And even if the war were to stop tomorrow, it's already too late. It's too late for the planting season for the Northern Hemisphere this year."
#
We are on the brink of global famine due to energy shortages and yet progressive politicians are threatening to tax energy producers and refusing to remove barriers to production

This graph of skyrocketing fertilizer prices is the scariest chart in the world right now pic.twitter.com/eR8RQ62mrZ

— Michael Shellenberger (@ShellenbergerMD) March 26, 2022
More Shellenberger here. 
NBC News: Bill Gates 'the nation's largest farmland owner' "Farmers turned into renters" as Bill Gates becomes the "nation's largest farmland owner" by using "shell companies…a web of at least 22 limited liability shell companies."
Climate Depot: Could Gates have an agenda?
NBC News: "Gates was also an early investor in fake-meat companies aiming to combat the environmental harms of raising livestock by creating more convincing, plant-based alternatives."
Climate Depot: What is Gates going to do with all that farmland?
Bill Gates: Rich nations should shift entirely to synthetic beef – Gates: "I do think all rich countries should move to 100% synthetic beef."
via. MIT Technology Review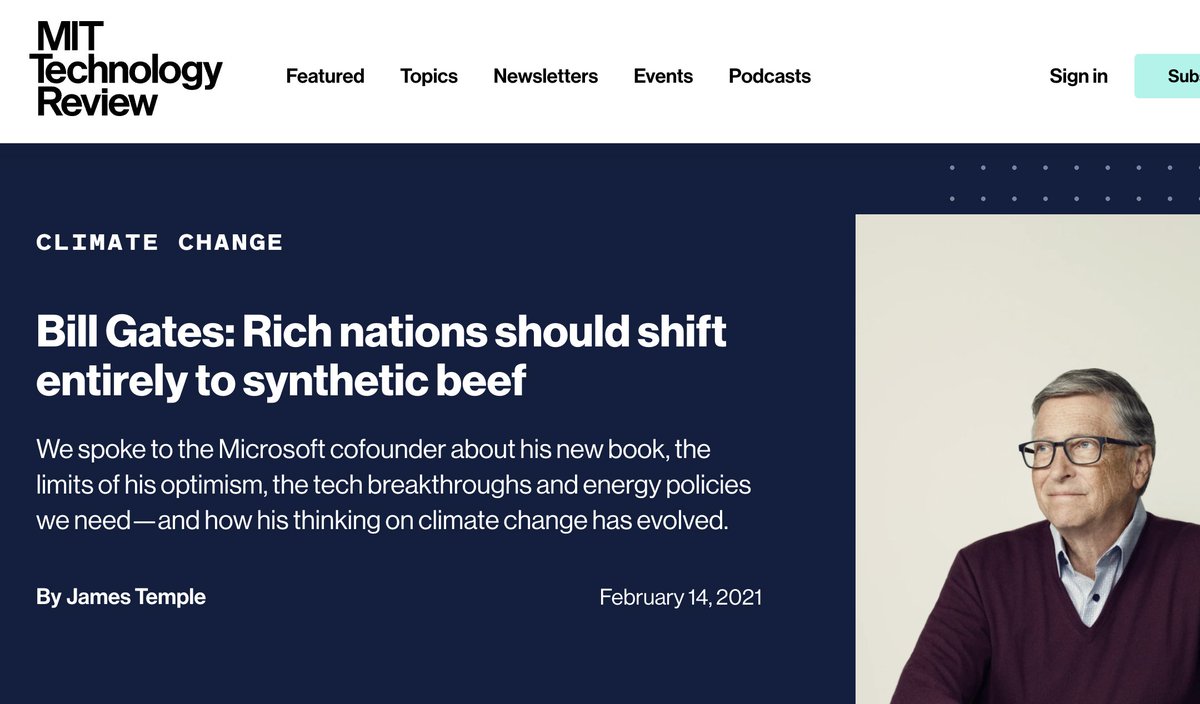 But Bill Gates sneaks hamburgers from McDonald's!? Via Jazz Shaw at Hot Air: According to a managing director for the Gates Foundation in an article published just last November, "If you get the lunchtime slot with Bill, you're eating burgers. Someone will always be sent to get bags of McDonald's." He went on to say that he didn't think Melinda let him eat burgers at home when they were still together. There are a few McDonald serving plant-based burgers, but not all of them by any means. And if that's what the runner was being sent out to pick up, you'd think they would mention that detail, right? And why would Melinda object if he was getting plant-based burgers? Sorry to say, but I think I smell a rat.
#
Great Food Reset: Fmr. UN climate chief Figueres urges 'Changing what we eat is a radical act that will make us & nature healthier & happier' – COVID 'has taught us that rapid change is possible' – Fmr. UN Climate Chief CHRISTIANA FIGUERES: "Changing what we put on our plates has become an urgent priority" … "The pandemic has taught us that rapid change is possible. Now, we must bring the same urgency (and even more follow-through) to fixing our relationship with food and how we produce it."
Reset your diet! World Economic Forum touts eating bugs to save the planet! 'Good grub: why we might be eating insects soon'
World Economic Forum: "The market research company predicts the global market for edible insects could grow to $1.18 billion by 2023. That's almost triple its current level." …
"Per kilo of live weight, bugs emit less harmful gas than more mainstream farm animals. A cow, for example, produces 2.8 kg of greenhouse gas per kilo of live body weight. Insects, on the other hand, produce just 2 grams." …
"From the farmer's point of view, raising insects is going to be radically different from raising sheep, pigs, or cattle. No more coping with mud, muck and filth. An end to shifting heavy sacks of feed. And forget about having to go outdoors in all weather to manhandle livestock." … "It may not be too long before we can all buy a bag of edible insects at our local grocery store."
#
The Great Diet Reset: World Economic Forum promotes fake meat from a printer in video – 'Machines can currently print up to 6kg of meat an hour'
World Economic Forum Encourages Drinking 'Reclaimed' Sewage & Eating Weeds – 'Weeds can be nutritious & tasty'
Flashback: 'Food Police' – Watch: Morano on UN Meat report: UN seeks 'massive expansion of the UN's regulatory power…lifestyle controls'