https://www.spiked-online.com/2023/07/22/the-climate-witch-trials/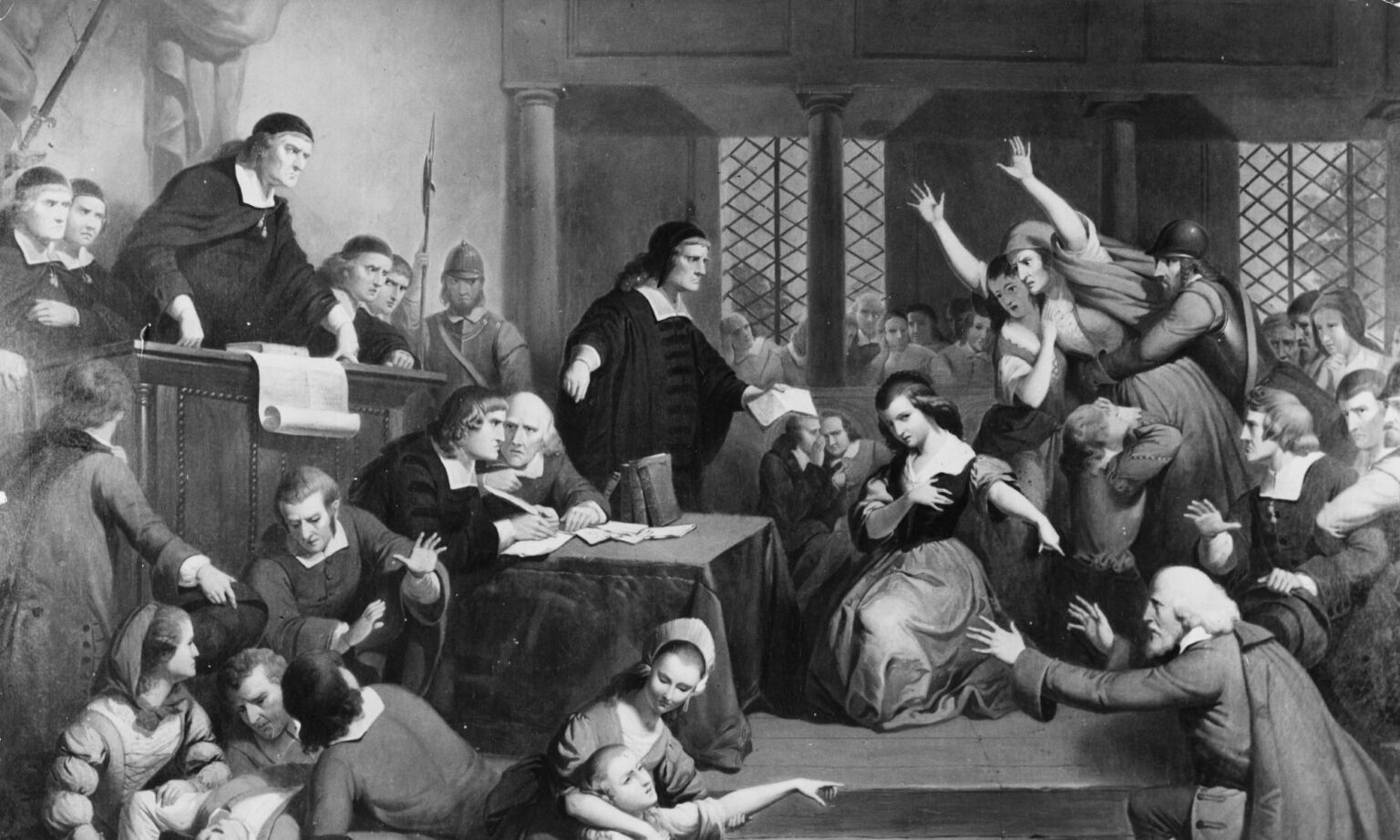 People fainting and causing disorder in a courtroom during the trial of suspected witch, 1692.
It is no coincidence that around 110,000 witch trials took place in Europe during those most climatically unstable of centuries, with around half of those trials ending in conviction and execution. As the cold, starving peoples of northern Europe knew from the Bible, 'Thou shalt not suffer a witch to live', especially a witch with such power that she can conjure storms in which 'sea and sky became one'. Johann Weyer, the 16th-century Dutch physician who opposed witch-hunting, describes one woman being forced to admit essentially that she had brought about climate change: '[A] poor old woman was driven by torture to confess – as she was just about to be offered to Vulcan's flames – that she had caused the incredible severity of the previous winter (1565), and the extreme cold, and the lasting ice.' (3)
The cries of those tortured women should echo down the ages. Their persecution for the crime of causing contrary weather should give us pause for thought today. For as German historian Wolfgang Behringer convincingly argues, the weather-related witch hysteria of the early modern period shows how perilous it can be to moralise discussions about the climate. A section of European society during the Little Ice Age held witches 'directly responsible for the high frequency of climatic anomalies', he writes. And the 'enormous tensions created in society as a result of the persecution of [those] witches demonstrate how dangerous it is to discuss climatic change under the aspects of morality'.
Alas, it seems likely that this plea not to moralise discussions about climate will fall on 21st-century ears that are as deaf to reason as were those that ignored Reginald Scot's insistence that weather was a heavenly phenomenon, not the devilish handiwork of warped human beings. For today, in our supposedly enlightened era, the rush to blame sinning and selfish individuals for 'contrary winds', or 'weather of mass destruction', as we call it now, is as intense as it was in the Little Ice Age. Weather witch-finding is alive and well.
Sure, we don't threaten to hurl climate changers into 'Vulcan's flames'. We do not 'thrawn' them with rope, inducing a 'pain most grievous', as was done to poor Mrs Sampson. We don't even say the word witch anymore. No, we prefer to speak of 'climate criminals'. 'Thirteen climate criminals who should be in jail', as the headline in a radical magazine put it a few years ago. The list included everyone from Donald Trump to Big Oil CEOs to broadcasters like Jeremy Clarkson. Clarkson's crime was a speechcrime – to suggest climate change is a 'fiction'. For that, he and the other 'real climate offenders' should be imprisoned, we were told.
'The internet is finally turning on celebrity "climate criminals"', chirped a headline in a fashion magazine in July 2022. That piece had a distinctly witch-hunting vibe, arguing that 'it is right to be outraged' about these people 'who are most responsible for the climate crisis'. We must 'stop the climate criminals who are causing the worst emissions', says a writer for the Guardian. One left-wing outlet calls for the jailing of 'climate criminals' on the basis that they played a part in conjuring 'floods… fires, heatwaves and other extreme weather events'. These are the new Agnes Sampsons. They're the modern versions of that woman Johann Weyer described as having been compelled by fire to confess to having brought about unusual coldness. That is, they're people accused of using their wickedness to 'rayse stormes'. Only we call them 'criminals' rather than 'witches', and we say 'climate change' rather than 'contrary winds', because we are enlightened now.
There may not be witch trials in the 21st-century West, but there is certainly the dream of witch trials. Especially for those who have the temerity to use their tongues to deny the existence of manmade climate change. As one academic study asks: 'Deceitful tongues: is climate-change denial a crime?' This is Biblical language, literally. Right out of Psalms. 'Thou lovest evil more than good; and lying rather than to speak righteousness. Thou lovest all devouring words, O thou deceitful tongue', says Psalms 52:3-4. Now such stern religious condemnation is deployed against questioners of the climate-change thesis. The author of that piece on the 'deceitful tongues' of the modern age – William C Tucker, then an assistant regional counsel to the US Environmental Protection Agency, no less – said such tongues may indeed need to be silenced. For what they say is not only 'morally repugnant', but potentially criminal, too: '[We] cannot allow fraudulent or deceptive speech to paralyse the public debate on a subject no less important than the survival of the human species and the future of the Earth itself.'
In the past, witches, likely including those who were accused of raising 'hurtfull weather', were sometimes fitted with a 'scold's bridle' – a metal contraption that enclosed the head and which contained a muzzle that fitted into the mouth with a spike that would compress the witch's 'vicious tongue'. Now, being more modern, we prefer to propose mere criminal sanctions against those who possess a 'deceitful tongue'.
The tyranny of holding mass witch trials may no longer be possible in our more civilised era, but the fantasy of such tyranny still exists. 'I wonder what sentences judges might hand down at future international criminal tribunals on those who will be partially but directly responsible for millions of deaths from starvation, famine and disease in decades ahead', environmentalist author Mark Lynas once said. Who are the 'those' in that chilling sentence? Climate-change deniers, of course, who will 'one day have to answer for their crimes', according to Lynas.
Paul Krugman of the New York Times describes climate-change denial as 'a form of treason – treason against the planet'. The Kennedy Institute of Ethics at Georgetown University openly ponders whether climate-change denial should be criminalised. Yes, 'free speech is one of the most treasured rights in Western democracy', it says in its discussion of a Norwegian professor's suggestion that climate-change denial is a crime, but sometimes we make 'exceptions for points of view which [may be regarded] as particularly destructive and evil'. Evil. What a telling word. As clear a confirmation as one could ask for that the discussion of climate change has been hyper-moralised, turned from a practical matter of how to improve our environment into a crusade against the malevolent forces whose deceitful tongues and activities allegedly wreak havoc upon the weather.
Full article here: https://www.spiked-online.com/2023/07/22/the-climate-witch-trials/