https://www.zerohedge.com/technology/power-companies-could-remotely-switch-ev-chargers-reduce-grid-stress
BY TYLER DURDEN
Authored by Daniel Yeng via The Epoch Times,
Energy providers could have the option to switch off home EV charging stations remotely to reduce pressure on Queensland's electricity grid.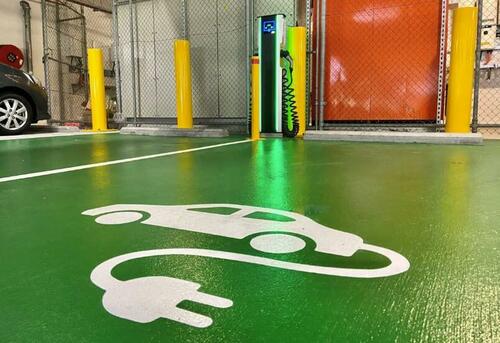 The proposal is part of the Australian state's Queensland Electricity Connection Manual (QECM), which provides a framework for the grid's operation.
Section 8 of the QECM proposes that EV charging equipment may be limited or switched off by operators Ergon Energy and Energex (distributed network service providers or DNSPs) if it has an output of more than 20 amps—a standard domestic single-phase EV charger uses 32 amps.
The use of such "demand management" schemes is largely unique to Queensland and is also used on residential pool cleaning machines, hot water systems, and air conditioning units under the Peaksmart program.
Peaksmart gives households a cash rebate; in return, the operator can turn off air conditioners remotely during peak operating times (summer) to reduce pressure on the energy grid.
The large-scale roll-out of such programs has been earmarked as a potential catalyst to close down coal-fired power stations faster—amid the net zero push—and to, instead, adopt more intermittent renewable energy sources like wind, solar, and battery.
Confidence Towards Net Zero's Viability is Low: MP
Federal Nationals MP Keith Pitt, himself an electrical engineer, says a proposal to use demand management on EV charging reveals that operators have little confidence the grid can handle the uptake of electric cars expected in the push towards net zero.
"EV take-up could increase peak demand by as much as 60 percent right across the National Electricity Market," Mr. Pitt told The Epoch Times.

"That would mean you need a 60 percent increase in generating electricity capacity, transmission, and distribution. So that's every substation, every cable, every supply point, every house—it will cost an absolute fortune."
The federal Labor government has set a lofty goal of having 3.8 million EVs on the road by 2030—there are currently 83,000 in use.
Further, the government is also pushing to expand the charging network, aiming for 100,000 for businesses, 3.8 million chargers in households, and 1,800 publicly available fast chargers.
The initiative comes as part of a wider push towards net zero by 2050 and to reduce emissions by 43 percent by 2030. Further, the Labor government hopes to have 82 percent of the National Electricity Market powered by renewables.
Advocacy Groups Push Back Against Proposal
Advocacy groups have argued against a demand management system saying it will dampen enthusiasm for EVs.
"We know from surveys that average consumers aren't particularly keen on mandated orchestration of their appliances," says the Electric Vehicle Council in its submission on the QECM (pdf).

"The Peaksmart program enlists between 10,000 and 15,000 air conditioning units for orchestration each year … out of a total of about 300,000 that get installed. About 95 percent of consumers prefer retaining control of their air conditioning, overtaking the financial incentives on offer."
Meanwhile, Melissa McAuliffe, acting director of energy services at Energy Consumers Australia, says it would erode consumer trust that the "energy system is working for them."
"Our 2023 Energy Consumer Sentiment Survey finds that only 35 percent of households are confident that the energy industry and regulators are working in their long-term interests now," she wrote in a submission (pdf).
"Further, such measures are unlikely to be completely effective for consumers or the system, as consumers may look to workarounds that circumvent giving DNSPs control. For example, through disincentivising the use of EV chargers, consumers may just use regular power points."
#
Related: 
Bloomberg News: Miss a Car Payment and Ford's Patent Could Shut Off Your A/C – Patent filing describes remote control to disable car features
Energy Lockdowns Have Arrived: During Colorado heatwave, thousands locked out of control over their home thermostat during 'energy emergency'