https://www.spiked-online.com/2023/02/07/how-the-green-elites-are-impoverishing-the-world/
The global super-rich love to warn us about climate change. They love to preach about all the things we'll need to give up and all the sacrifices we should make. But they also love to travel in private jets and live in lavish mansions by the sea. They emit orders of magnitude more CO2 than the average person. So what explains this mismatch? Is there more to it than just hypocrisy?
Ross Clark is a journalist and the author of Not Zero – How an Irrational Target Will Impoverish You, Help China (and Won't Even Save the Planet). He joined Brendan O'Neill on the latest episode of his podcast, The Brendan O'Neill Show. What follows is an edited extract from their conversation. Listen to the full episode here.
Brendan O'Neill: The eco-elites love to lecture people about their emissions, even as they fly around the world on private jets. Is it that they don't really believe the apocalyptic nonsense, or do they just think they're more important than us?
Ross Clark
: I can't believe they really think the Earth is facing the apocalypse. When you look at some of these people, the inconsistency is astonishing. Barack Obama just bought himself a waterfront mansion in the US, while at the same time he is preaching that we're all going to be drowned by climate change.
The other aspect of this that I find pretty disgusting is the whole business of carbon offsets. Wealthy people will try to buy their way out of their environmental sins. A rich, Western businessman or politician gets to fly in their private jet and carry on as they were – and then they pay a bit of money to offset it.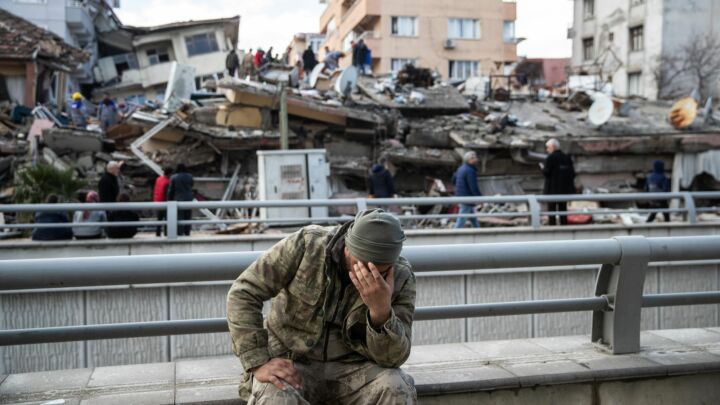 RECOMMENDED
There is no such thing as a purely 'natural' disaster
FRASER MYERS
Most disturbing of all is what that money goes towards. It often ends up funding groups that buy up coal-fired power stations in developing countries only to close them down. Basically, it's a way of depriving developing countries of a cheap form of power, but it's dressed up as if it were some great, philanthropic gesture. The elites' preaching is annoying, but far worse is the fact that they're prepared to impoverish the world's poor and prevent them from developing.
Climate activists often talk about natural disasters and their impact on the world's poor. In truth, if you want to cope with natural disasters, it pays to be a wealthy country. Just compare the Netherlands and Bangladesh. Both are in very vulnerable coastal locations. Both sit on deltas with a lot of reclaimed and shifting land, and both face huge erosion from rivers. Today, nobody in the Netherlands dies from floods. Meanwhile, Bangladesh still has really serious problems with flooding.
What is the difference? The Netherlands is wealthy and Bangladesh is poor. The Netherlands can afford to build sea walls and to redesign towns and its landscape to cope with the water. Bangladesh can't – it's only just starting to think about these issues.
If you want to save lives from flooding in Bangladesh what do you think will be most effective? Cutting Bangladesh's carbon emissions, and impoverishing it in the process, in the hope that maybe the sea might not rise quite as much as we expect? Or allowing it to develop and become rich, so it can then afford the same sort of infrastructure as the Netherlands? There's no contest. If you want to protect yourself against flooding, or any other kind of meteorological extreme, you have got to become a wealthy country. Sadly, that is what we may end up depriving developing countries of the right to become.
O'Neill
: Just 30 or 40 years ago, radicals in the West wanted to help the developing world achieve our standards of living. Now, they want to stop them from developing to protect themselves. How has that shift happened? And what can we do about it?
Clark: We like to see those in developing countries as noble peasants – they live the lives of environmental purity that we can't quite manage to live ourselves. But we've got to return to the mindset of the 1950s, 60s and 70s, when development was the outright goal. Huge strides were made to relieve poverty in developing countries, and to reduce disease and improve access to fresh water and so on. We've lost that ideal now.
Development used to be about making people's lives better. And what has it been reduced to? Just this one target: reducing carbon emissions. As if that does anything to solve problems like the lack of education, lack of fresh water, hunger, poverty and so on.
Thankfully, the world has become a far wealthier place over the past 50 years. Some of the wealth generated in the West's industrial revolution has spilled down into developing countries – rates of hunger and disease have gone down. But this progress is now under threat.
Rather than setting carbon targets, we should be setting targets for fresh water, for education, for eradication of disease and particularly for women and girls' education – because that's where we know the world is failing at the moment, particularly in places like Afghanistan. We need to return to that view of development – rather than just reducing it to one arbitrary target. Climate activism actually detracts from all those other goals – that's the real problem.
Ross Clark was talking to Brendan O'Neill on the latest episode of The Brendan O'Neill Show. Listen to the full conversation here: