🔊Here's our manifesto Liz
Prioritise the biggest risks
Fires, floods & extreme heat
Hurt more than just our dancing feet
So no more new fossil fuels
Save money with renewables
Don't want kids to pay the price
Ignoring scientists advice#Truss #Doctorsnotdancers #Tofu #Fracking pic.twitter.com/Y5uZ1XXY8v

— Health for XR (@DoctorsXr) October 20, 2022
"Cutting down on carbon will stop our bodies droppin'": These medical folks doing a #ClimateCult song/dance is one of the most cringe-worthy things that I've ever seen.https://t.co/LYQSU2wQhw

— Tom Nelson (@tan123) October 22, 2022
And what their hospitals use a backup generators if power is lost? Yeah, diesel generators…

— Steve Bunten (@smbunten) October 23, 2022
#
Related: 
Flashback 2020: Calls to add 'climate change' to death certificates – New study demands 'climate change' be added as 'pre-existing condition'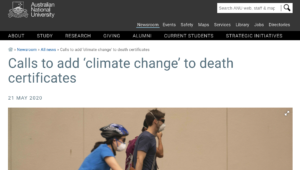 Cause of Death? Climate Change.
"Climate change is a killer, but we don't acknowledge it on death certificates," co-author Dr Arnagretta Hunter, from The Australian National University (ANU) Medical School, said. "There is second component on a death certificate which allows for pre-existing conditions and other factors.
"If you have an asthma attack and die during heavy smoke exposure from bushfires, the death certificate should include that information. We can make a diagnosis of disease like coronavirus, but we are less literate in environmental determinants like hot weather or bushfire smoke." … 
"Climate change is the single greatest health threat that we face globally even after we recover from coronavirus," Dr. Hunter said.
#
Your CO2-laden breath is killing people…science says so! STUDY: 'Three Americans create enough carbon emissions to kill one person' – Claim: 'For every 4,434 metric tons of CO2 produced, one person globally will die'