The Ezra Levant Show – Rebel TV – Broadcast April 6, 2022
Noam Chomsky's biggest fear right now: climate change?
Increasing tensions between NATO and Russia, the rise of Communist China, the waning pandemic — Noam Chomsky thinks climate change is a far more grave threat to humanity.
Noam Chomsky made a name for himself during the Vietnam War as a fierce critic of the U.S. government.
Now, Chomsky has made headlines for an interview with The New Statesman, where he stated that the biggest issue the world is currently facing is climate change — not the pandemic, not the Russia-Ukraine war, not the rise of Communist China.
Joining last night's edition of The Ezra Levant Show was Marc Morano, the man behind Climate Depot.
Speaking of Chomsky's comments, Marc told Ezra:
Morano: "He will tell you that we're going to die from climate change. He will tell you that unmaskers are essentially committing assault. He will tell you Trump is Hitler for climate denial.

But at the same time he wants to empower this sort of permanent one party state that's going to strip away all of our freedoms and it just doesn't make sense for a guy who was against the powers that be, against the Pentagon, against the Man…this is where he's come to it doesn't make any sense."
The full interview with Climate Depot's Marc Morano is available to subscribers of RebelNews+, where new episodes of The Ezra Levant Show are available every weeknight at 8 p.m. ET/6 p.m. MT.
#
Background: 
⚡️ Noam Chomsky: "We're approaching the most dangerous point in human history" Due to climate change & threat of nuclear war – by @NewStatesman https://t.co/ect8PUNG2B

— Marc Morano (@ClimateDepot) April 6, 2022
The Jimmy Dore Show: "Isolate Unvaxxed From Society" says Noam Chomsky
"I mean, do you have an individual right to take an assault rifle and go to the supermarket or mall and start shooting randomly?" he questioned. "That's what it means not to wear a mask. It's a strange kind of individualism."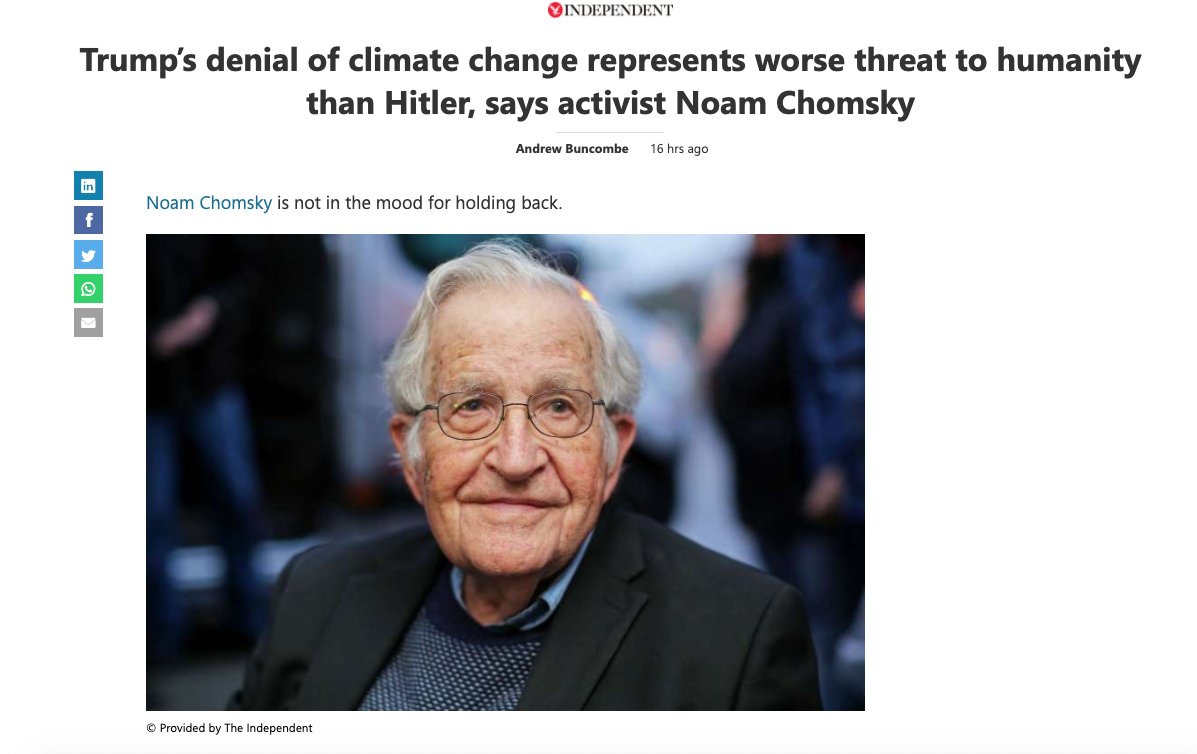 "Definitely the worst one I can think of in history, Adolf Hitler was pretty hideous – [but] he wasn't trying to destroy organised human society on earth," he says.
Challenged on this, with the fact that the Nazi Holocaust killed at least 6 million Jewish people, Chomsky, whose parents were Jewish, says Hitler also killed "30 million Slavs, but not human civilisation". Asked directly if he was saying Trump, 73, was worse than Hitler, Chomsky says: "That's a very outrageous statement. And every time I say it, I preface it by saying, here's an outrageous statement, but please ask yourself whether it's true."
#
New Yorker interview: Chomsky: Donald Trump is "the worst criminal in human history"
When Biden's revised climate policy was unveiled, it was celebrated by many progressives as a real shift. Noam Chomsky declared Biden on climate as "farther to the left than any Democratic candidate in memory," because, he said, the agenda was "largely written by the Sunrise Movement and strongly endorsed by the leading activists on climate change."
…
Chomsky on Biden's Green New Deal: "Take Biden's campaign positions. Farther to the left than any Democratic candidate in memory on things like climate. It's far better than anything that preceded it. Not because Biden had a personal conversion or the DNC had some great insight, but because they're being hammered on by activists coming out of the Sanders movement and others."
"I'm not much interested in his personality. I don't have any opinion. I'm interested in how things get done. And the way things get done is not by Biden having a religious conversion and saying, 'Oh, we've got to really work on the climate.' That's not what happened. The DNC probably hates the program, but they have no choice, because their popular base is not only demanding it, but is working constantly, hard, to force them to do it. That's politics. Not the personality of leaders. I don't know what's in his mind. I don't care, frankly."
Noam Chomsky on global warming: 'We're really regressing back to the Medieval period…without rapid change 'chances for a decent future are not very high' – 'Every country in the world is taking at least halting steps toward trying to do something about [AGW]. The US is also taking steps, namely to accelerate the threat'
Noam Chomsky Proposes Fascism As A Solution To Global Warming! [email protected] – Chomsky warns that if 'catastrophic effects' of warming were due in 10 years 'we'd probably have a fascist takeover-with everybody agreeing to it, because that would be the only method for survival that anyone could think of. I'd even agree to it, because there's just no other alternatives right now'