Climate change is racist!? Targets minorities!? USA Today: 'Code Red' Heat: 'The climate emergency is sending more kids of color to the emergency room'
https://www.usatoday.com/story/news/2022/01/22/heat-climate-change-tied-more-er-trips-kids-color/6563801001/?gnt-cfr=1&utm_campaign=Hot%20News&utm_medium=email&_hsmi=201730379&_hsenc=p2ANqtz-9Gn0utdCIky6wYra_u-0D0dkoI8G7RvOknejd8j16UhzUXqL_MKKgRPOygtlQSHSbVulX6C-FKrATd5hjdOSFwKKK9Ow&utm_content=201730379&utm_source=hs_email
By Nada Hassanein – USA TODAY
Maria Conchita Pozar's heart breaks to watch her 4-year-old daughter swelter in California's eastern Coachella Valley desert sun. During frequent power outages and triple-digit temperatures, they can't turn on the air conditioner in their mobile home.
Each year comes with record-breaking temperatures, recent reports show. Pozar and her rural community of farmworkers take the brunt of it. Families with kids sleep outside or in their running cars with the air on for a couple hours at a time.
#
USA Today: 'Heat from climate change tied to more ER trips for kids of color' https://t.co/GRjmXR8zLy pic.twitter.com/PHpcFlVwyR

— Marc Morano (@ClimateDepot) January 24, 2022
WTF do Intestinal infections, diabetes, and obesity have to do with climate change?! https://t.co/AMYMkorZvt

— Uff-Da-kota Pro (@dakota_rogue) January 24, 2022
Identity politics invades the climate change debate
Reality Check: Update: Meteorologist Anthony Watts issues REBUTTAL to Doctor Merritt: 'Climate Change' Does Not Affect Human Health, Weather Does
Watch: The first medically-diagnosed case of — climate change?! – Morano Minute – A doctor in British Columbia, Canada, made waves by becoming the first doctor to ever diagnose a patient as suffering from "climate change." Is this the beginning of a climate change health epidemic? Learn more on this episode of the Morano Minute.
Morano: "Trust me. I am not a doctor, But I play one on TV."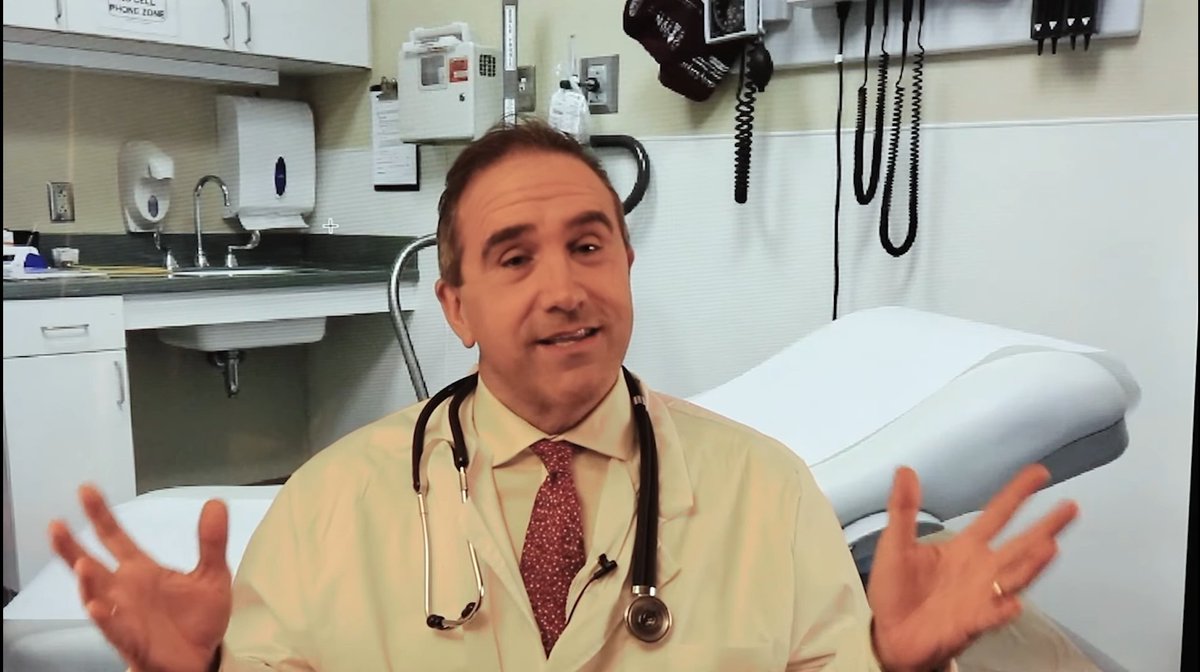 Times Colonist: Climate change enters the ER: For the first time in his 10 years as a physician, the ER doctor picked up his patient's chart and penned in the words "climate change." "If we're not looking at the underlying cause, and we're just treating the symptoms, we're just gonna keep falling further and further behind," he told Glacier Media when asked why he did it. At the same time, Merritt says he hoped another family physician would read the chart, and one day, consider drawing a straighter line between their patients' health and climate change.
… The response was immediate. Roughly 40 doctors and nurses at the small hospital — all busy trying to manage a pandemic and their regular professional lives — came together under the banner Doctors and Nurses for Planetary Health. … Starting Thursday at noon, Lau says the non-partisan group is calling on the provincial government to, among other things, declare an "ecological emergency" and end subsidies to the fossil fuel industry. "A lot of us were really shook by this summer, by the heat dome and the wildfires that are just escalating every year," she says. "This is about moving forward in a way that saves lives."
#
Update: Meteorologist Anthony Watts issues REBUTTAL to Doctor Merritt: 'Climate Change' Does Not Affect Human Health, Weather Does
You were WARNED! Calls to add 'climate change' to death certificates – New study demands 'climate change' be added as 'pre-existing condition'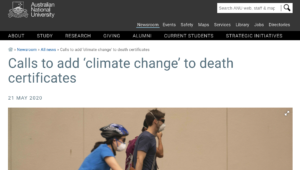 Cause of Death? Climate Change. "Climate change is a killer, but we don't acknowledge it on death certificates," co-author Dr Arnagretta Hunter, from The Australian National University (ANU) Medical School, said. "There is second component on a death certificate which allows for pre-existing conditions and other factors.
But Marc:

1) Everything is racist

2) Everything is climate change

So the dots connect themselves. https://t.co/aE4J2l6HYw

— CDN (@ClimateDN) January 24, 2022