https://twitter.com/Breaking911/status/1432471333712105480?s=20
https://thepostmillennial.com/trudeau-says-lessons-from-covid-crisis-will-help-with-climate-crisis
Trudeau says lessons from COVID crisis will help with climate crisis
Prime Minister Justin Trudeau told supporters on Monday that the lessons learned throughout the COVID crisis would be helpful in tackling the climate crisis and the housing crisis.
"What we learned from this COVID crisis, we will be applying to the climate crisis, the housing crisis, to reconciliation, to making sure that everyone has good jobs and careers that carry them through and create good opportunity for their kids," said Trudeau to a mixed crowd of supporters and protestors in Cambridge, Ontario.
"Climate change is the greatest long-term threat of our time, but it is also our greatest economic opportunity. We have the skilled workforce, innovative spirit, and natural resources at our fingertips to succeed, and our plan has created new jobs and growth across Canada," the Liberals wrote in a statement.#Related Links:Watch: COVID lockdowns morphing into climate lockdowns – Morano on Tucker Carlson
"Chuck Schumer is urging Biden to declare a national climate emergency. Just like a blue-state governor, he could have emergency powers," Marc Morano of Climate Depot said on Tucker Carlson's Fox News show last night. Morano continued: "The World Health Organization employees are now recommending these climate lockdowns. …In the UK they've proposed CO2 ration cards that the government or employers would monitor your CO2 levels, your energy use. This is the world…A CO2 budget for every man, woman, and child on the planet has been proposed by a German climate advisor. This is what we're looking at."
Morano warned: "They're going after freedom of movement; they're going after private car ownership, they're going after everything it means to be a free person and turning it over to the administrative state."
#
September 1, 2021: Marc Morano: When politicians praise lockdowns, they are revealing their plan. What they are saying is simple: They now know how to bypass the gridlock of democracy. Declaring an emergency and then imposing 'solutions without a vote on the 'solutions' is want is what they are attempting to continue — indefinitely if possible. Former New York Gov. Cuomo declared gun violence an emergency. The Biden admin. declared misinformation a crisis. President Biden is being urged by Sen. Chuck Schumer to declare a climate emergency to give him extra powers. See: Dem Sen Majority Leader Schumer urges Biden 'to call a climate emergency' – 'He can do many, many things under the emergency powers…without legislation'
COVID lockdowns have empowered the unelected administrative state and given progressives their long-sought-after goal of one-party rule. We have been living under this one-party rule since March 2020. Around the globe, much of democracy has been suspended in favor of unelected bureaucrats and government executive orders ruling over us with regulations on every last detail of our lives. Covid lockdowns brought bans on backyard BBQs, weddings, funerals, curfews, stay-at-home orders, travel restrictions, limits on movement where you could only go out for what government bureaucrats deemed 'essential services.'  All of this occurred, largely without legislative votes or public hearings. COVID lockdowns were truly a gift to the Left as Jane Fonda explained. See: Watch: Jane Fonda says 'COVID is God's gift to the Left'
For years, Climate activists have praised China's one-party rule. See:
UN Climate Chief Christiana Figueres lamented U.S. democracy is 'very detrimental' in war on global warming — Lauds one-party ruled China for 'doing it right' on climate change – 'China, the top emitter of greenhouse gases, is also the country that's "doing it right" when it comes to addressing global warming, the United Nations' chief climate official said.' 'China is also able to implement policies because its political system avoids some of the legislative hurdles seen in countries including the U.S., Figueres said.'
NYT's Friedman lauded China's eco-policies: 'One party can just impose politically difficult but critically important policies needed to move a society forward' – Freidman excerpt: "One-party autocracy certainly has its drawbacks. But when it is led by a reasonably enlightened group of people, as China is today, it can also have great advantages. That one party can just impose the politically difficult but critically important policies needed to move a society forward in the 21st century."
Morano: Covid-19 lockdowns have finally brought the progressive dream of the one-party state to Western democracies virtually overnight. The politicians can now work with unelected bureaucrats and bypass democracy under the guise of a continuing public health "emergency." And they want to keep these powers — permanently. 
See: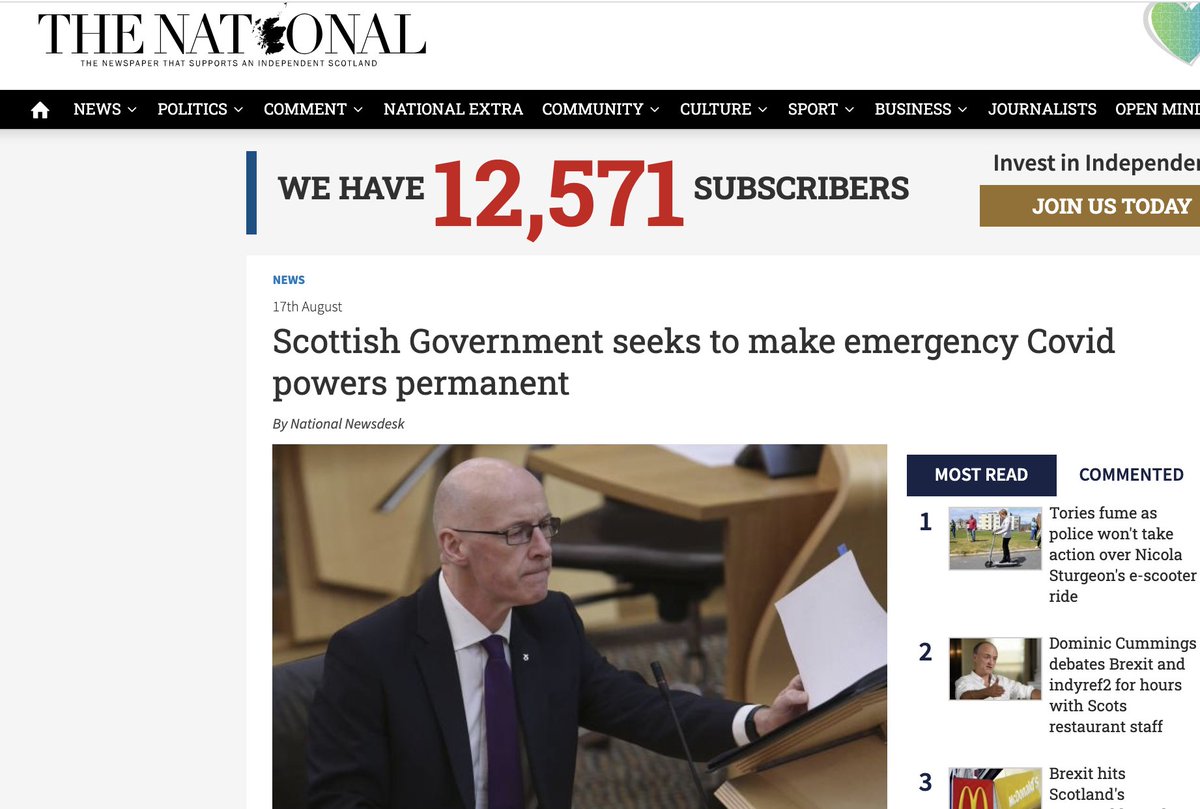 Aug. 2021: Scottish Government seeks to make emergency Covid powers permanent – THE Scottish Government wants its emergency coronavirus powers to become permanent – including the ability to order schools to close, impose lockdowns and operate virtual courts…It adds: "The proposal is, therefore, to give the Scottish ministers the same powers to protect the people of Scotland from any incidence or spread of infection or contamination which presents, or could present, significant harm to human health in Scotland, not just Covid." … Permanent govt powers would ensure "ministers can respond effectively and rapidly to any future threats to public health in Scotland".
& 
Bloomberg News columnist: The 'permanent pandemic' has arrived: 'We Must Start Planning For a Permanent Pandemic' – 'Going 'back' won't be an option'
The progressives are following the never let a crisis go to waste agenda: See: 
Excerpt from my 2020 Great Reset report: 'Compliant' public is a grave danger to liberty: 

"If one lesson from the pandemic is that taking serious action in a timely manner is key – then shouldn't this also be true in terms of climate change?" asked the Speaker of the House of Commons Sir Lindsay Hoyle at G7 Speakers' Meeting in 2020. Speaker Hoyle was amazed at how "compliant" the public was in accepting COVID lockdowns "No-one could ever imagine that we would be wearing masks so readily and that we would all be so compliant," he said. "People were prepared to accept limitations on personal choice and lifestyle – for the good of their own family and friends." Hoyle claimed that the climate "tragedy is that unlike the pandemic, the climate crisis is not simply an external threat, but one in which we have had a clear hand". He said: "In other words, it seems that we have brought this on ourselves. While this is again sobering, surely, it is in our hands to rescue it, if we have got the will to do it?" 

The "will to do it" means the public has to prepare for climate lockdowns since they were so "compliant" in accepting the COVID lockdowns. A compliant public and ambitious politicians and bureaucrats are a grave threat to liberty. The COVID lockdowns are being hailed by climate activists across the spectrum as a model for the coming climate lockdowns.
The proposed climate lockdowns almost exactly mirror COVID-19 lockdowns: 
July 2021 :Watch: New Zealand COVID 'expert' pushes climate lockdowns next: 'We can do this for climate change'
September 2020: Gates/Soros/Ford Foundation-funded Professor floats idea of 'climate lockdown' with bans on red meat, 'extreme' energy limits
July 2021: Marxism's new face is…climate lockdowns: Study claims Americans cut energy use 90%, live in 640 sq, fly once every 3 years, limit 'new clothing', 'plant-based diet', 'collective transport,' universal basic income' & 'degrowth'
Prepare for the Coming 'Climate Lockdowns' – 'Govts would limit private-vehicle use, ban consumption of red meat, & impose extreme energy-saving measures…stop drilling'
UK funded 2019 report 'Absolute Zero' urged climate lockdowns: 'Stop flying…no new roads, airport closures…stop eating beef & lamb…stop doing anything that causes emissions' – Regulate CO2 similar to 'asbestos'
April 2021: Climate lockdowns have arrived: France to ban domestic flights where trains are available, in move to cut emissions
COVID lockdown: People 'must make a declaration as to why they need to travel' – Proposed Climate lockdown: 'You can't fly commercial unless it is 'morally justifiable'
May 2021: Climate lockdowns!? New International Energy Agency's 'Net-Zero' report urges 'behavioral changes' to fight climate: 'A shift away from private car use…. upper speed limits' & thermostat controls; limits on hot water & more!
#
Watch: Morano's 14 min. Climate Lockdown talk: 
Canadian PM Trudeau confirms Great Reset: 'This pandemic has provided an opportunity for a Reset' – We need 'to re-imagine economic systems' by 'building back better'
Flashback November 23, 2020: WMO Sec–Gen. Petteri Taalas: "The COVID-19 pandemic is not a solution for climate change. However, it does provide us with a platform for more sustained and ambitious climate action to reduce emissions to net zero through a complete transformation of our industrial, energy and transport systems.  The needed changes are economically affordable and technically possible and would affect our everyday life only marginally. It is to be welcomed that a growing number of countries and companies have committed themselves to carbon neutrality," he said. "There is no time to lose."