Flashback June 2020: World Economic Forum Chairman Schwab: 'We need a Great Reset of capitalism' due to COVID – Virus lockdowns have given 'opportunity' for 'equality & sustainability' & fighting climate
Klaus Schwab - Founder and Executive Chairman, World Economic Forum: "The changes we have already seen in response to COVID-19 prove that a reset of our economic and social foundations is possible...The world must act jointly and swiftly to revamp all aspects of our societies and economies, from education to social contracts and working conditions. Every country, from the United States to China, must participate, and every industry, from oil and gas to tech, must be transformed. In short, we need a "Great Reset" of capitalism." 
"We must build entirely new foundations for our economic and social systems...In fact, one silver lining of the pandemic is that it has shown how quickly we can make radical changes to our lifestyles. Almost instantly, the crisis forced businesses and individuals to abandon practices long claimed to be essential, from frequent air travel to working in an office....A Great Reset agenda would ensure that investments advance shared goals, such as equality and sustainability."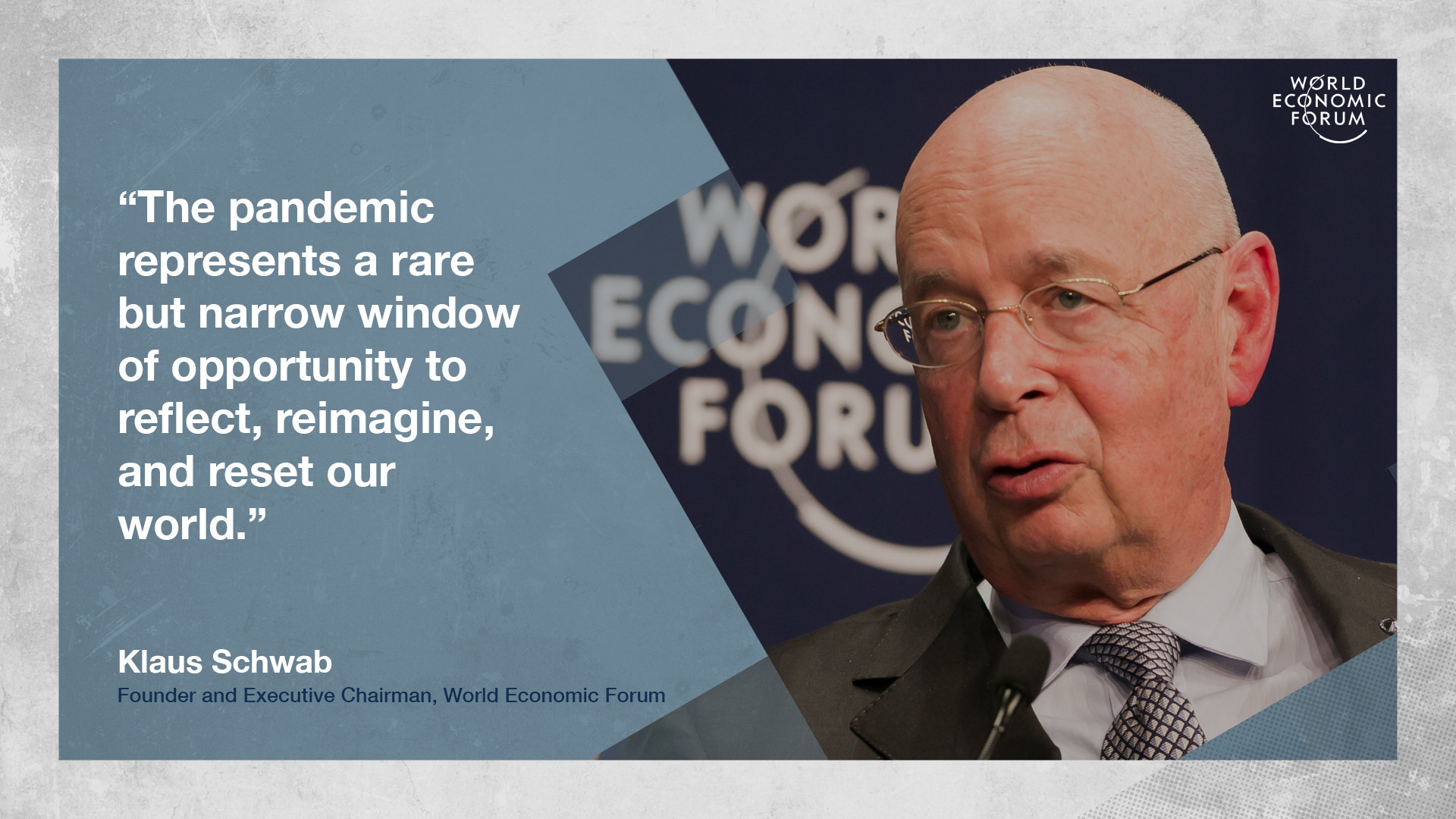 Flashback: 'Fantastic' for the climate: Activists See Coronavirus Lockdowns As Dress Rehearsal for 'Climate Emergency' – Special Report
https://www.weforum.org/agenda/2020/06/now-is-the-time-for-a-great-reset/
By Klaus Schwab – Founder and Executive Chairman, World Economic Forum
Schwab Excerpts: The changes we have already seen in response to COVID-19 prove that a reset of our economic and social foundations is possible. …

The world must act jointly and swiftly to revamp all aspects of our societies and economies, from education to social contracts and working conditions. Every country, from the United States to China, must participate, and every industry, from oil and gas to tech, must be transformed. In short, we need a "Great Reset" of capitalism.

There are many reasons to pursue a Great Reset, but the most urgent is COVID-19…All of this will exacerbate the climate and social crises that were already underway.

We must build entirely new foundations for our economic and social systems.

In fact, one silver lining of the pandemic is that it has shown how quickly we can make radical changes to our lifestyles. Almost instantly, the crisis forced businesses and individuals to abandon practices long claimed to be essential, from frequent air travel to working in an office.

A Great Reset agenda would ensure that investments advance shared goals, such as equality and sustainability.

The pandemic represents a rare but narrow window of opportunity to reflect, reimagine, and reset our world