In a statement that ignores science, Biden's climate adviser says that climate change is "the most significant public health challenge of our time." https://t.co/y2mMLQ8ZIq

— Dinesh D'Souza (@DineshDSouza) January 27, 2021
WH Climate Advisor: Climate Change Is The Most Significant Public Health Challenge Of Our Time
But the data does not support these climate health claims:
After 100 years of climate change, 'climate-related deaths' approach zero – Dropped by over 99% since 1920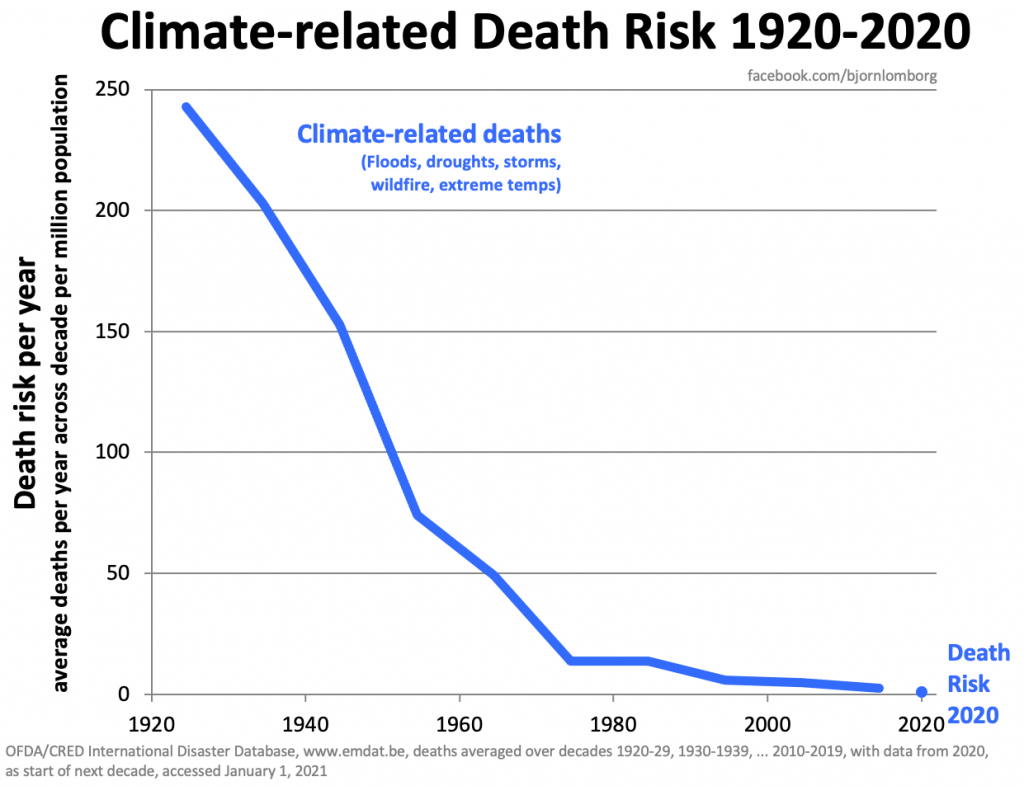 Meteorologist Anthony Watts: "New data shows the global climate-related death risk has dropped by over 99% since 1920. Despite the near-constant caterwauling from climate alarmists that we are in a "climate emergency", real-world data, release at the end of 2020 shows that climate-related deaths are now approaching zero. The data spans 100 years of "global warming" back to 1920 and shows "climate-related" deaths now approaching zero. Above is an update of the graph in the 2020 peer-reviewed article by Bjørn Lomborg: Welfare in the 21st century: Increasing development, reducing inequality, the impact of climate change, and the cost of climate policies."
Bjorn Lomborg reports: "Back in the 1920s, the death count from climate-related disasters was 485,000 on average every year. In the last full decade, 2010-2019, the average was 18,357 dead per year or 96% lower. In the first year of the new decade, 2020, the preliminary number of dead was even lower at 8,086 — 98% lower than the 1920s average.
But because the world's population also quadrupled at the same time, the climate-related *death risk* has dropped even faster. The death risk is the probability of you dying in any one year. In the 1920s, it was 243 out of a million people that would die from climate-related disasters. In the 2010s, the risk was just 2.5 per million people — a drop of 99%. Now, in 2020, the preliminary number is 1 per million — 99.6% lower."
#
Climate activists are setting the stage for this:
Calls to add 'climate change' to death certificates – New study demands 'climate change' be added as 'pre-existing condition'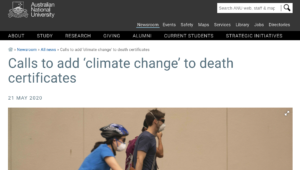 Cause of Death? Climate Change.
"Climate change is a killer, but we don't acknowledge it on death certificates," co-author Dr Arnagretta Hunter, from The Australian National University (ANU) Medical School, said. "There is second component on a death certificate which allows for pre-existing conditions and other factors.
"If you have an asthma attack and die during heavy smoke exposure from bushfires, the death certificate should include that information. We can make a diagnosis of disease like coronavirus, but we are less literate in environmental determinants like hot weather or bushfire smoke." …
"Climate change is the single greatest health threat that we face globally even after we recover from coronavirus," Dr. Hunter said.
#
Of course, presenting science to counter a claim does not work if that science is declared 'racist'
'The data is racist!' Rhode Island professor denounces 'science, statistics, and technology' as 'inherently racist'
University of Rhode Island and Director of Graduate Studies Erik Loomis wrote: "Science, statistics, and technology are all inherently racist because they are developed by racists who live in a racist society, whether they identify as racists or not."
Loomis added: "This is why I have so much contempt for those, including many liberals, who "just want the data." The data is racist!"
Also see: According to this professor, 'Science, statistics, and technology are all inherently racist'
University of Rhode Island Professor Erik Loomis said in a tweet that science, statistics and technology are inherently racist "because they are developed by racists living in a racist society." – Loomis also said that he has contempt for people who "just want the data."
#
Silly: "Climate change most significant public health issue of our time" Biden's Climate Advisor McCarthy

Heart disease kills 33% and cancer 26% of all Americans

Heat kills 0.3% and declining. Cold 6.4% and increasing

Yes, problem. No, 0.3% not biggest challenge

refs below pic.twitter.com/C7rrLZJEI0

— Bjorn Lomborg (@BjornLomborg) January 28, 2021
Moreover, most heat deaths are rather easy to tackle (which is why they are declining), bc only affect people for a few days

Cold deaths much worse, because they require months of good heating (why they increase)

Unfortunately newest data to 2006 https://t.co/TWZfaBW7nD pic.twitter.com/flqmoXSvJ2

— Bjorn Lomborg (@BjornLomborg) January 28, 2021
Heat deaths have declined precipitously in the US since 1960s, much of it because of widespread availability of air conditioninghttps://t.co/wmhiOHh43z https://t.co/BkbQPyDRRt pic.twitter.com/Mi1qJcgh3G

— Bjorn Lomborg (@BjornLomborg) January 28, 2021
Across world, heat deaths typically (&surprisingly) small compared to cold deaths. Here India:

Each year, 584,300 die from moderate cold. 47,800 die from extreme cold.

Yet, almost all stories on India's extreme weather is extreme heat (25,100/yr)https://t.co/xgd5ayy81M pic.twitter.com/RhuI72VCkW

— Bjorn Lomborg (@BjornLomborg) January 28, 2021
Here is National Climate Advisor Gina McCarthy's comments, January 27, 2021, https://t.co/btI5zhnMkm pic.twitter.com/tKZ3wdaLSy

— Bjorn Lomborg (@BjornLomborg) January 28, 2021
These are almost nil, because societies know how to reduce deaths dramaticallyhttps://t.co/CtkTOUgCFA

Air pollution is a big deal, but almost orthogonal to climate — cutting air pollution is much cheaper (scrubbers) than cutting CO₂ (replace with renewables) pic.twitter.com/u8hpL6FItC

— Bjorn Lomborg (@BjornLomborg) January 28, 2021
I can't imagine why this @WhiteHouse video about climate change being intersectional already has 9,000 dislikes. https://t.co/LwqrUOQ9ih pic.twitter.com/WeiOqgLrE3

— Karlyn Borysenko (@DrKarlynB) January 31, 2021