Science Wins! Trump stomps on climate religion, withdraws from UN pact – Round Up
Morano: 'This is very close to a religious issue. This is a theological issue. People take climate change that seriously.' 'We are proud of a president who is staring at the UN and saying we don't want to give up our sovereignty so that UN bureaucrats can redistribute our wealth and do nothing for the climate. This is a great day for science.'
Morano: 'The UN has admitted they will redistribute wealth by climate policy. This is all politics, it is not about saving the planet and Trump is calling them on it.'We been called a rogue nation along with Syria and Nicaragua. The U.S was founded as a rogue nation. Trump is showing true leadership. Standing up to the world and say we are not buying belief in superstition that a UN agreement that even if you believe in UN assumptions would have no measurable impact on temps in 100 years or has anything to do with saving the planet or climate. Donald Trump should win a medal of scientific courage and political courage for pulling out of this.'
Morano: 'This treaty has no basis not only in science, but in actual cost benefit analysis. Even if you use all the UN assumptions and believe everything they claim about the science, you would not be able to measure the temperature difference in a 100 years assuming all the countries did what thy planned to do…If we did face a climate apocalypse, you don't need the UN to sit there and decide what energy mix countries should have. UN bureaucrats don't have to be in charge. You don't need central planning to determine that.
Sky News Anchor Kay Burley: Trump is really setting himself against almost every other country. is that what we want the leader of the free world to do?
Morano: Absolutely. We been called a rogue nation along with Syria and Nicaragua. The U.S was founded as a rogue nation. Trump wants to be a leader. Trump is showing true leadership. Standing up to the world and say we are not buying belief in superstition that a UN agreement that even if you believe in UN assumptions would have no measurable impact on temps in 100 years or has anything to do with saving the planet or climate. Donald Trump should win a medal of scientific courage and political courage for pulling out of this.
Morano: 'This is very close to a religious issue. This is a theological issue. People take climate change that seriously.' 'We are proud of a president who is staring at the UN and saying we don't want to give up our sovereignty so that UN bureaucrats can redistribute our wealth and do nothing for the climate. This is a great day for science.' 'The UN has admitted they will redistribute wealth by climate policy. This is all politics, it is not about saving the planet and Trump is calling them on it.'
Watch: Morano on Newsmax TV: UN Paris Accord Is About Wealth Redistribution, Not Climate – Morano on Newsmax TV's Steve Malzberg show: "The UN has actually admitted the real reason for the treaty. They said this is not even environmental policy anymore, we will redistribute wealth by climate policy. That's what they want, a $100 billion a year slush fund going to governments that are best able to keep your people locked in poverty. "This is all about social engineering, central planning, redistribution of wealth, and empowering UN bureaucrats."
Climate Depot's Morano predicted Trump's actions today back in November 2016 while attending the UN climate summit in Morocco. Morano was ejected from the summit for shredding the UN Paris agreement. See: UN Armed Security Shuts Down Skeptics After SHREDDING UN Climate Treaty at Summit Next To Trump Cut-out – November 16, 2016
A UN climate agreement is totally meaningless when it comes to the climate. University of Pennsylvania Geologist Dr. Robert Giegengack  has noted: "None of the strategies that have been offered by the U.S. government or by the EPA or by anybody else has the remotest chance of altering climate if in fact climate is controlled by carbon dioxide."
Climate Depot Marc Morano adds: In layman's terms: All of the so-called 'solutions' to global warming are purely symbolic when it comes to climate. So, even if we actually faced a climate catastrophe and we had to rely on a UN climate agreement, we would all be doomed!  Make no mistake, climate campaigners who tout UN agreements and EPA regulations as a way to control Earth's temperature and storminess are guilty of belief in superstition. Today, America rejects superstition and the belief that government regulations and UN agreements can control the climate. 
Lomborg: "If the U.S. delivers for the whole century on the President Obama's very ambitious rhetoric, it would postpone global warming by about eight months at the end of the century."
Danish statistician Dr. Bjorn Lomborg, the President of the Copenhagen Consensus Center: "We will spend at least one hundred trillion dollars in order to reduce the temperature by the end of the century by a grand total of three tenths of one degree…the equivalent of postponing warming by less than four years…Again, that is using the UN's own climate prediction model." "But here is the biggest problem: These minuscule benefits do not come free — quite the contrary. The cost of the UN Paris climate pact is likely to run 1 to 2 trillion dollars every year."
#
Related Links: 
'Failure Of Paris Climate Deal Was Inevitable'
TRUMP: 'Paris' less about climate, more about others gaining advantage over US
Trump: 'I was elected to represent the citizens of Pittsburgh, not Paris'
Democrat Billionaire climate activist Tom Steyer: Trump's Paris exit a 'traitorous act of war'
Hulk Actor Mark Ruffalo: 'Trump will have the death of whole nations on his hands'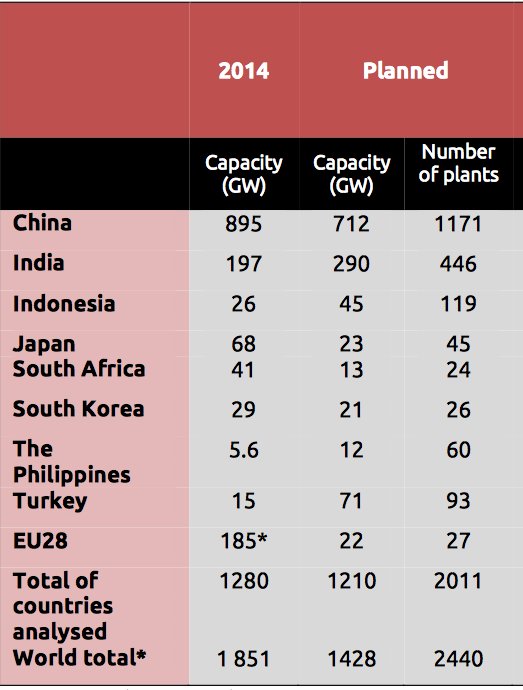 We're Outta There! President Pulling Out Of Paris Climate Accord
THE 10 DUMBEST REACTIONS TO TRUMP QUITTING THE PARIS CLIMATE ACCORD
1. Apparently of the opinion that Kathy Griffin pretending to behead Trump wasn't quite distasteful enough, an editorial cartoonist for the Australian Financial Review, David Rowe, likened Trump leaving the Paris agreement to … beheading the entire planet.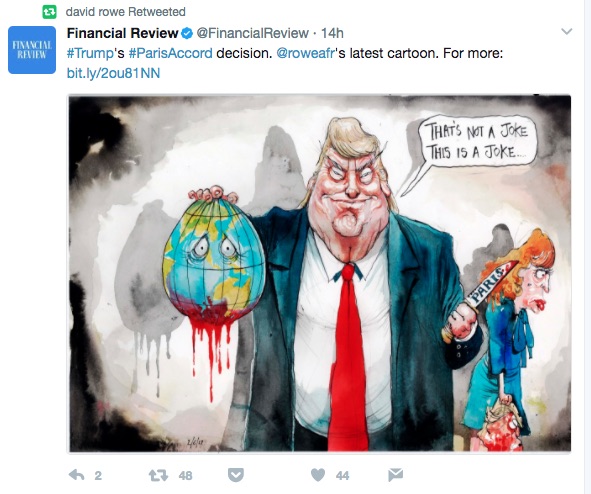 9. John Kerry, one of the deal's leading negotiators, said Trump is not helping the "forgotten Americans" he pledged to elevate, but instead will give their kids asthma (perhaps as soon as this summer!).
Weather Channel Website Goes Apocalyptic After Trump's Paris Accord Repeal
De Blasio Declares NYC Will Defy Trump, Commit To Global Warming Agreement
Democrats Plot 'Revolution' To Circumvent Trump's Paris Decision
Top Congressional Republicans Applaud Trump's Decision To Pull Out Of Paris Climate Agreement
Environmentalists Call Trump's Trashing Of Global Warming Deal A 'Suicide Note For Earth'
Existing a Paris is racist?! ACLU: U.S. Exiting Paris Climate Accord Is 'An Assault on Communities of Color'
As his climate legacy is erased, Obama slams Trump for leaving Paris agreement
Dem Senate Min. Leader Schumer: Trump tells Earth to 'drop dead'
'Failure Of Paris Climate Deal Was Inevitable'
TRUMP: 'Paris' less about climate, more about others gaining advantage over US
Trump: 'I was elected to represent the citizens of Pittsburgh, not Paris'
Democrat Billionaire climate activist Tom Steyer: Trump's Paris exit a 'traitorous act of war'
CNN: Trump on Paris accord: 'We're getting out'
BBC: Trump announces US will withdraw from UN Paris Climate deal
Hulk Actor Mark Ruffalo: 'Trump will have the death of whole nations on his hands'
Watch Live: Trump's announcement of UN Paris Climate Pact
It's Over! White House Confirms Trump Will Announce U.S. Withdrawal from Paris Climate Accord
DiCaprio to Trump on UN Paris Pact: 'I hope you'll make the moral decision'
Fmr. CBS Newsman Dan Rather: 'History will judge mercilessly Trump's reported decision to withdraw from Paris' pact
Update: CNN: Trump expected to withdraw from Paris climate agreement – Will Announce at 3pm Thursday
Hillary on Trump Paris pullout: 'Really stupid… totally incomprehensible… incredibly foolish'