Author of 1975 Newsweek global cooling article, Peter Gwynne, issues partial 'mea culpa' — Rails on 'deniers' & promotes Michael Mann & Now says of cooling fears 'scientists now know that they were seriously incomplete'
Read the Full Article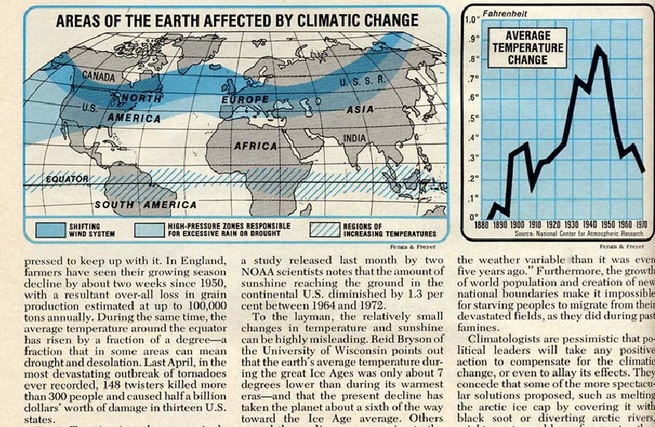 Gwynne: 'I fear that my obituary will be dominated by that single article in Newsweek.' - The 'article has reportedly become the most-cited article in Newsweek's history.' 
'While the hypotheses described in that original story seemed right at the time, climate scientists now know that they were seriously incomplete.' ... "The science was sort of speculative [in 1975]', Michael Mann recalled. 
Gwynne: 'I must admit mea culpa. In retrospect, I was over-enthusiastic in parts of my Newsweek article. Thus, I suggested a connection between the purported global cooling and increases in tornado activity that was unjustified by climate science. I also predicted a forthcoming impact of global cooling on the world's food production that had scant research to back it. The messages for science writers are to ask questions beyond the obvious and to seek out what the science doesn't imply as well as what it does. If I had applied those lessons back in 1975, I might not now be in the embarrassing position of being a cat's paw for denial of climate change.'
Scientist Doug Hoffman responds to Gwynne
: '
You didn't tell the whole story in 1975 because it was not known. You are not telling the whole story now, because it is not known. Climate science is too crude, too immature to make any of the bombastic claims attributed to it in the media. You were part of the problem back then and you remain part of the problem today. If you had any integrity you would simply say I was wrong and leave it at that.'
However, both types of warming deniers, along with policymakers who have consistently opposed any regulation designed to reduce acid rain, the destruction of the ozone layer, and other perceived ills, have consistently used the articles – particularly mine – as ammunition.
But that's just one line of attack. Mann suffered another starting in 1998, after he published an article in the journal Nature; that included a "hockey stick" model that demonstrated a dramatic increase in the rate of recent global warming.