What the data says about Americans' views of climate change – AUGUST 9, 2023
Democrats and Republicans have grown further apart over the last decade in their assessments of the threat posed by climate change. Overall, a majority of U.S. adults (54%) describe climate change as a major threat to the country's well-being. This share is down slightly from 2020 but remains higher than in the early 2010s.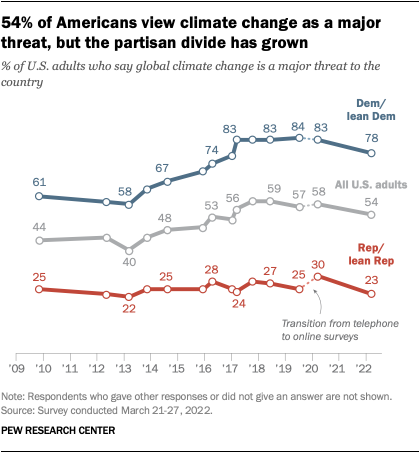 Nearly eight-in-ten Democrats (78%) describe climate change as a major threat to the country's well-being, up from about six-in-ten (58%) a decade ago. By contrast, about one-in-four Republicans (23%) consider climate change a major threat, a share that's almost identical to 10 years ago.
Concern over climate change has also risen internationally, as shown by separate Pew Research Center polling across 19 countries in 2022. People in many advanced economies express higher levels of concern than Americans. For instance, 81% of French adults and 73% of Germans describe climate change as a major threat.
Climate change is a lower priority for Americans than other national issues. While a majority of adults view climate change as a major threat, it is a lower priority than issues such as strengthening the economy and reducing health care costs.
Overall, 37% of Americans say addressing climate change should be a top priority for the president and Congress in 2023, and another 34% say it's an important but lower priority. This ranks climate change 17th out of 21 national issues included in a Center survey from January.
As with views of the threat that climate change poses, there's a striking contrast between how Republicans and Democrats prioritize the issue. For Democrats, it falls in the top half of priority issues, and 59% call it a top priority. By comparison, among Republicans, it ranks second to last, and just 13% describe it as a top priority.
Our analyses have found that partisan gaps on climate change are often widest on questions – such as this one – that measure the salience or importance of the issue. The gaps are more modest when it comes to some specific climate policies. For example, majorities of Republicans and Democrats alike say they would favor a proposal to provide a tax credit to businesses for developing technologies for carbon capture and storage.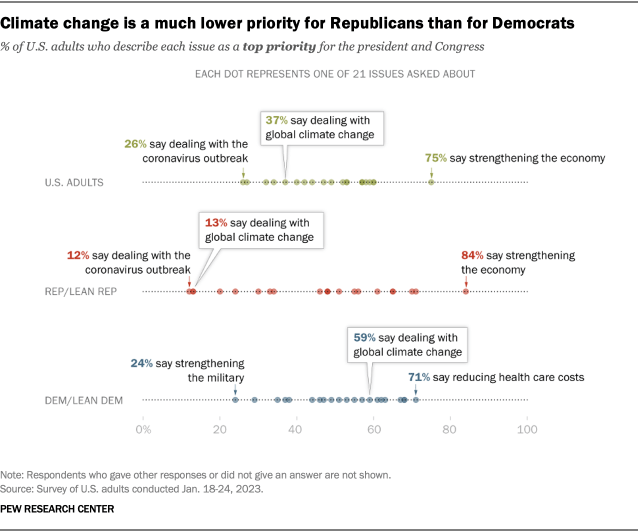 Perceptions of local climate impacts vary by Americans' political affiliation and whether they believe that climate change is a serious problem. A majority of Americans (61%) say that global climate change is affecting their local community either a great deal or some. About four-in-ten (39%) see little or no impact in their own community.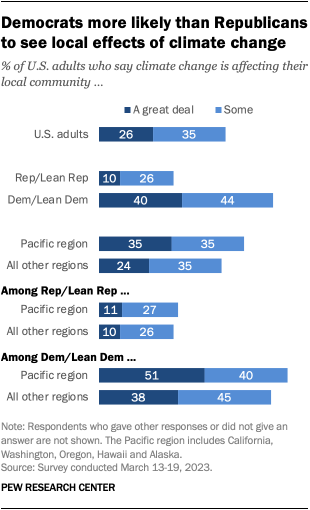 The perception that the effects of climate change are happening close to home is one factor that could drive public concern and calls for action on the issue. But perceptions are tied more strongly to people's beliefs about climate change – and their partisan affiliation – than to local conditions.
For example, Americans living in the Pacific region – California, Washington, Oregon, Hawaii and Alaska – are more likely than those in other areas of the country to say that climate change is having a great deal of impact locally. But only Democrats in the Pacific region are more likely to say they are seeing effects of climate change where they live. Republicans in this region are no more likely than Republicans in other areas to say that climate change is affecting their local community.
Our previous surveys show that nearly all Democrats believe climate change is at least a somewhat serious problem, and a large majority believe that humans play a role in it. Republicans are much less likely to hold these beliefs, but views within the GOP do vary significantly by age and ideology. Younger Republicans and those who describe their views as moderate or liberal are much more likely than older and more conservative Republicans to describe climate change as at least a somewhat serious problem and to say human activity plays a role.
Democrats are also more likely than Republicans to report experiencing extreme weather events in their area over the past year – such as intense storms and floods, long periods of hot weather or droughts – and to see these events as connected with climate change.
About three-quarters of Americans support U.S. participation in international efforts to reduce the effects of climate change. Americans offer broad support for international engagement on climate change: 74% say they support U.S. participation in international efforts to reduce the effects of climate change.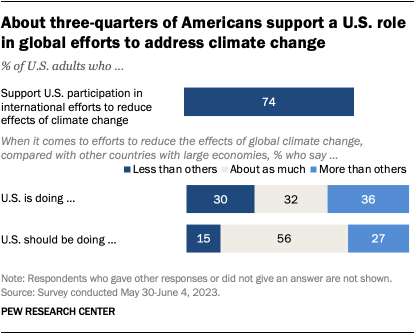 Still, there's little consensus on how current U.S. efforts stack up against those of other large economies. About one-in-three Americans (36%) think the U.S. is doing more than other large economies to reduce the effects of global climate change, while 30% say the U.S. is doing less than other large economies and 32% think it is doing about as much as others. The U.S. is the second-largest carbon dioxide emitter, contributing about 13.5% of the global total.
When asked what they think the right balance of responsibility is, a majority of Americans (56%) say the U.S. should do about as much as other large economies to reduce the effects of climate change, while 27% think it should do more than others.
A previous Center survey found that while Americans favor international cooperation on climate change in general terms, their support has its limits. In January 2022, 59% of Americans said that the U.S. does not have a responsibility to provide financial assistance to developing countries to help them build renewable energy sources.
In recent years, the UN conference on climate change has grappled with how wealthier nations should assist developing countries in dealing with climate change. The most recent convening in fall 2022, known as COP27, established a "loss and damage" fund for vulnerable countries impacted by climate change.
Note: This is an update of a post originally published April 22, 2022. Here are the questions used for this analysis, along with responses, and its methodology.