https://notalotofpeopleknowthat.wordpress.com/2023/08/30/hurricane-idalia/
Hurricane Idalia
By Paul Homewood
Sky have gone into full Goebbels mode with this pack of lies:
[Climate Depot Note: Other outlets are also pushing the "unprecedented" angle.
France 24: Residents in Florida urged to evacuate as 'unprecedented' Hurricane Idalia approaches
PBS: "The National Weather Service in Tallahassee called Idalia 'an unprecedented event' since no major hurricanes on record have ever passed through the bay abutting the Big Bend."
AP: Idalia roars into Carolinas after taking 'unprecedented' path through northern Florida, Georgia
https://news.sky.com/story/hurricane-idalia-latest-unprecedented-hurricane-to-hit-florida-residents-told-youve-really-got-to-go-now-12950589
#
Paul Homewood responds:
Heaven knows where they got "unprecedented" from. The headline was probably written even before landfall.
In fact it made landfall as a Cat 3, with sustained winds of 125 mph and central pressure of 949 MB: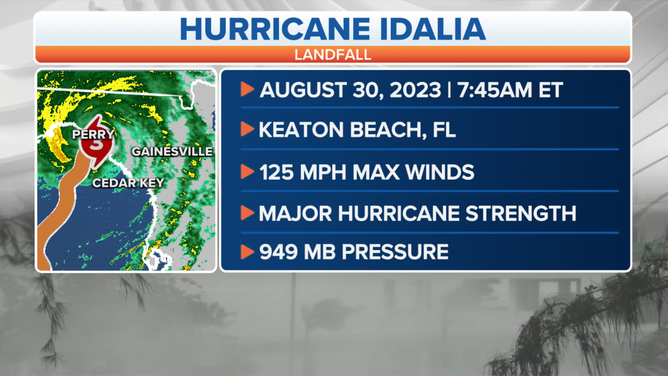 There have been 46 other US landfalling hurricanes with 949 MB and lower:
https://www.aoml.noaa.gov/hrd/hurdat/All_U.S._Hurricanes.html
Initial reports from Fox suggest that storm surge so far has been much less than forecasts of 16ft suggested, though high tide has still to arrive. Maximum surge now is expected to be in the range of 7-11 ft:
https://www.nhc.noaa.gov/refresh/graphics_at5+shtml/151539.shtml?peakSurge#contents
https://www.foxnews.com/us/hurricane-idalia-landfall-florida-big-bend-category-3-tens-thousands-without-power
Sky have resorted to the rapid intensification nonsense to make it appear to be an extreme event, claiming that it is due to climate change:
We simply do not have any reliable data prior to the satellite data to know whether this sort of rapid intensification is in any way unusual. What made Idalia harder to prepare for was the direction it took, as it ran straight north out of the Caribbean, after forming there as a tropical depression on Saturday.
Most Atlantic hurricanes are tracked across the ocean, even before they actually form, giving plenty of warning.
The bottom line is that Idalia was no different to dozens of other hurricanes that have hit the US in the past.
To pretend that it is unprecedented simply shows just how dishonest our media has become.
UPDATE
I suspect the "Unprecedented" claim may have come from US reports. Fox, for instance, that Idalia is the strongest hurricane to strike the Big Bend area – especially near Cedar Key – in 125 years, dating back to an unnamed 1896 storm.
That stretch of coastline is, of course, tiny, about 50 or so miles long.
By the same token, most of the Florida coast has never been hit by a major hurricane, because the strongest winds in a hurricane rarely extend more than a few miles from the centre.
#
The media is claiming that "Idalia is the strongest hurricane to strike the Big Bend area – especially near Cedar Key – in 125 years, dating back to an unnamed 1896 storm. That stretch of coastline is, of course, tiny, about 50 or so miles long." 
#
#
Marc Morano comment: "The media is calling Hurricane Idalia 'unprecedented' because one never hit a specific 50-mile stretch of land before in Florida. This is nuts. It's like saying the hamburger you ate was 'unprecedented' because you ate it in a new location." https://t.co/vVWzjnNmBw

— Marc Morano (@ClimateDepot) August 30, 2023
As Marc [@ClimateDepot] notes, the only reason the press claims Hurricane Idalia was "unprecedented" is because within our POR [since 1851], there has not been a hurricane landfall until now along that ~50-mile stretch of land.

As Adam Sandler says, "Whoo-a-dee-dooo."

By this… https://t.co/Lcv1D9itkP

— Chris Martz (@ChrisMartzWX) August 31, 2023
" unprecedented" L O L. It's really hard to find a single piece of ground in Florida. That hasn't been run over in past 100 years. If you live there, you're going to get nailed. It's just a matter of when. The good news is that it's no more likely now than it was 100 years ago pic.twitter.com/NARU8sru7n

— Wei. Zhang (@WeiZhangAtmos) August 31, 2023