First, they came for your energy, then your meat, car, dishwasher, 2 1/2 hour plane flights, then your pizza & now… YOUR ICE!

Scientific American: 'Climate-friendly Cocktail Recipes Go Light on Ice'@RWMaloneMD

Robert W Malone MD, MS: "Who pays for a magazine like… pic.twitter.com/HD6uNzwq5U

— Marc Morano (@ClimateDepot) June 27, 2023
Robert W Malone MD, MS: "Who pays for a magazine like Scientific American to write and print an article suggesting that people should forgo ice as a lifestyle choice?"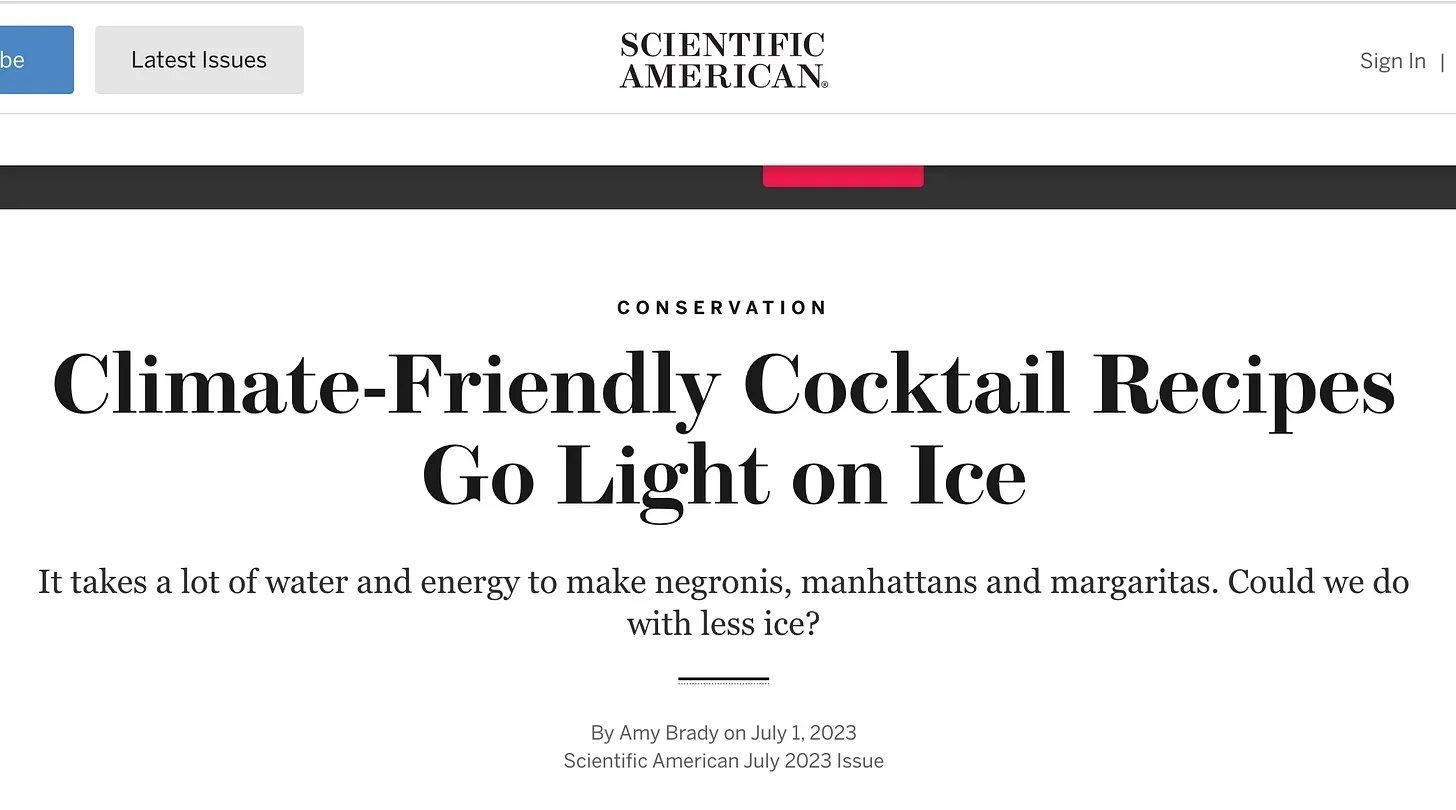 https://www.scientificamerican.com/article/climate-friendly-cocktail-recipes-go-light-on-ice/
Climate-Friendly Cocktail Recipes Go Light on Ice – It takes a lot of water and energy to make negronis, manhattans and margaritas. Could we do with less ice?
Excerpt: Today even a moderately busy bar requires a lot of ice to get through a night. Bartenders are advised never to use the same cube twice when going through the steps of making a single cocktail: chilling glassware, shaking or stirring, and serving the drink. It's a process that requires a significant amount of water and energy. For years the hospitality industry has seen diners clamoring for foods that prioritize climate-friendly practices, such as local and seasonal ingredients that are grown or raised with carbon footprints in mind. Yet cocktail culture hasn't been hit with the same scrutiny. As the American West experiences water scarcity and energy prices remain volatile, the protocol for properly made cocktails doesn't look sustainable. Is it possible to make satisfying cocktails without so much ice? … 
How much ice does an average bar use? According to Todd Bell, senior energy analyst at energy-efficiency consulting group Frontier Energy, the amount "really depends on the operation." It might be between 200 and 300 pounds a night or far more. … 

"The ice-making procedure in bars is crazy wasteful," Arnold says. "It's kind of just built into the way [bars] operate things." Energy wasted from ice is largely because of in-house ice machines, which many—if not most—bars and restaurants use to maintain their steady ice supply. Ice machines run continually until they are full, potentially for several hours at a time. The machines vary widely in terms of the amount of energy they draw, however, depending on whether they are air- or water-cooled. … 

Most bars aren't likely to give up ice altogether anytime soon. And cocktails aren't unsustainable just because of all the ice and water they require; they also tend to rely on ingredients that are shipped from far away, such as lemons and limes and liquors from around the world. …

To mitigate its waste, Eve Bar forgoes an ice-making machine for 55-pound blocks of ice, which are delivered to the bar by a local ice company. Eve's bartenders precut the block ice to "fit perfectly" in every type of glass used, he says, so that no ice gets wasted. … 

Jennifer Colliau is a sustainability-focused "cocktail nerd" who designed a bar menu that used as little ice as possible at The Perennial, a restaurant in San Francisco that closed in 2019. Colliau read about what Arnold has called the "science of shaking" and the "science of stirring" to devise ways to use less ice without affecting the taste and texture of cocktails.