https://wtop.com/crime/2023/05/climate-protesters-charged-for-damaging-national-gallery-exhibit/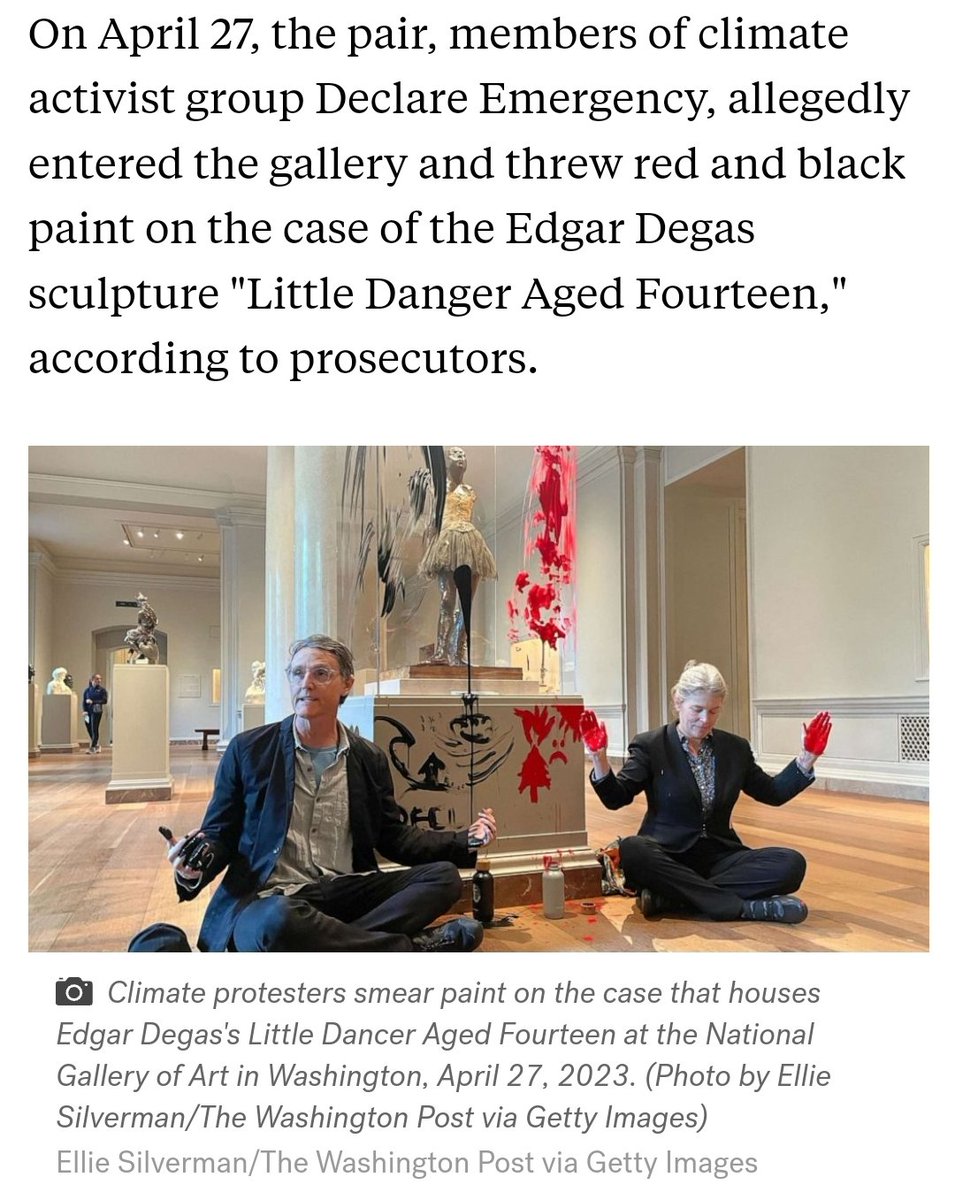 Excerpt: The two climate protesters who smeared paint on the case and base of Edgar Degas' "Little Dancer Aged Fourteen" in the National Gallery of Art on April 27 were arrested Friday. Timothy Martin of North Carolina and Joanna Smith of New York, both 53, were charged with conspiracy to commit an offense against the United States and injury to a National Gallery of Art exhibit. …
According to the indictment, Martin and Smith had planned to injure the exhibit when they entered the National Gallery and brought plastic water bottles filled with paint. The indictment outlines how they handed their phones to co-conspirators before smearing paint on the case and base of the sculpture's exhibit, at times smacking the glass case. Washington Post reporters alerted about the attack filmed and photographed the offense.
…
The U.S. Attorney's Office said in a news release the "Little Dancer" was explicitly targeted for her fragility. The sculpture's materials include human hair, silk and linen ribbon that is over 100 years old.
Smith and Martin caused approximately $2,400 in damage, and the exhibit was removed from public display for 10 days for repairs, according to the indictment. The Washington Post reported that it's staff reporters were initially subjected to a potential arrest but, after speaking with attorneys, they were not detained. District police have not commented on the report. …
The protesters are calling for President Biden to declare a formal state of climate emergency and said the sculpture was damaged to highlight "insufficient action on the climate emergency."
https://threadreaderapp.com/thread/1662306689163440128.html

US Attorney in D.C. filed felony conspiracy charges against 2 delusional climate protesters involved in damaging the "Little Dancer" at National Gallery if Art.
The pair were arrested, jailed, and face a minimum of 5 years in prison.
They should plead guilty. If you do the… twitter.com/i/web/status/1…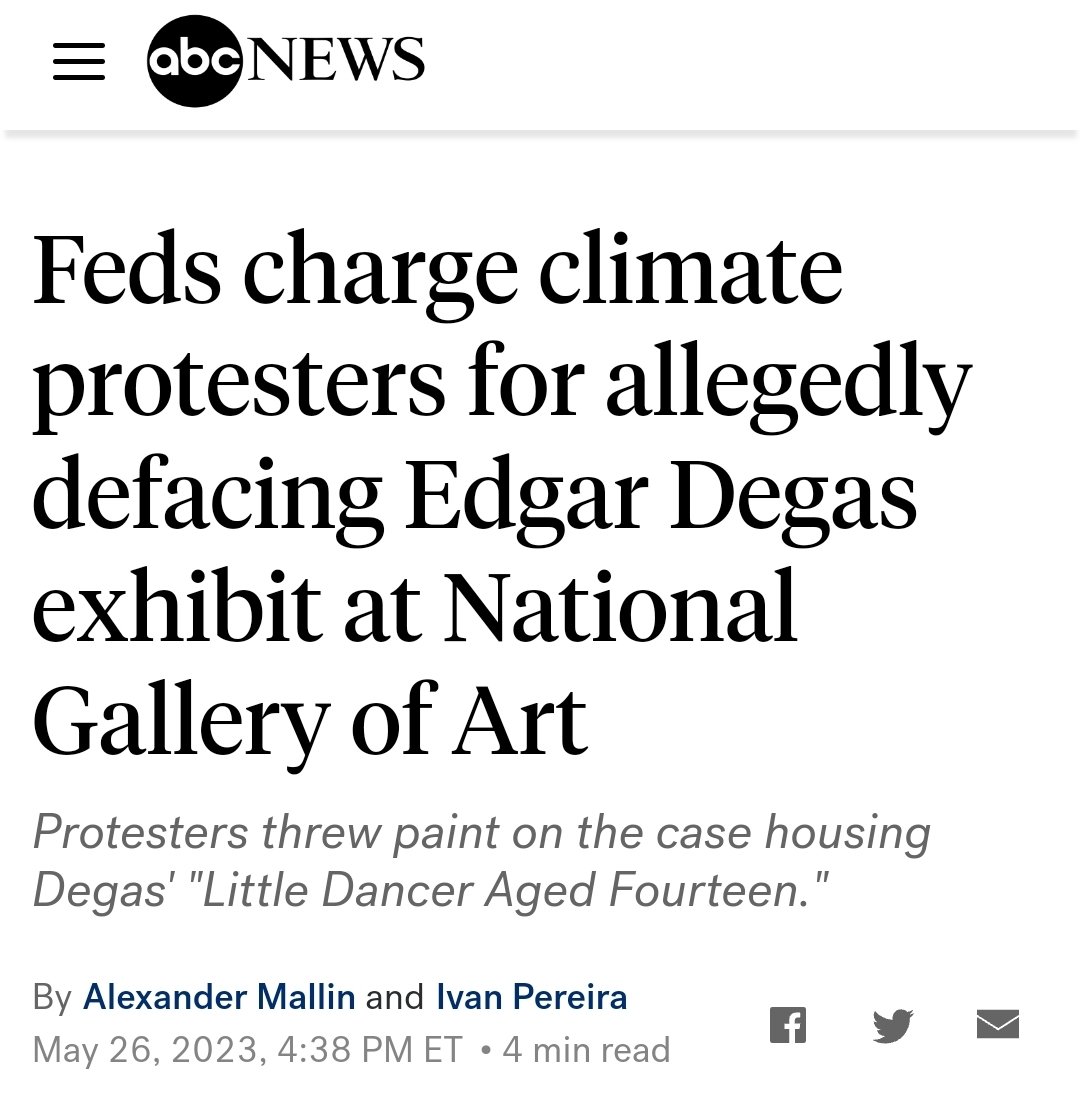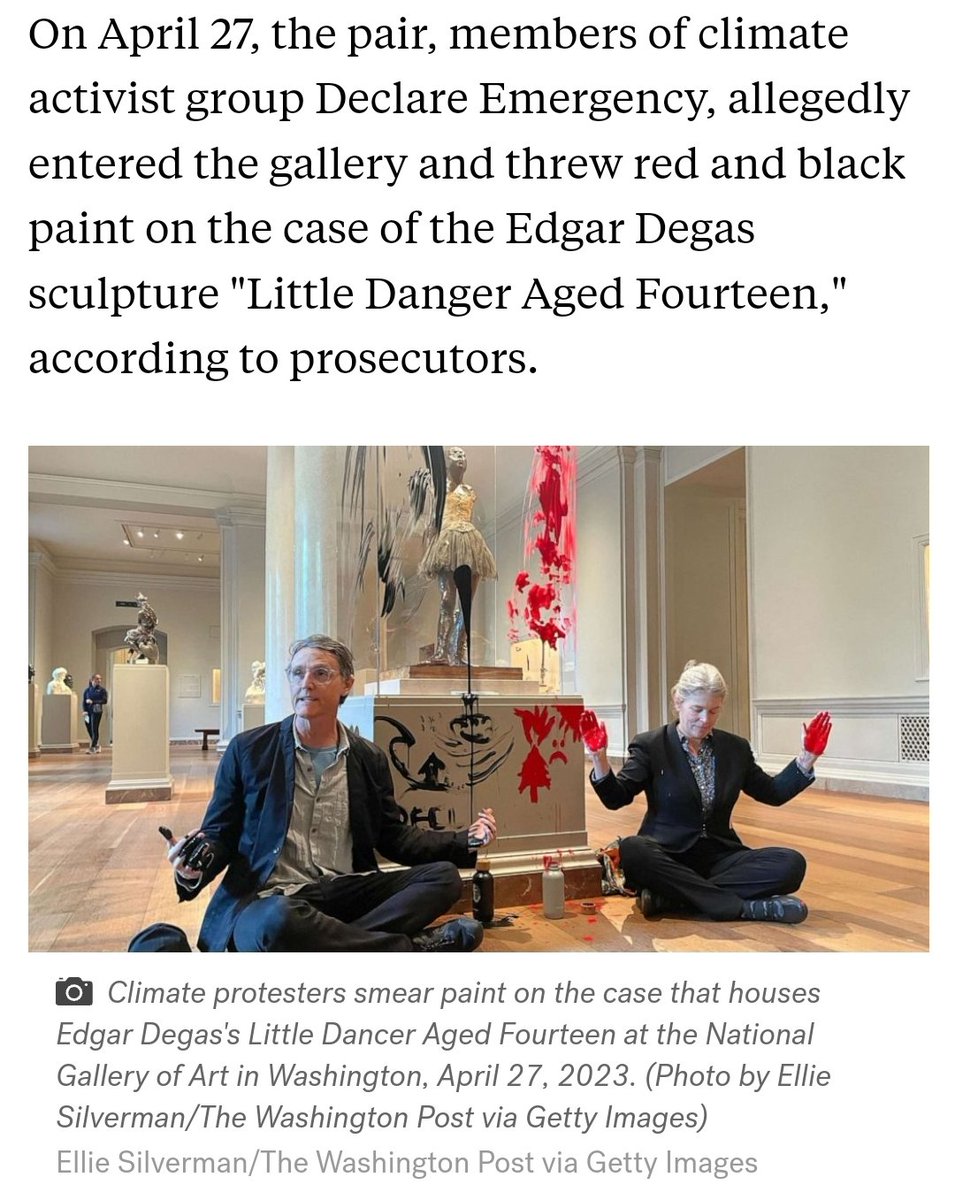 They did not act alone: More from Wash Post on far-reaching criminal conspiracy to attack the National Gallery of Art. 😡
👀 And alerted one member of the media (who was there with a camera and speedily edited the footage lickety-split for Wash Post)
Protesters smeared paint on the case and pedestal of Edgar Degas's "Little Dancer Aged Fourteen" sculpture in the National Gallery of Art in D.C. to bring attention to the climate crisis and demand that President Biden declare a climate emergency. https://t.co/FWiuFqJzId pic.twitter.com/8AQkeIWlQH

— The Washington Post (@washingtonpost) April 27, 2023
"The indictment also… twitter.com/i/web/status/1…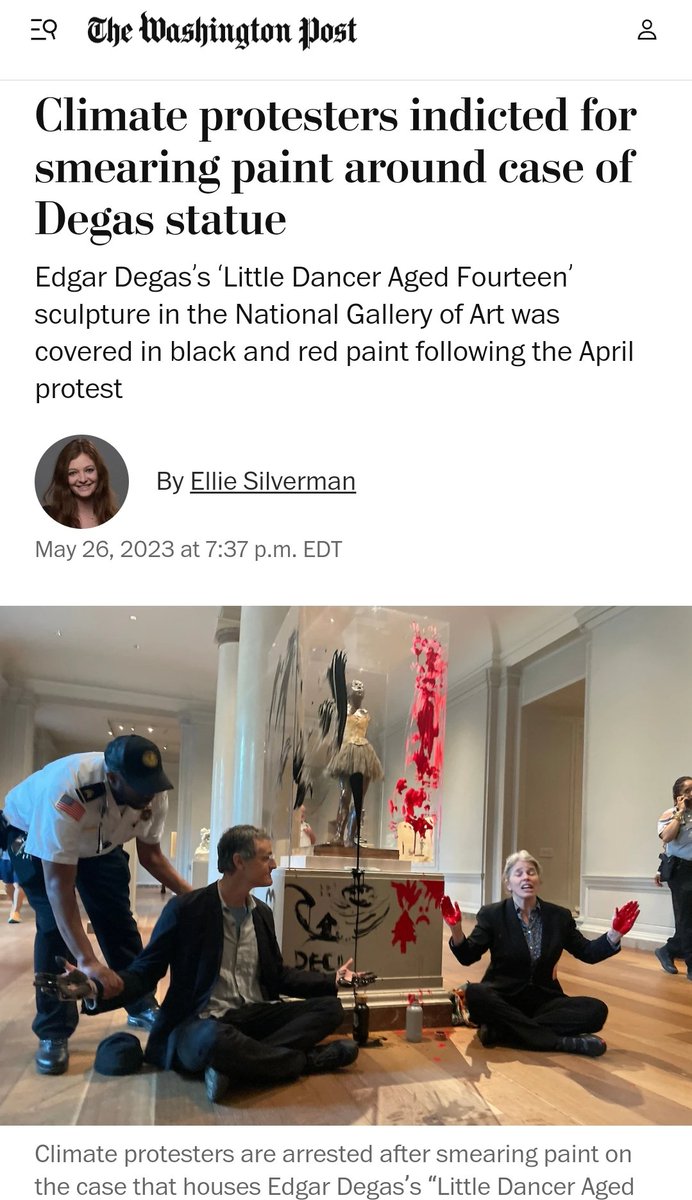 What the hell?
This story identifies the Washington Post as the media outlet **alerted ahead of time of criminal acts at the National Gallery of Art** and showed up with cameras.
Sounds like accomplices or co-conspirators = Jail
"Washington Post reporters alerted about… twitter.com/i/web/status/1…
The involvement of a Washington Post staffer was speculated at the time by a former NY Times climate reporter. Crimes?
Indictment from D.C. Grand Jury.
This criminal conspiracy involved many more than just these 2. The plan of attack on the National Gallery was financed and implemented by as yet unidentified co-conspirators. They are still uncharged.
FBI Art Crimes 🎨 is leading the case.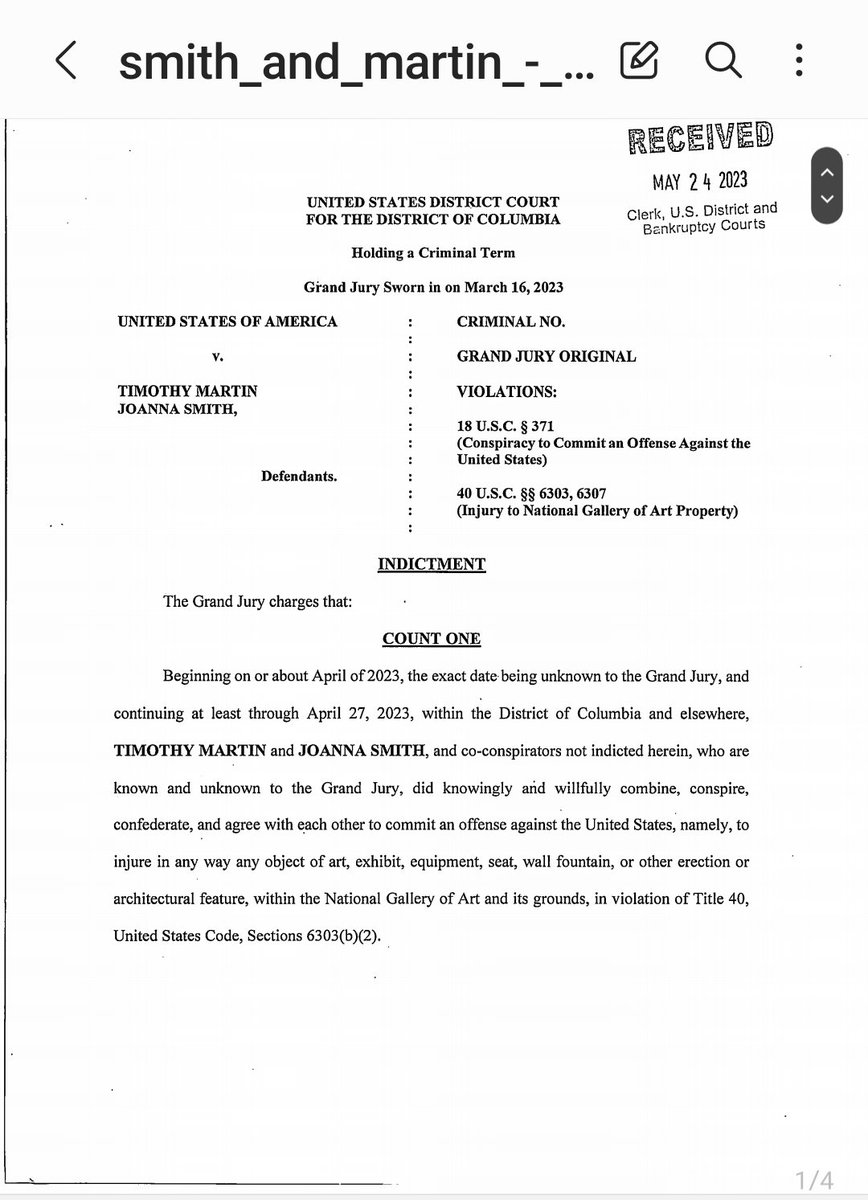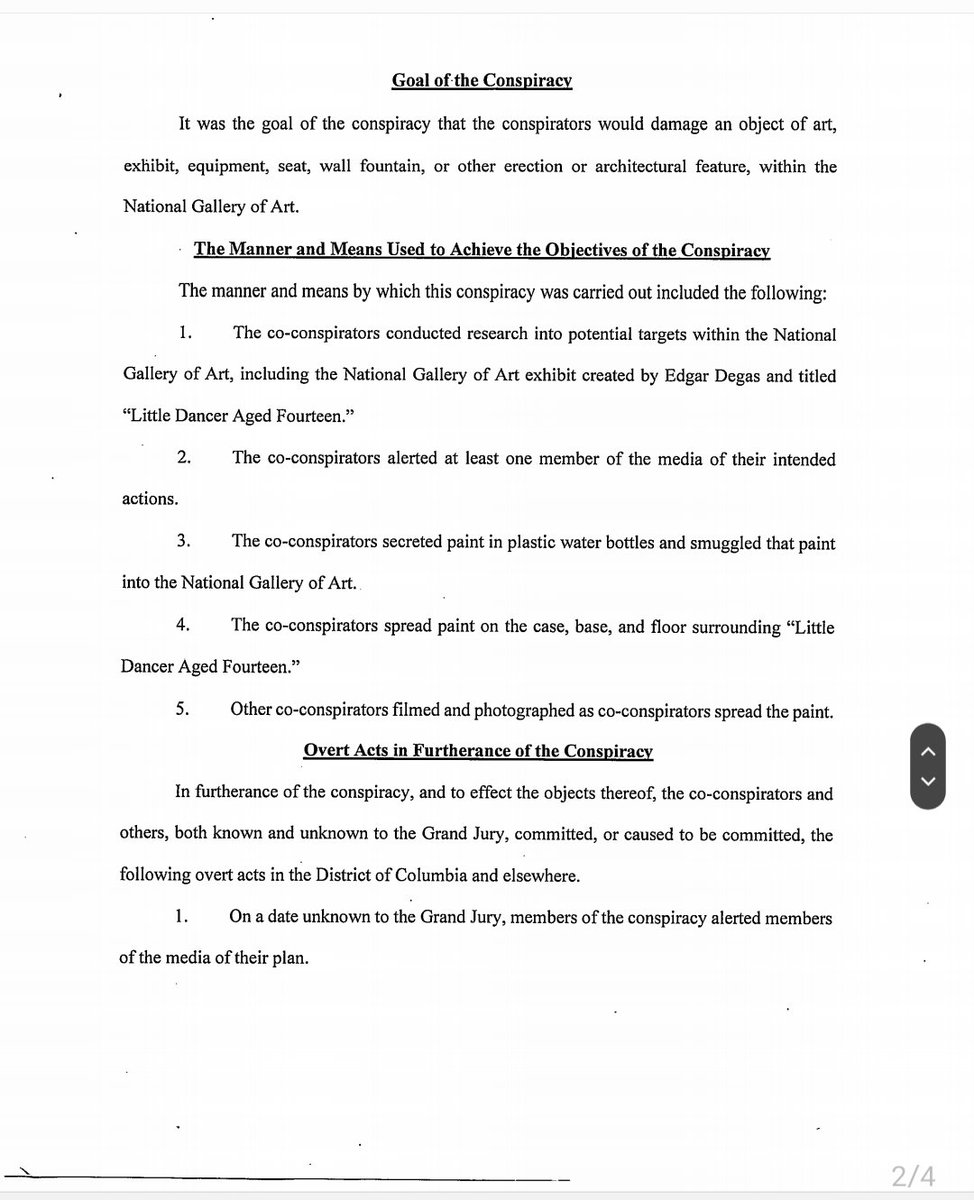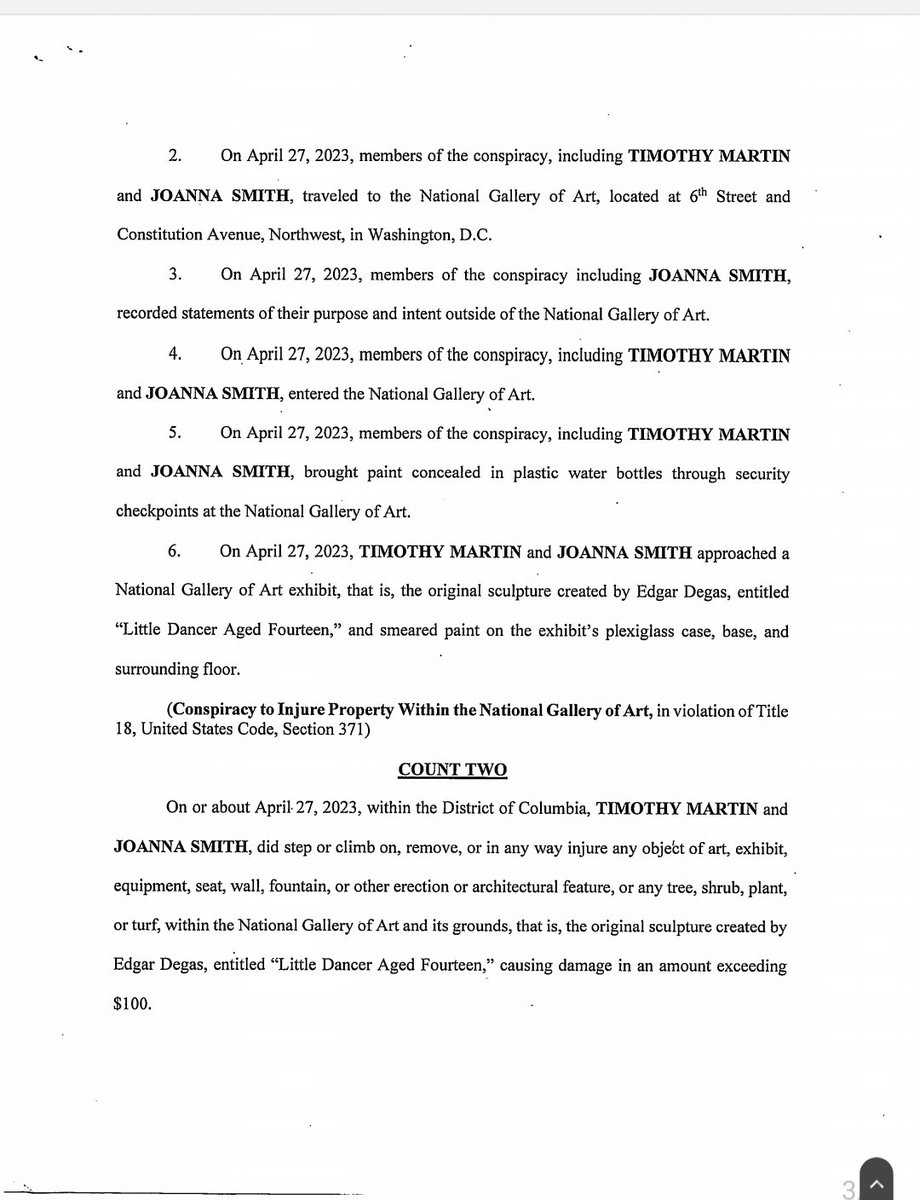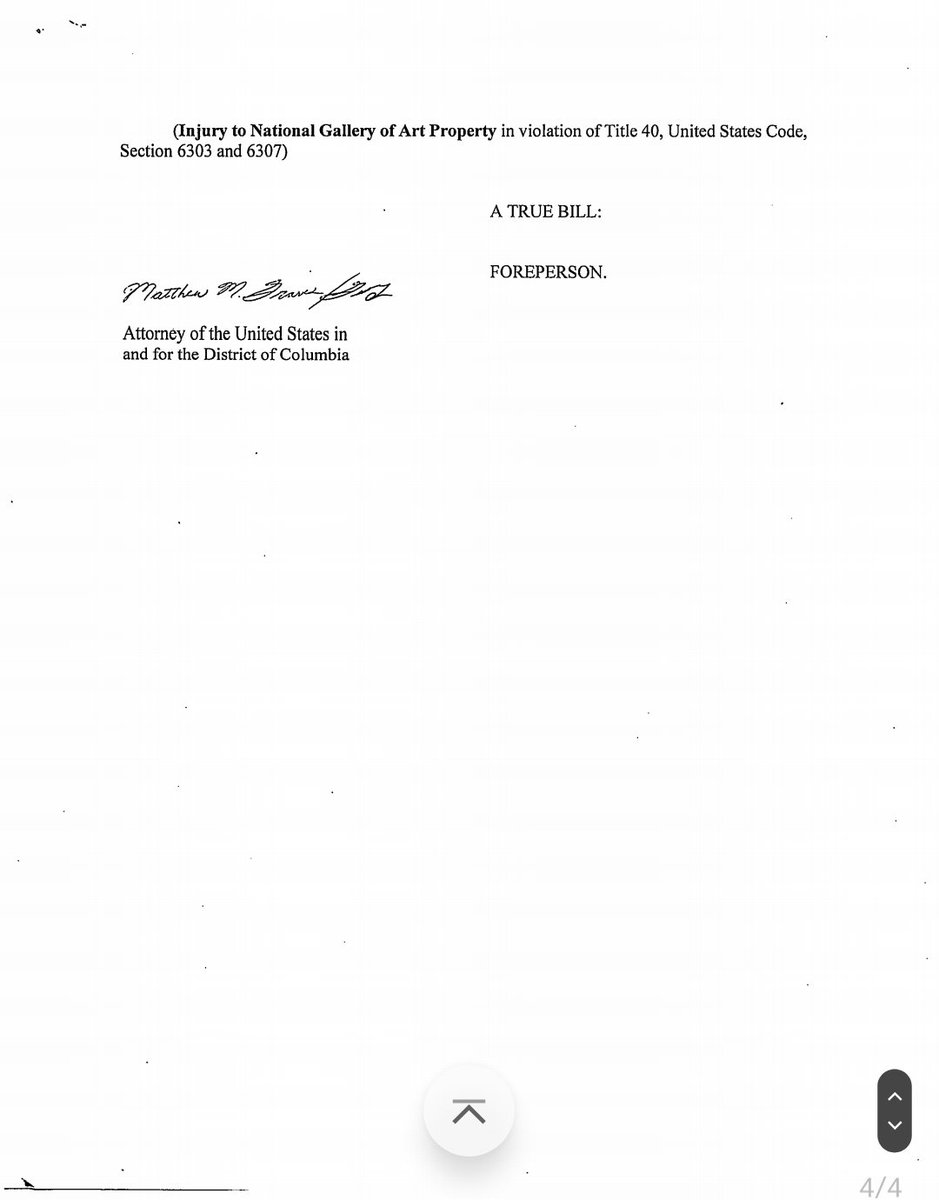 The Declare Emergency climate group was spawned and financed by the Climate Emergency Fund out of California. The outfit also funds the Last Generation in Europe and Just Stop Oil & who knows what else overseas. German authorities wrapped up the Last Generation on eco-terrorism… twitter.com/i/web/status/1…
#
Climate change activists charged after smearing paint on priceless Degas statue in National Gallery of Art in Washington DC in stunt that caused $2,400 in damages