Marc Morano Appears on Fox News Channel's Fox & Friends to Discuss Climate Protesters Throwing Soup at Van Gogh Painting
Broadcast October 15, 2022
RUSH TRANSCRIPT:
Marc Morano: Do people think watching these young protesters try to spoil famous iconic paintings will make us want to sign up for the green new deal?  they must have missed the marketing class in college because that is not good persuasion.  let's destroy iconic things and make people's lives miserable and block traffic and that will get people to join our cause.  I don't think so.
…
This happened in London.  they have done this throughout  Europe, and Italy, the group called The Climate Emergency Fund is behind this and the problem is — Europeans are seeing the result of listening to these kinds of protests, being influenced by them.  Europeans are fearing winter for the first time since the industrial revolution because their energy supplies are so low because they shut down their own energy and became more reliant on foreign sources including Vladimir Putin.
At this point, Europeans are realizing — not 'let's destroy some famous artwork and fight climate'. Europeans are realizing they shouldn't have listened to Greta Thunberg — they should have instead listened to Donald Trump and his message was clear about making your own energy.  They are saying that wood is more valuable than gold in Europe because people are gathering wood for the coming winter and the irony is they are praying for a warm winter. Wasn't global warming supposed to bring warmer winters?  They are praying for one because they are facing one of the highest death tolls from people who can't afford to heat their homes this winter.
Rachel: What you're doing is important, you are pointing out what is happening in Europe, our future, we are paying high prices, seeing skyrocketing energy costs. We are not where Europe is but we will get there because of President Biden's policies. You lay a lot of what this is about and so many of the false and unscientific basis of which this cause is based on your website ClimateDepot.com. I hope people go to it. It's causing food shortages, it's causing famines, Marc, so great to have you on.
Morano: This being  pushed by wealthy families and  Hollywood donors. Director Adam McKay gave $4 million dollars to this van Gogh protest.
Rachel: You can catch more of Marc my podcast From the Kitchen Table. Download on FoxNewspodcast.com.
#
Related Links:
Now will you support the Green New Deal?! Climate activists pour tomato soup on van Gogh 'Sunflowers' painting
https://www.hollywoodreporter.com/news/general-news/adam-mckay-pledges-4-million-climate-emergency-fund-1235223711/
'Don't Look Up' director Adam McKay Pledges $4M Donation to Climate Emergency Fund
SEPTEMBER 20, 2022 6:00AM
The 'Don't Look Up' director has also joined the board of directors for the fund, which gives out grants to climate activists for non-violent, disruptive protest.
#
Big Oil heiress funding 'Just Stop Oil' group that threw soup on Van Gogh painting
#
https://observer.com/2022/10/climate-activists-throw-soup-on-a-van-gogh-in-london-and-us-museums-worry-they-may-be-next/Just Stop Oil demonstrators have glued themselves to artwork in prominent U.K. museums over the past few months, targeting London's Courtauld Gallery and Royal Academy of Arts, in addition to museums in Glasgow and Manchester. In Italy, climate group Ultima Generazione has staged similar protests at Florence's Uffizi Gallery and the Vatican Museums, while German environmental organizers from Letzte Generation Group struck museums in Berlin, Munich, Dresden and Frankfurt over the past month. All three climate groups are funded by the Climate Emergency Fund, a California-based fund founded in 2019 by philanthropic millionaires to support environmental activism.
Big Oil heiress funding 'Just Stop Oil' group that threw soup on Van Gogh painting
The granddaughter of Getty Oil magnate is the founding donor of an org that funds Just Stop Oil and other similar groups
By Thomas Catenacci | Fox News
Aileen Getty, the granddaughter of the Getty Oil founder, is the founding donor of the Climate Emergency Fund (CEF), a Los Angeles-based organization that finances several high-profile climate protest groups around the world. Getty, who is a prolific environmental philanthropist, wired $500,000 to CEF shortly after it was founded in 2019, according to the Chronicle of Philanthropy.Declare Emergency, another A22 Network organization, has made headlines in the U.S. for blocking traffic near Washington, D.C., in an effort to convince President Biden to declare a "climate emergency."
Please burn this line into your brain: "The vandalism or destruction of art is always an authoritarian act."
But more than that – it represents a repudiation of civilisation and the achievements of humanity.Ryan Maui's tweets check Peter email and check three wealthy people from Twitter and New York Times article and talk about how the greens are split about this kind of action and talk about how it's bad pr'd upset people they're not winning over friends and mention that they've convinced you let's go the green New Dealhttps://www.foxnews.com/world/anti-oil-environmentalists-pour-tomato-sauce-van-gogh-sunflowers-painting.amp
Anti-oil environmentalists pour tomato soup on van Gogh 'Sunflowers' painting
2 environmentalists arrested by London police, but van Gogh painting 'unharmed,' National Gallery says
The duo were supporters of the activist group Just Stop Oil, which engages in publicity stunts to bring the public's attention to climate change.
Video shows the pair dropping an outer layer of clothing, revealing their Just Stop Oil T-shirts and taking out the cans of soup. The painting is enclosed in glass and aside from minor damage to the frame, the artwork is "unharmed," the National Gallery said in a statement.
"Human creativity and brilliance is on show in this gallery, yet our heritage is being destroyed by our Government's failure to act on the climate and cost of living crisis," Just Stop Oil said in a statement not long after the footage went viral.
"What use is art when we face the collapse of civil society?" the group continued. "The art establishment, artists and the art-loving public need to step up into Civil Resistance if they want to live in a world where humans are around to appreciate art."
Sunflowers were the subject of two series of paintings by van Gogh, and pieces of art from the floral set sell for tens of millions of dollars.
Two lost souls threw tomato soup this morning on an original Van Gogh "Sunflowers" in London. With hundreds of millions of people at risk of dying from cold and hunger due to energy and food shortages, this isn't green altruism, it's anti-energy nihilism and climate narcissism. (Watch for yourself in the video above.)
However, climate activists are split on the effectiveness of these actions:
Tactic doesn't work vs.
Brave and courageous. More!
NYT: https://www.climateemergencyfund.org/press/new-york-times/2020-09-22
This was funded by a group started by three rich Americans who became concerned about climate change after their houses in Malibu were threatened by wildfires in 2018. I'm not making this up.
Two are heirs (a Getty and a Kennedy) and the third has made a career of advising celebrity philanthropists.
The answer, in part, is the scions of some of America's most famous families, including the Kennedys and the Gettys.
Three wealthy donors formed the Climate Emergency Fund this year to support "disruptive activists," as Trevor Neilson, one of the founders, put it. For years, he said, they have individually given money to more traditional environmental organizations like Sierra Club and the Natural Resources Defense Council, but concluded that these groups were taking a too-gradual approach to the fight against climate change and that the crisis demanded greater urgency.
Mr. Neilson and the other two founding donors, who are friends and already partners in philanthropy, have homes in Malibu, Calif., that were threatened by last year's wildfires. "The fires had a way of waking us up," he said. So far the effort has raised more than $1 million he said, with about $800,000 in grants.
Another of the founders is Rory Kennedy, daughter of Senator Robert Kennedy and Ethel Kennedy. "I'm very excited about it," she said. "In the history of our country, major social shifts have really happened, starting out, on the streets. We're very much running out of time here — we need to help people understand we need a radical change in direction."
Aileen Getty, the third founder and granddaughter of the oil magnate Jean Paul Getty, gave $600,000 to the group. She said she has redirected the bulk of her philanthropic giving, which has for years provided housing support for the homeless, paid for AIDS research and supported parks and green spaces, to climate issues. "As long as our energies are focused on all of these other issues, as pressing as they are, we're not looking at the most pressing issue of all," she said.
https://www.dailymail.co.uk/news/article-11099581/Three-oil-scions-PAYING-hundreds-eco-activists-25-000-year-professional-protesters.html'descendants of Billionaire oil barons are PAYING hundreds of activists'
Getty, whose granddad created Getty Oil, has so far splashed out $1million through Climate Emergency Fund
Lambert and Case, members of the Rockefeller family, have forked out $30million on The Equation Campaign
Offsetting guilt: Eco-minded descendants of billionaire oil barons are PAYING hundreds of activists $25,000-a-year to protest around the world because they feel 'a moral obligation to put genie back in the bottle'
They've put eco-activists on the payroll for around $25,000 as well as pumped money into the organizations
It comes as eco-warriors have been continuing to wreak havoc across the world with stunts in recent months
#
Climate activists who poured soup on Van Gogh's paintings believe 'climate change will destroy human civilization unless emergency action is taken'
Dr. Roger Pielke Jr.: I encourage you to read the @JustStop_Oil manifesto. It's a sad statement of what we experts have done to young people. It is chock full of hyperbole from authoritative figures, references to work of the "planetary boundaries" folks & RCP8.5 studies.
The below from their preamble: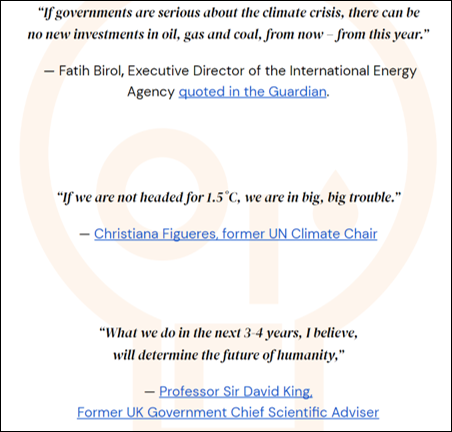 NY Times picked up the Just Stop Oil vandalism of Van Gogh's "Sunflowers"

However, climate activists are split on the effectiveness of these actions:

Tactic doesn't work vs.
Brave and courageous. More! pic.twitter.com/WGoAhXpdmM

— Ryan Maue (@RyanMaue) October 14, 2022
Ah. So it was just a grift https://t.co/XM8D27g2Tn

— Michael Shellenberger (@shellenberger) October 15, 2022
Activists vandalise Vincent van Gogh's Sunflowers at the National Gallery.

The vandalism or destruction of art is always an authoritarian act.

But more than that – it represents a repudiation of civilisation and the achievements of humanity.pic.twitter.com/8gLTjekvIt

— Andrew Doyle (@andrewdoyle_com) October 14, 2022
Please burn this line into your brain: "The vandalism or destruction of art is always an authoritarian act."
This courageous bystander – who turned the Just Stop Oil paint back on the vandal – has earned more public respect in 30 seconds than the Metropolitan Police have achieved all year

We need more like him!

— Martin Daubney 🇬🇧 (@MartinDaubney) October 31, 2022