A Mother's Day to Remember! Broadcast premiere of Climate Hustle 2 at 8pm ET May 8, 2022 on Newsmax TV!
NEWSMAX TV to Broadcast
Climate Hustle 2
It is finally arriving. Grab the popcorn, gather your family. It will be a Mother's Day to climatologically remember! The climate change debate is set to be rocked as CFACT's skeptical film, Climate Hustle 2: The Rise of the Climate Monarchy, hosted by actor Kevin Sorbo, is set for it's global broadcast release on Mother's Day, May 8, 2022 at 8 PM Eastern Time.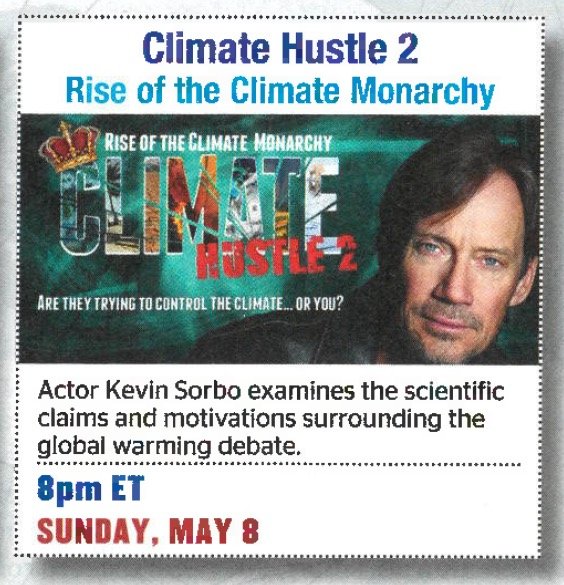 The Newsmax network reaches 75 million cable homes and on streaming and digital media including on Pluto TV, The Roku Channel, Haystack News, Fubo TV, Sling TV, DirectTV and Vidgo, and more.
The film is the sequel to the smash hit Climate Hustle which was released in 2016 in 400 theatres nationwide and in Canada. The film torches Hollywood hypocrisy, climate financial corruption, media bias, kids' classroom indoctrination, political correctness, and pulls back the curtain on the massive global warming establishment.
Climate Hustle 2 pulls no punches and goes right to the heart of the Green New Deal and the UN Paris climate pact and exposes the motives behind the climate agenda. The film features prominent scientists, and policy experts who explain how the agenda to control the climate is about controlling YOU.
Tune in this Sunday, May 8 at 8PM ET, to Newsmax TV on cable, satellite, Dish, or stream online at Newsmaxtv.com.
It is a film Al Gore, AOC, and the United Nations DO NOT want you to see.
The broadcast premiere of Climate Hustle 2 is set for 8pm May 8, 2022 on Newsmax TV! Tune in! @climate_hustle @ksorbs https://t.co/9pznbADSB0

— Marc Morano (@ClimateDepot) April 22, 2022
Broadcast premiere of Climate Hustle 2 set for 8pm ET May 8, 2022 on Newsmax TV!