In 2015 Rep. Raul Grijalva (D-AZ) initiated an investigation of me suggesting I had been on the take from fossil fuel companies

I was vindicated but the investigation & fallout changed my career

No one has asked me about what happened since
Until thishttps://t.co/yVncnlHlwd pic.twitter.com/jqG40P7zJV

— The Honest Broker (@RogerPielkeJr) November 11, 2021
https://www.thegwpf.org/publications/the-hounding-of-roger-pielke-jr/
The Hounding of Roger Pielke Jr
In a week when the UK has seen a prominent academic forced from her post by an activist mob, the Global Warming Policy Foundation has published a new paper that describes the 15-year hounding of environmental studies professor, Roger Pielke Jr.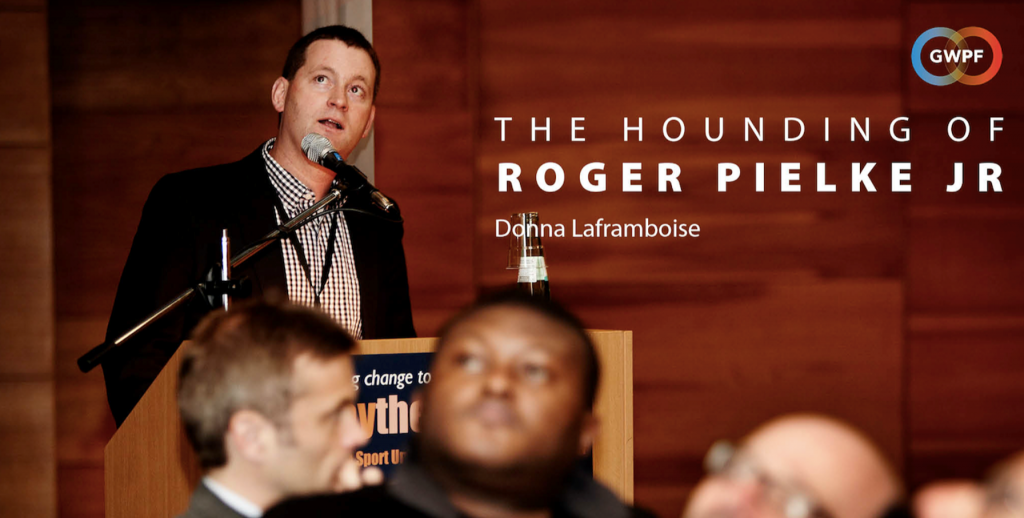 Professor Pielke, one of the world's leading environmental scientists, has been a vocal supporter of decarbonisation efforts, but this has not prevented green activists from engaging in an extraordinary campaign to silence him because he refuses to support claims that extreme weather is worsening.
And he is still being hounded today, with the University of Colorado Boulder launching and then dropping an investigation of his conduct, and forcing Pielke – their most senior environmental studies professor – to move to a tiny windowless office.
The paper's author, civil liberties journalist Donna Laframboise said:
"The hounding of Roger Pielke has been abhorrent. It is time that university administrations stood up to cancel culture and the outrage mobs."

And Laframboise points to this week's announcement of a new university in Austin Texas, dedicated to the cause of academic freedom:
"Universities that behave this way will lose their best people to new and independent institutions that protect free thinking."
GWPF Director Dr Benny Peiser said:
"The witch-hunt against Roger Pielke Jr. is symptomatic of a problem that we are seeing in universities across the developed world, with activists trying to silence dissenting opinions, and with the tacit, and in many case the active, support of administrators.
"Universities need to take great care – if the public lose faith in the system, public funding and generous donations from alumni can dry up very quickly."
Donna Laframboise: The Hounding of Roger Pielke Jr. (pdf)
#
Dr. Roger Pielke Jr. on climate 'Witch Hunt': 'My 11-year old asked me if I was going to jail'