New Study: Hailstorms see no uptrend & some downtrends in climate change study – Published in the journal Nature
Will the media hail this hail study?!
Pielke Jr. on new study: "Summary of trends in hail-prone regions around the world TL;DR = no up trends, some down."  
Bottom line: "current and future climate change effects on hailstorms remain highly uncertain."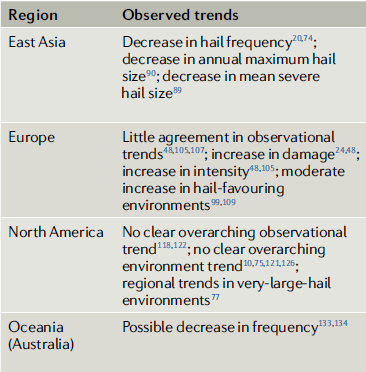 https://www.nature.com/articles/s43017-020-00133-9
Published in the journal Nature Reviews Earth & Environment – Published: 
https://twitter.com/RogerPielkeJr/status/1360254890375671813
Summary of trends in hail-prone regions around the world
TL;DR = no up trends, some down pic.twitter.com/xzZZNTOWeb

— Roger Pielke Jr. (@RogerPielkeJr) February 12, 2021
Very cool figure on global hail probability pic.twitter.com/z7VqiaEsuD

— Roger Pielke Jr. (@RogerPielkeJr) February 12, 2021
Bottom line:
"current and future climate change effects on hailstorms remain highly uncertain"
/END

— Roger Pielke Jr. (@RogerPielkeJr) February 12, 2021
#
Study: The Surprising Decline of Severe Weather Hail Events During Period of Modern 'Global Warming'