No increase in drought 1980-2018, Kogan et al 2020

"it is possible to state firmly that global and main grain countries' drought area and intensity trends have not been following global climate warming since 1980's"https://t.co/sBZan5ECdK pic.twitter.com/ImP5Nf4BMH

— The Honest Broker (@RogerPielkeJr) February 4, 2021
Study published in 2020 in the journal Geomatics, Natural Hazards and Risk: "The results indicated that for the entire globe, hemispheres and the main grain-producing countries (China, USA and India) drought has not intensified and expanded during 38-year, while the global temperature anomaly has strongly increased. Since drought has not intensified and expanded during strong global warming, food security in the next few years is likely to remain at the level of the most recent decade."  …
"For the entire 38-year (1981-2018) and the latest 21-year (1998-2018), two-three times increased global Earth warming has not changed drought area and intensity. Following the presented 38-year satellite data, it is possible to state firmly that global and main grain countries' drought area and intensity trends have not been following global climate warming since 1980's."  …
Following the analysis of global climate records since 1981, two 17-year Earth warming periods were clearly identified: 1981-1997 with strong global mean TA increase (from 0.32 to þ0.2 C) and 1998-2014 with stable TA (around þ0.2 C) trend during the hiatus period.
#
2021 study in the Bulletin of the American Meteorological Society (BAMS):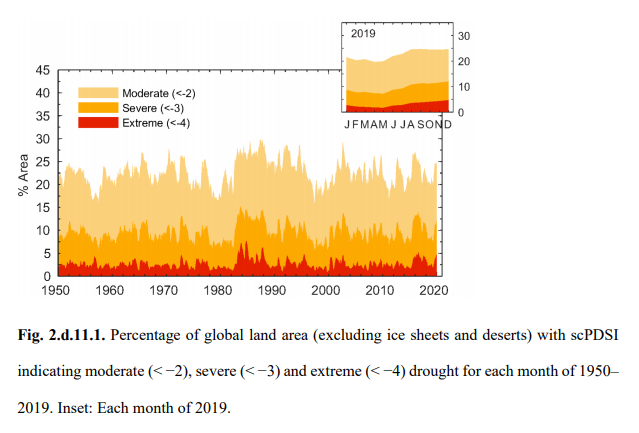 Fig. 2.d.11.1. Percentage of global land area (excluding ice sheets and deserts) with scPDSI 111 indicating moderate (< −2), severe (< −3) and extreme (< −4) drought for each month of 1950–112 2019. Inset: Each month of 2019.
Here is a longer-term perspective on global drought, 1950-2019, Barichivich et al. 2020https://t.co/keVttGeZ8y pic.twitter.com/ZcOM61JMob

— The Honest Broker (@RogerPielkeJr) February 4, 2021
graphs are hard to read, hardly any statistical analysis in paper, data not provided with paper

it's closer to a Rorsach test than to a learned paper

— Prof Dr Richard S.J. Tol MAE (@RichardTol) February 4, 2021