https://freerepublic.com/focus/f-news/3913997/posts
France24 ^ | December 10, 2020
Global warming is threatening London's historic Highgate Cemetery, an overgrown oasis housing graves of notable figures from Karl Marx to pop star George Michael, its custodians say.
Concerned at rampant fungi, freak storms and shifting graves, the cemetery's custodians are now seeking expert help to ensure its survival.
The hillside cemetery has graves of famous figures including the novelist George Eliot and "The Hitchiker's Guide to the Galaxy" author Douglas Adams.
It is still being used for burials. The British pop singer George Michael, who died in 2016, has an unmarked grave there, according to his family's wishes.
Chief gardener Frank Cano pointed to a 19th-century stone tomb whose top is gradually being pushed off the base by a nearby tree, causing fresh chips in the stonework.
A greater degree of shrinking and expanding of London's clay soil is causing the elaborate stone tombs to shift, said Cano, who has worked at the cemetery for six years.
In turn this affects the roots of the trees growing wild between the graves, making them more unstable.
"The threat to the cemetery is from our trees, from the ivy, from the brambles. It's basically nature trying to take the cemetery back."
Winds have got stronger, too, Cano said, and warmer temperatures are causing fungi to thrive and trees to suffer "many more pests and diseases".
The cemetery last year had to fell its centrepiece, a great Cedar of Lebanon, as it was afflicted by a bad fungus infestation.
In addition, increased rainfall is washing away gravel paths and overfilling antiquated drainage systems.
(Excerpt) Read more at france24.com …
Also see: Global Warming is so Bad, it is Posing Threat to Karl Marx's Grave in London's Iconic Cemetery
Or maybe it's just Mother Nature rejecting his carcass

— Toxic Miscuelinity (@Dave_DelFavero) December 10, 2020
https://twitter.com/penelopesire/status/1337033292315582469
#
Related: 
NYT: 'Global warming' is even impacting the DEAD! – UN climate deal needed to 'save frozen mummies'
NY Times: 'What Climate Change Looks Like: A Race to Save Frozen Mummies' – 'Chasing a Climate Deal in Paris – By The New York Times – 'Diplomats are trying to agree to a plan to slow global warming'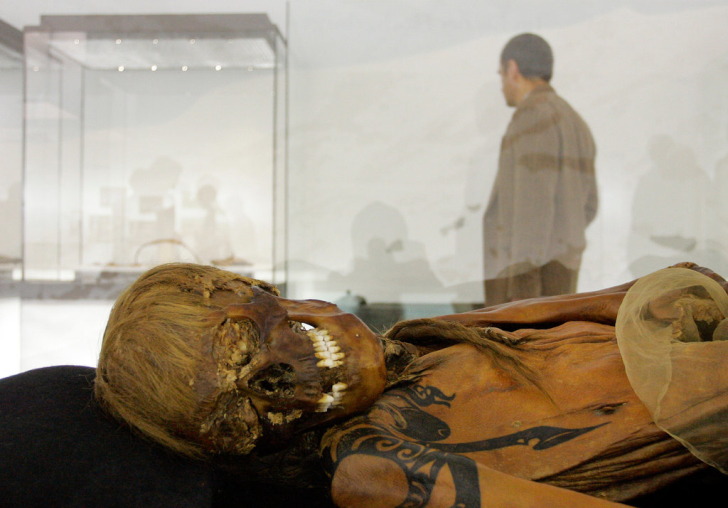 Flashback: 'Climate change' causes mummies to turn to 'black ooze' – Burial sites 'experiencing higher humidity levels due to climate change'
Harvard study: Global warming may end threat of mummies – By Pedro Gonzales – For generations, books, films, and TV have warned us of the danger of mummies.  In their crypts they are relatively harmless, but when they rise from the dead and start strangling people, as they did in the Cotswolds of south central England in "Doctor Who and the Pyramids of Mars," they become a much greater threat. But this problem may shortly be solved, thanks to global warming.
The world's oldest mummies are at risk of disappearing because of man-made climate change, according to a group of Harvard University scientists.

Bodies mummified about 7,000 years ago in Chile are starting to rapidly degrade, the Harvard School of Engineering and Applied Sciences said Monday in an e-mailed statement.
New Claim: 'Climate change' causes mummies to turn to 'black ooze' – Burial sites 'experiencing higher humidity levels due to climate change'
'Chinchorro mummies are buried just beneath the surface in valleys that are experiencing higher humidity levels due to climate change'
The world's oldest mummies are at risk of disappearing because of man-made climate change, according to a group of Harvard University scientists. Bodies mummified about 7,000 years ago in Chile are starting to degrade rapidly, the Harvard School of Engineering and Applied Sciences said Monday in an e-mailed statement. Tests by Harvard's Alice DeAraujo and Ralph Mitchell show that microbes that flourish in an increasingly humid climate are turning the preserved remains of Chinchorro hunter-gatherers into "black ooze." "Is there a scientific answer to protect these important historic objects from the devastating effects of climate change?" said Mitchell. "It's almost a forensic problem."