Ehrlich: "it's insane to have so many people alive at the same time…[Earth's human population should be ] millions, but not many billions" https://t.co/oOlD3ynjYv

— Tom Nelson (@tan123) May 19, 2020
Why would anyone listen to Paul Ehrlich? He has about the same track record of failed predictions as Neil Ferguson.

— WM Steckle (@steckle_w) May 19, 2020
A darling of the left, I simply don't understand how he has any coinage left academically after being wrong *so many times*. Has he ever actually been right?!

The only thing that makes sense is that he's telling the left what they want to hear.

— psion (@psion) May 19, 2020
https://tylerprize.org/laureates/laureate-conversations/2020-conversation-paul-ehrlich/
Tyler Prize Laureate Conversations
A Conversation with Paul Ehrlich
"COVID, Climate Change and Cherished Colleagues"
May 2020
Excerpts: 
Paul Ehrlich: First of all, one of the most ignored factors, certainly the most ignored major factor in the existential threats to our civilization is the size of our population, and it's growth. From the footprint analysis, and so on, we're already something like 50% over what could be sustained in the long run, in terms of human population. And nowhere is the population factor in our problems more obvious, than in the epidemiological department, in the area of emerging diseases.
Most of our infectious diseases all come from other animals. The larger the human population, the greater the chance of a disease of other animals getting into our population. The size of the population is important, because the more people you have, the more you push people into the habitats of other animals, and that makes the chances of a transfer being higher.
…
The more people you have, the more you tend to have large numbers of malnourished people. For example, current estimates are, there's something like two billion human beings, who have micronutrient malnourishment, which makes them immune compromised, which makes them then receptors, good receivers for animal diseases.
…
When people say, "Oh, we don't want to deny millions of people the chance to live by limiting the size of our population," well it turns out, if you want to have a maximum number of people live, the way to do it isn't to see how many can cram on the planet at one time. The way to do it is to have a sustainable society, millions, but not many billions, for thousands, or millions, of years.
…
So the science of the human population: when we were 100 gatherers there were no epidemic diseases, because if a disease got into a group, they all died, or became immune, and that was the end of it. They were not going to be flying in jets to other parts of the world. Now, you have almost eight billion human beings, all genetically very similar, and it's a wonderful target for a virus, or a bacteria. And we've added to that gigantic amounts of biomass in cattle and chickens. Chickens are, I believe by far, the highest biomass of birds on the planet. And so with our domestic animals, and huge numbers of chickens, pigs, ducks in China, again, you have a population-related generator of viruses.
…
When you ask what we should be doing, the answer is: we've got to change the entire system. People don't want to hear that, but for instance, there's a lot of fuss in the US right now, because Trump is reducing the café standards, making cars more inefficient, so his friends in petroleum and the fossil fuel industry can make more money. And the answer is, of course, the problem is not so much making automobiles more efficient, it's getting rid of most of the automobiles.
…
It's not just the carbon dioxide you get out of cars, you get air pollution from the rubber rolling on the road, you get huge amounts of environmental destruction trying to mine the metals and all the things that go into automobiles, the cost of production, it's just an insane way to move people around, and it's insane to have so many people alive at the same time.
…
The health threat from the COVID-19 virus is trivial, compared to the health threat from climate disruption. In other words, yeah, we're going to lose millions of people, particularly with people like Trump in charge, Trump's got a lot of blood on his hands already, but that's nothing, we could lose everybody to climate disruption. The entire world's population. Certainly, civilization will go down the drain, if we don't do anything about it, and it is possible that it will lead to the extinction of homosapiens, although not likely.
#
End excerpt
#
German Climate Advisor Hans Schellnhuber: Carrying Capacity Of The Planet Is Less Than A Billion – According to the New York Times, Schellnhuber also said at a plenary session at the international climate change conference in Copenhagen (emphasis added):  "In a very cynical way, it's a triumph for science because at last we have stabilized something –- namely the estimates for the carrying capacity of the planet, namely below 1 billion people."
Accurate Tribute to Paul Ehrlich: 'Mad…Kook…Lunatic…Disgraced…Worse than Hitler…fear-monger…parasite on Academic system…Bernie Madoff of science'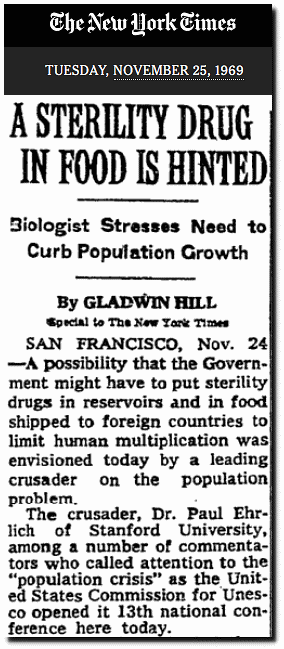 1972 Article Unearthed: 'Worse than Hitler': 'Population Bomb' author Paul Ehrlich suggested adding a forced sterilization agent to 'staple food' and 'water supply' – Warned of 'Unpredictable climatic effects' — Called on U.S. to 'de-develop' – Feb. 19, 2010
Physicist mocks Paul Ehrlich as 'mad': 'A kook, a lunatic obsessed with doomsdays, and a parasite on the Academic system…career built on making absolutely preposterous statements'
Paul Ehrlich called 'Intellectual Moron': 'He's the Bernie Madoff of science…Ehrlich has been wrong on virtually everything he has predicted about future state of the world'
2020: Envrio leftie George Monbiot takes on enviro leftie Michael Moore on overpopulation: 'Why do so many people in rich nations claim that the biggest environmental problem is population growth?' Answer: 'Racism'
Monbiot nails the root of the overpopulation fears: "So why do so many people in the rich world (the great majority of whom, in my experience, are male, white and quite affluent) insist, often furiously, that the 'real' global issue, the 'elephant in the room', is population growth?"
Monbiot's answer: "What we see is white people pointing the finger at black and brown people, saying "It's not us. It's Them"… The answer to my question – 'why do so many people in rich nations claim that the biggest environmental problem is population growth?' – is…Racism."
#
Morano responds to Monbiot. Spot on! It is important to note that it is not conservatives who espouse this, it is typically white male liberals who worry about "overpopulation" in countries with people of color. One of the loudest cheerleaders of reducing African nations' population has been Al Gore. Below is what Gore said at a Bill Gates event in 2014.
Flashback 2014: Gore: 'Fertility management' is needed to reduce the number of Africans to help 'control the proliferation of unusual weather' – Gore: 'Depressing the rate of child mortality, educating girls, empowering women and making fertility management ubiquitously available so women can choose how many children and the spacing of children — is crucial to the future shape of human civilization. Africa is projected to have more people than China and India by mid-century. More than China and India combined by the end of the century. And this is one of the causal factors that must be addressed'
How They Sold Paul Ehrlich's 'The Population Bomb' – Threats of famine, dead children, bombs, nuclear war, & oblivion
Paul Ehrlich's Epic Fail: Why The 'Population Bomb' Never Exploded
Flashback 1980: Paul Ehrlich calls oil 'a resource which we know damn well is going to be gone in 20 or 30 years' (By year 2000 or 2010)
Ehrlich 1980: 'Do we really want to threaten to blow up the world over a resource which we know damn well is going to be gone in 20 or 30 years anyway?'
'Every country is now overpopulated.'
'There is a finite pie. The more mice you have nibbling at it the smaller every mouses' share.'
Paul Ehrlich admits it: 'I am an alarmist. My colleagues are alarmists. We're alarmed, and we're frightened'
Earlier this month, the biologist Paul Ehrlich used a similar defense after co-authoring a study that warned of a coming "annihilation" of vertebrates. "I am an alarmist," Ehrlich told the Washington Post. "My colleagues are alarmists. We're alarmed, and we're frightened. And there's no other way to put it."
Flashback WaPo: Earth is on its way to the biggest mass extinction since the dinosaurs, scientists warn – Ehrlich said the point of the research is exactly that — to cause alarm. "I am an alarmist. My colleagues are alarmists. We're alarmed, and we're frightened. And there's no other way to put it," he said. "It's largely a political and economic problem. We have a government that's doing everything they can to push these things in the wrong direction. We have economists who think they can actually grow forever in a finite planet."
NYT mocks Paul Ehrlich's Overpopulation Fears: 'Apocalyptic predictions fell as flat as ancient theories about shape of the Earth'
NYT: 'In the 1960s, fears of overpopulation sparked campaigns for population control. But whatever became of the population bomb?' …'One thing that happened on the road to doom was that the world figured out how to feed itself despite its rising numbers. No small measure of thanks belonged to Norman E. Borlaug, an American plant scientist whose breeding of high-yielding, disease-resistant crops led to the agricultural savior known as the Green Revolution.'
…
'Fred Pearce, a British writer who specializes in global population. His concern is not that the world has too many people. In fact, birthrates are now below long-term replacement levels, or nearly so, across much of Earth, not just in the industrialized West and Japan but also in India, China, much of Southeast Asia, Latin America — just about everywhere except Africa, although even there the continentwide rates are declining. "Girls that are never born cannot have babies," Mr. Pearce wrote in a 2010 book, "The Coming Population Crash and Our Planet's Surprising Future".
In 1974, Paul Ehrlich told the U.S. Senate he wouldn't bet a nickel U.S. still around in 1994
Ehrlich to U.S. Senate 1974: 'If we have 20 years — which I wouldn't put a nickel on — but if we have 20 years, we're already 10 years too late in starting to do something about it.' – 'One of the big problems is how do you generate a feeling of urgency…'
'If bad weather continues in the Midwest this year, and if the monsoon should fail this year in India, as it might, then I think you're going to see the age of scarcity and many of the changes I'm talking about coming on next winter.'

In 1974 Senate testimony Holdren proposed 'limits both on population size and materials use per person'
Flashback 1974-John Holdren testifies before Congress abt need for "population limitation & redistribution of wealth"
John Holdren 1974: 'I find myself firmly in the neo-Malthusian camp'
Paul Ehrlich still blaming you for having babies & now blames you for Ebola pandemic & climate disruption too
NYT says world needs fewer people in order to control the weather – Paging Paul Ehrlich
Always-wrong Population Bomb-er Paul Ehrlich calls Australians 'IDIOTS' for repealing ineffective, costly CO2 tax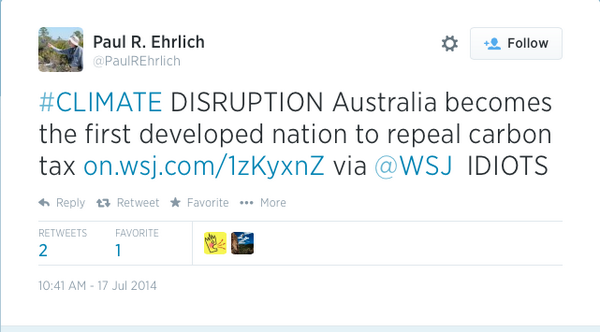 Overpopulation Guru Paul Ehrlich: 'Climate Change' Will Force Humans To 'Eat Bodies of Dead'
Ehrlich predicts: Humans must soon begin contemplating "eat[ing] the bodies of your dead" after resources are depleted.
Ehrlich claimed that scarcity of resources will get so bad that humans will need to drastically change our eating habits and agriculture. Instead, we will soon begin asking "is it perfectly okay to eat the bodies of your dead because we're all so hungry?" He added that humanity is "moving in that direction with a ridiculous speed." And clearly, this man knows "ridiculous."
Warmist Paul Ehrlich: 'Lack of a sense of urgency and deep, pervasive ignorance can partially explain why even universities are failing to take significant action to help avoid disaster'