http://icecap.us/index.php/go/new-and-cool/a_democrat_fracking_ban_will_cause_household_energy_bills_to_more_than_quad/
A democrat fracking ban will cause household energy bills to "more than quadruple"
Joseph D'Aleo, CCM
US Chamber of Commerce projects $130 a barrel oil prices from a Fracking Ban and implementation of any of the Democrat plans they clam will put an end to heatwaves, floods, droughts, hurricanes, tornados, wildfires, sea level rises.
The U.S. Chamber of Commerce warned about the implications of banning fracking ahead of Thursday night's Democratic debate.
If Bernie Sanders or Elizabeth Warren fulfill their pledges to ban fracking upon becoming president in 2021, it would cause natural gas prices to rise by 324%, causing household energy bills to "more than quadruple," the Chamber projected in a new report.
By 2025, drivers would pay twice as much at the pump for gasoline as oil prices spike to $130 per barrel.
A fracking ban would eliminate 19 million jobs and reduce GDP by $7.1 trillion by 2025. Most of the job losses would occur in Texas, home to the oil-and-gas rich Permian Basin, where more than 3 million jobs would be affected.
Oil and gas production is also a significant contributor to federal, state and local revenue, the Chamber notes. Tax revenue at the local, state, and federal levels would decline by nearly a combined $1.9 trillion if a Democrat bans fracking.
Not great for emissions either: Banning fracking would have a questionable impact on emissions.
In the near term, coal use might increase to offset the loss of electricity from natural gas plants. That could increase emissions overall, even if fracking limits lowered emissions of methane and raised the price of oil.
It's also challenging to replace gas use from buildings and in the manufacturing sector immediately, so that would likely require importing more fossil fuels.
The economy in every country that has moved down an extreme green path has seen skyrocketing energy costs – 3 times our levels.
Renewables are unreliable as the wind doesn't always blow nor the sunshine. And don't believe the claims millions of green jobs would result. In Spain, every green job created cost Spain $774,000 in subsidies and resulted in a loss of 2.2 real jobs. Only 1 in 10 green jobs were permanent.  Industry left and in Spain unemployment rose to 27.5%.
Tom Steyer is a hypocrite having made his billions from trading coal. He is pushing the globalist agenda and pretending he is just a simple family man and he and his wife started a fund to help people and have come to believe climate change is the greatest threat the world faces. He says his green plan would create millions of great jobs. That has not worked out anywhere it has been tried and the poor have suffered the most.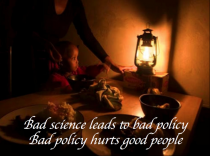 Many households in the countries that have gone green are said to be in "energy poverty" (25% UK, 15% Germany). The elderly are said in winter to be forced to "choose between heating and eating". Extreme cold already kills 20 times more than heat according to a study of 74 million deaths in 13 countries.
Politicians in the northeast states are bragging that they stopped the natural gas pipeline, shut down nuclear and coal plants and blocked the northern Pass which would have delivered low-cost hydropower from Canada. In Concord, they are now scurrying to try and explain why electricity prices are 50 to 60% higher than the national average here and are speculating they have not moved fast enough with wind and solar.  Several states have even established zero carbon emissions. This will lead to soaring energy prices and life-threatening blackouts. For a family of 4 in a modest house with 3 cars, the energy costs could increase over $10,000/year. And by the way like in Europe where this plan was enacted, many will lose their jobs.
Prosperity always delivers a better environment than poverty.
"If you don't know where you are going, you might end up somewhere else" Yogi Berra