Fox & Friends – Fox News Channel – Broadcast October 20, 2019
Video of Segment here: https://video.foxnews.com/v/6096261300001/#sp=show-clips
Jane Fonda arrested again at another climate change protest
Oct. 20, 2019 – 3:36 min. – ClimateDepot.com executive editor Marc Morano on his confrontation with Jane Fonda.
#
Morano's full video coverage of Jane Fonda's climate protest:
Part 1:
Part 2: Morano asks Fonda to read his book:
The Politically Incorrect Guide to Climate Change

Watch: Full Video of Fonda's Green New Deal protest at U.S. Capitol – Oct. 18, 2019
Watch: Jane Fonda, Sam Waterston, and Joanna Zhu with Sunrise Movement to talk about why a Green New Deal is so critical if we stand any chance to protect our climate. – Fire Drill Fridays – October 17 at 4:01 PM
'A Real Movement Boost': Sam Waterston and Jane Fonda Among Those Arrested Demanding Green New Deal in DC
This was Waterston's first-ever time being arrested. The climate crisis, he said, is "worth it."
Former 'Law and Order' Star Sam Waterston Arrested with Actress Jane Fonda in Climate Change Protest
Jane Fonda Says She's Been 'Climate Scientist For Decades'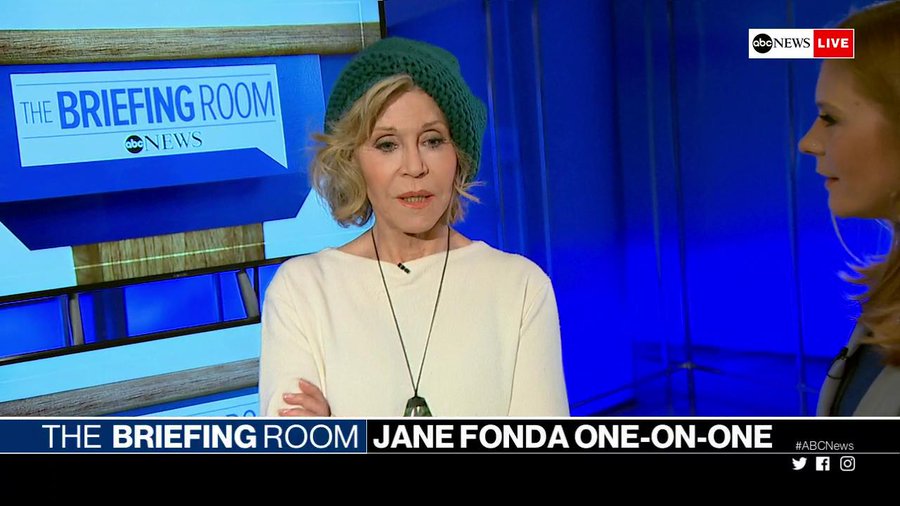 Jane Fonda Arrested While Protesting 'climate change' in D.C. – 'Placed in handcuffs and escorted to a police vehicle'
Jane Fonda is moving to Washington (for now) to get arrested protesting climate change – Inspired by Greta
Jane Fonda sounds climate alarm: 'The climate change problem is the issue of our civilization'
FROM HANOI JANE TO CLIMATE HYPOCRITE, FONDA DOES IT ALL: $13 million home & Bragged about joining the Mile High Club on a private jet
The celebrated star is making a fool of herself with her climate crusade, and the media is making it worse.
We already know Fonda lives large, including a $13 million home she put on the market two years ago. She once bragged about joining the Mile High Club on a private jet. Does she use that energy gulping form of transportation often, like when she jets from California to D.C. for her climate activism? What personal sacrifices does she make to fight climate change? What about her celebrity peers?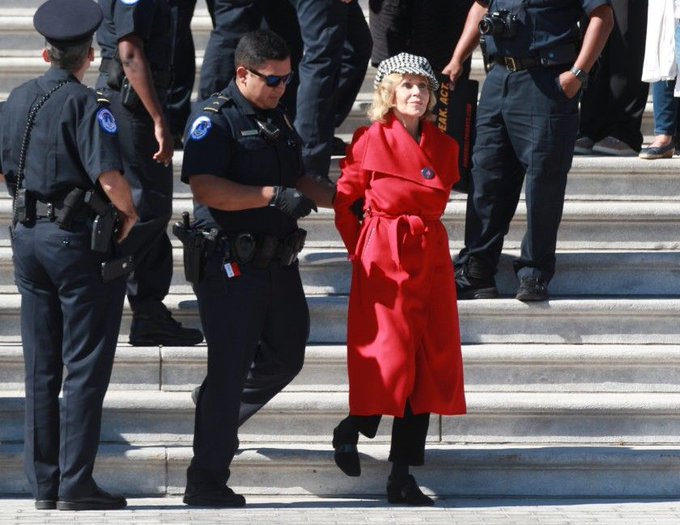 Related: 
#MeToo activist Asia Argento accused of paying off actor over sexual assault complaint
MeToo founder Tarana Burke condemns Joe Biden's 'inexcusable' responses to unwanted touching allegations
An Unwanted Kiss on 'American Idol' – The New York Times
'American Idol' contestant didn't love Katy Perry kissing him
#MeToo Brought Down 201 Powerful Men. Nearly Half of Their Replacements Are Women.