https://www.washingtontimes.com/news/2019/mar/13/al-gore-led-group-encourages-students-ditch-school/
International Youth Climate Strike scheduled for Friday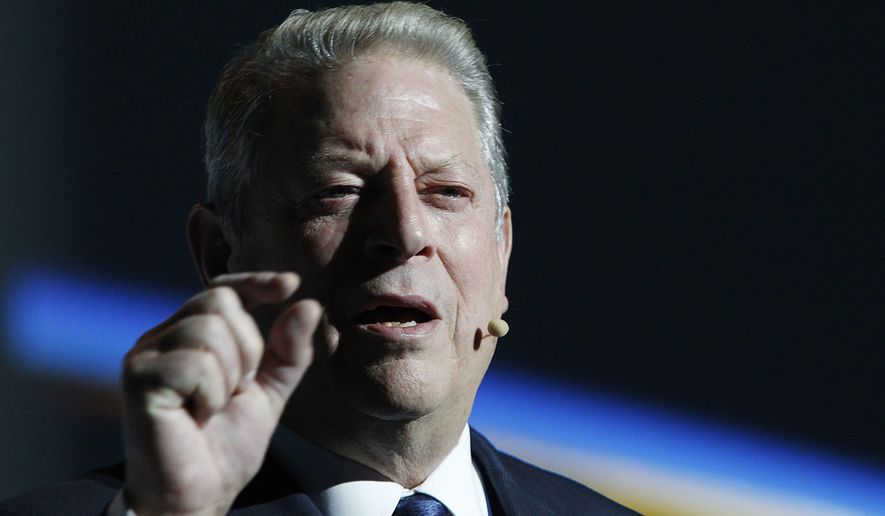 More than a dozen progressive advocacy groups, including one headed by former Vice President Al Gore, are encouraging students to skip school Friday in the name of climate change.
The Climate Reality Project, founded and chaired by Mr. Gore, has thrown its support behind the Youth Climate Strike, a one-day walk-out aimed at drumming up support for "radical legislative action," including the Green New Deal.
"They've had enough. And no wonder – it's their future on the line. So if adults aren't going to act on their own, young people will make them," said Climate Reality Project in a Tuesday statement.
Thousands of students worldwide are expected to walk out of class for the Friday protest, much as U.S. children and teens did last year for the National School Walkout on gun control, spurred by the deadly Feb. 14 shooting at Marjory Stoneman Douglas High School in Parkland, Florida.
Other advocacy groups supporting the walk-out include the Sierra Club, 350.org, Women's March Youth Empower, the Sunrise Movement, and Greenpeace.
Isra Hirsi, the 16-year-old daughter of Rep. Ilhan Omar, Minnesota Democrat, is scheduled to speak at the rally in Washington, D.C., as one of the three U.S. co-leaders. The congresswoman also plans to attend, according to Grist.
38 people are talking about this
Proud mom here! I hope other Members of Congress will join me in this strike.

We need to listen to the wisdom of our kids!

Justice Democrats

✔@justicedems

.@IlhanMN's daughter, @israhirsi: "That's what we're trying to do: Change the conversation not only about things like the Green New Deal but so much more. Obviously, one strike isn't going to change everything, but this isn't the last strike." https://grist.org/article/ilhan-omars-16-year-old-daughter-is-co-leading-the-youth-climate-strike/ …
1,136 people are talking about this
We are excited to announce our OFFICIAL partners! The amazing organizations below including orgs like @sunrisemvmt, @greenpeaceusa, @350 + many more!!

We can't stop climate change alone. We need to build a coalition
160 people are talking about this
"If the buzz online is any indication, the global School Strike for Climate is going to be huge. If nothing else, it's going to be the day when young people worldwide stand up as one and announce they're here to fight for their future," said the Climate Reality Project.
The Youth Climate Strike's platform echoes the Green New Deal, the non-binding resolution introduced last month by Democratic Rep. Alexandria Ocasio-Cortez and Sen. Edward Markey, but goes further by calling for 100 percent renewable energy, instead of "net-zero emissions," by 2030.
The group is also demanding the creation of a committee—with subpoena power—to "oversee implementation of the Green New Deal," and the declaration of a National Emergency on Climate Change.
"We are striking because if the social order is disrupted by our refusal to attend school, then the system is forced to face the climate crisis and enact change," said the platform posted online. "With our futures at stake, we call for radical legislative action to combat climate change and its countless detrimental effects on the American people."
James Taylor, senior fellow for environment and climate policy at the free-market Heartland Institute, called it ironic that climate activists would encourage students to prioritize the protest over classroom time.
"They're encouraging students to boycott and walk away from institutions of learning in order to make a point about asserted science," said Mr. Taylor. "This is precisely what they hope Americans will do when they [activists] stifle debate, when they do everything possible to obstruct a well-rounded discussion and debate on scientific topics such as global warming."