'A reputation risk': UN environment chief criticized by UN internal audit for 'extensive' frequent flying
UN environment chief Erik Solheim's huge travel bill is a 'reputation risk' and he has 'no regard' for rules, says draft internal audit
"The extensive travel patterns of [Solheim] did not set an example for the rest of the staff to follow," it said. "In 2011 … the secretary-general stated that 'What we demand of others, we must do ourselves'. Such extensive travel, therefore, presents a reputation risk to the organization, especially [given] that Unep is supposed to be the lead on sustainable environment matters."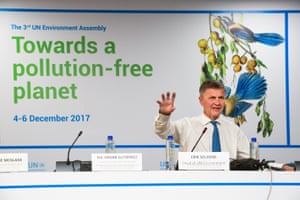 The top UN environmental chief who has championed "climate action," has come under fire by an internal UN audit which harshly criticizes the chief for his "extensive travel patterns" that "presents a reputation risk to the organization."
"Erik Solheim, executive director of UN Environment, was traveling for 529 out of the 668 days audited, spending $488,518 (£370,380)," according to UK Guardian's release of the UN draft audit report on September 21. The audit also said he had "no regard for abiding by the set regulations and rules" and claimed unjustified expenses.
Solheim, who has been awarded the UN's "Champion of the Earth" award, has warned, "If you want to understand migration, you have to address climate change." He has also said that "climate action is not a burden or a cost, but a huge opportunity."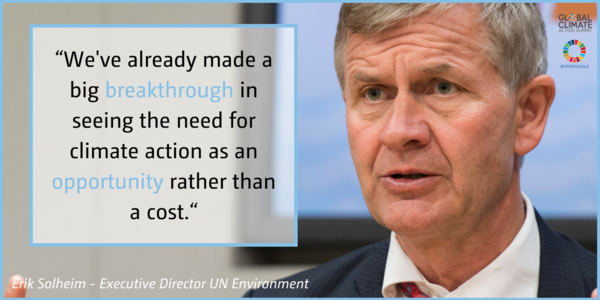 It appears the UN is now chastizing Solheim for taking this "huge opportunity" a bit too many air miles.
The UN audit continued: "The extensive travel patterns of [Solheim] did not set an example for the rest of the staff to follow," it said. "In 2011 … the secretary-general stated that 'What we demand of others, we must do ourselves'. Such extensive travel, therefore, presents a reputation risk to the organization, especially [given] that Unep is supposed to be the lead on sustainable environment matters."
According to the UK Guardian, the UN draft audit report "also said UNEPunlike several other UN or organizations did not have policies and incentives for staff to reduce their carbon emissions."
Many climate activists have come under fire for living lifestyles not in accordance with the what they claim is a man-made climate crisis. See: Arnold Schwarzenegger used private jet for daily commutes to California's governor's mansion
Update on Carbon footprints: 'Celebrities with multiple homes, cars and private jets' lecture us on 'global warming' at hurricane relief event
Flashback: Al Gore admits flying on private jets: 'I sometimes have to charter'
Eco-conscious DiCaprio won't take a private jet to his fancy gala
DiCaprio's Private Jet Junket Burned 30,000 Liters Of Fuel …Enough For 10,000 Cars An Entire Day!
Hypocrite! Leo DiCaprio takes a private jet to collect an environmental award
After arriving by private jet, DiCaprio tells Davos we must 'leave fossil fuels in the ground'
DiCaprio the 'eco-warrior' flew on a private jet from NY to LA SIX times in SIX weeks
Leo DiCaprio lectures UN on climate change (but no mention of his four homes, private jets and renting the FIFTH biggest yacht in the world from an OIL billionaire
#
UK Guardian excerpts on UN internal audit: 
https://www.theguardian.com/environment/2018/sep/21/un-environment-chief-criticised-by-un-over-frequent-flying-eric-solheim

The globe-trotting travels of the UN's environment chief have been sharply criticised in a draft internal audit as "contrary to the ethos of carbon emission reduction".

Erik Solheim, executive director of UN Environment, was travelling for 529 out of the 668 days audited, spending $488,518 (£370,380), according to the report. The audit also said he had "no regard for abiding by the set regulations and rules" and claimed unjustified expenses.

The development comes amid growing concern among some UN Environment officials, with sources claiming his "haphazard and dictatorial management style" has "already made us dysfunctional in many respects".

Solheim told the Guardian he had already paid back money for instances of oversight and made changes where other rules had been broken. He said he could not comment in detail on the audit until it was completed and published: "If any other mistakes are found, we will immediately correct them."

Responding to staff concern over his leadership of the UN Environment Programme (Unep), he said: "To secure unprecedented environmental action, we need to change, as individuals, as society, indeed as the UN. No one is immune to the difficulty that type of systemic change often brings."

The draft audit, leaked to the Guardian, was compiled by the UN Office of Internal Oversight Services (OIOS) and will be finalised after responses from the individuals named. It is particularly critical of Solheim's frequent flying, which included a weekend trip from the US to France and back.

"The extensive travel patterns of [Solheim] did not set an example for the rest of the staff to follow," it said. "In 2011 … the secretary general stated that 'What we demand of others, we must do ourselves'. Such extensive travel therefore presents a reputation risk to the organization, especially [given] that Unep is supposed to be the lead on sustainable environment matters."

It also said Unep, unlike several other UN organisations, did not have policies and incentives for staff to reduce their carbon emissions. In August, Solheim told a Norwegian aviation magazine, people should not have a "guilty conscience" about flying and said he held gold frequent flyer cards at all three major airline alliances.

"This is simply embarrassing," said Truls Gulowsen, head of Greenpeace in Norway. "Solheim has made Unep much more visible, which is a good thing, partly through travels and discussions with so many people. But this report puts him in an extremely bad light and weakens the credibility of UN's entire environmental organisation."

Solheim said: "Making good on our global agenda demands engagement with the world and indeed an expanded approach to our work. I am therefore determined to continue to focus on our mandate to create real results for real people, with real impact on the ground."

The draft OIOS audit also criticises Solheim's management style as "having no regard for abiding by the set regulations and rules, and correspondence seen showed management willingness to circumvent regulations and rules which were termed as 'bureaucratic'."