Gore at the EcoCity World Summit in Melbourne Australia on July 13, 2017
MELBOURNE, Australia — Former Vice President Al Gore sang the praises of fossil fuels during a speech to the EcoCity World Summit in Melbourne Australia on July 13th. The conference is being held from July 12-14.
"Must we change? We have had tremendous benefits from our reliance on fossil fuels. Poverty has declined, living standards have increased and we still depend on them for more than 80% of world's energy," Gore opened his talk stating. But then he again added, "Must we change?"
Gore's answer was yes — we must change and he spent the remainder of his talk on showing the alleged negative impacts of carbon dioxide's impact on the climate. Gore's talk featured bad weather stills and videos from around the world from floods to typhoons to heat waves and wild fires and blamed them on rising CO2 emissions from fossil fuels. (Climate Depot Note: Blaming extreme weather on "climate change" is not supported by evidence.)
Melting pavement and fish swimming in Miami streets were some of the images he presented to "prove" CO2 induced harm. Gore also repeated his claim that the Brexit vote in the UK was a result of climate change. (See: Climate change helped cause Brexit, says Al Gore)
Also see: Gore compares climate fight to slavery, gay rights & apartheid at Aussie summit
Climate Depot has repeatedly debunked Gore's climate claims, most recently here: Gore admits Paris pact symbolic – Makes incorrect claims about Greenland, sea levels & extreme weather on Fox News And here: Climate Depot's New 'Talking Points' Report – A-Z Debunking of Climate Claims And Here  Skeptics Deliver Consensus Busting 'State of the Climate Report' to UN Summit
Gore also touted his participation in the People's Climate March in Washington DC last April. "I never thought I would be marching on the White House. There was a time when it occurred to me," he joked. 
Gore claimed that a wind and solar energy revolution was now happening globally. But history shows that over the past 100 years, the energy mix has not changed all that much.
Climate Depot Reality Check: In 1908, fossil fuels accounted for 85% of U.S. energy consumption. In 2015, more or less the same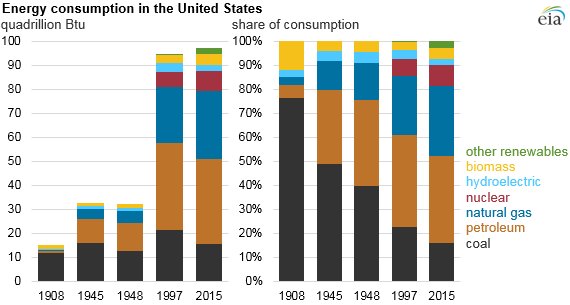 #
Related Links: 
Gore admits Paris pact symbolic – Makes incorrect claims about Greenland, sea levels & extreme weather on Fox News – Update: Gore on CNN: Al Gore: 'I Don't Have A Private Jet…I Live A Carbon-Free Lifestyle' – Gore: 'I don't have a private jet. And what carbon emissions come from my trips on Southwest Airlines are offset. I live a carbon-free lifestyle, to the maximum extent possible.'
#
The Earth's climate continues to defy Al Gore's claims. Despite what Gore claimed on Fox News today, the scientific reality show Gore is wrong.
Reality Check on Gore 2017: Greenland Ice Mass Increases To Near Record
Sea level rise in the Miami area is not accelerating and it is rising at a rate of about 1 foot per century.
Sea levels have been rising since the last ice age ended more than 10,000 years ago. There is currently no acceleration in sea level rise.
Analysis: Nearly all extreme weather is declining or at or near record lows
Al Gore Adds Brexit To The 'Stupid Things Blamed on Climate Change' List
Climate change helped cause Brexit, says Al Gore – Gore: Man-made global warming caused drought and then upheaval in Syria which led to 'flow of refugees' to UK which led to Brexit vote – Gore: The [Syrian civil ]war broke out in 2011 as people took to the streets during the Arab Spring protest movement against dictators in the Middle East. President Bashar Assad responded by sending in the troops. Mr Gore said this had produced an "incredible flow of refugees into Europe, which is creating political instability and which contributed in some ways to the desire of some in the UK to say 'whoa, we're not sure we want to be part of that anymore'". He said this kind of political instability was being felt by a number of countries around the world. "Some countries have a hard time even in the best of seasons but the additional stress this climate crisis is causing really poses the threat of some political disruption and chaos of a kind the world would find extremely difficult to deal with," Mr Gore said.
Al Gore Praises 'Climate Leader' South Australia
 – The escapades of South Australia, the world's renewable crash test dummy, regularly appears in WUWT. But for people suffering blackouts, surging electricity costs, economic hardship, and inane political excuses for their ongoing misery, South Australia's botched energy policies are no laughing matter…Instead the South Australian government persist with hideously expensive, unstable, and untested solutions, with using their people as guinea pigs to see what breaks first – the South Australian electric grid, or the South Australian people's patience with their blundering politicians…I think from Al Gore's words of endorsement we can reasonably conclude that South Australia's nightmare electrical grid problems are Gore's template for the entire world.