Gore compares climate fight to slavery, gay rights & apartheid at Aussie summit
MELBOURNE, Australia — Former Vice President Al Gore likened the battle against "global warming" to previous social causes. Gore spoke to the EcoCity World Summit in Melbourne Australia on July 13th. The conference is being held from July 12-14.
"The abolition of slavery, woman's suffrage and women's rights, the civil rights movement and the anti apartheid movement in South Africa, the movement to stop the toxic phase of nuclear arms race and more recently the gay rights movement," Gore said. "All these movements have one thing in common. they were all met with ferocious resistance," Gore said on July 13th during his talk to the conference in Melbourne. (Full Transcript of Al Gore's Speech to Australian Climate Summit)
Gore sang the praises of fossil fuels during his speech. "Must we change? We have had tremendous benefits from our reliance on fossil fuels. Poverty has declined, living standards have increased and we still depend on them for more than 80% of world's energy," Gore opened his talk stating. But then he again added, "Must we change?"
Gore's answer was yes — we must change and he spent the remainder of his talk on showing the alleged negative impacts of carbon dioxide's impact on the climate. Gore's talk featured bad weather stills and videos from around the world from floods to typhoons to heat waves and wild fires and blamed them on rising CO2 emissions from fossil fuels. (Climate Depot Note: Blaming extreme weather on "climate change" is not supported by evidence.)
Climate Depot has repeatedly debunked Gore's climate claims, most recently here: Gore admits Paris pact symbolic – Makes incorrect claims about Greenland, sea levels & extreme weather on Fox News And here: Climate Depot's New 'Talking Points' Report – A-Z Debunking of Climate Claims And Here  Skeptics Deliver Consensus Busting 'State of the Climate Report' to UN Summit
'Mother Nature was screaming'
Gore warned that "a future generation" will wonder how we could not have acted. "If they live in a world of political disruption and chaos and diseases, stronger storms and more destructive floods and worse droughts and sea level rise forcing retreat from coastal cities and political chaos, they would be justified in looking back at us and asking, 'What were you thinking? Couldn't you hear what the science was saying? What Mother Nature was screaming at you?'" Gore explained. (Watch: Morano in Australia on Sky News TV Rips Gore's Claims: 'As CO2 has risen, extreme weather has actually declined')
Gore also touted his participation in the People's Climate March in Washington DC last April. "I never thought I would be marching on the White House. There was a time when it occurred to me," he joked.
But he also noted, "We are changing rapidly no matter what the person in the White House." (Note: Warren Buffet's vice chair: Gore's 'not very smart' & 'an idiot', but became filthy rich investing in 'global warming')
Gore claimed that a wind and solar energy revolution was now happening globally. But, as Climate Depot has pointed out, history shows that over the past 100 years, the energy mix has not changed all that much.
Climate Depot Reality Check: In 1908, fossil fuels accounted for 85% of U.S. energy consumption. In 2015, more or less the same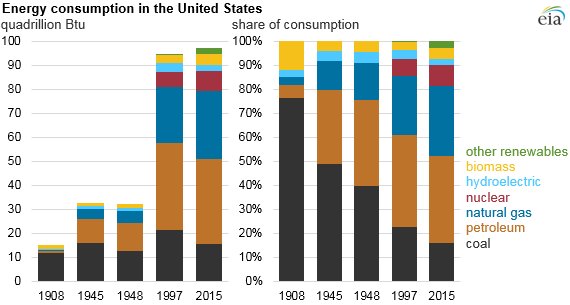 Other speakers at the summit tied climate "solutions" to social causes.  Climate activists admitted that  "Carbon Neutral" goals were being used to achieve "gender & social equity."
Johanna Partin spoke about the CNCA or Carbon Neutral Cities Alliance. In her talk, she clearly stated a key "mission" of going "carbon neutral" was to "increase gender and social equity."
Partin joins many other climate activists who are using the man-made global warming scare to advance other agendas that have nothing to do with climate.
Author Naomi Klein, author of the new book "This Changes Everything: Capitalism vs. The Climate", admitted during the 2014 People's Climate March in New York City activists would be caling for the same "solutions" even if there was no climate "crisis." She was asked, "Even if climate change issue did not exist, you would be calling for same structural changes?" Klein responded:  'Yeah.'
Following the panel, Climate Depot asked Klein if she would support all the same climate "solutions" even if the science was wrong.
"Yes, I would still be for social justice even if there was not climate change. Yes, you caught me Marc," Klein answered sarcastically as she abruptly ended the interview. [Also see: EU Commissioner: Global Warming Policy Is Right Even If Science Is Wrong ] Klein told the activists she recommended "weaving this [climate] movement into all of our movements." (Also See: Warmist Naomi Klein: 'Capitalism is irreconcilable with a livable climate' – Facing climate change head-on means changing capitalism &  See: Warmist Naomi Klein: 'Dealing with the climate crisis will require a completely different economic system'
Background:
University of Pennsylvania Geologist Dr. Robert Giegengack noted in 2014, "None of the strategies that have been offered by the U.S. government or by the EPA or by anybody else has the remotest chance of altering climate if in fact climate is controlled by carbon dioxide."
In layman's terms: All of the so-called 'solutions' to global warming are purely symbolic when it comes to climate. So, even if we actually faced a climate catastrophe and we had to rely on a UN climate agreement, we would all be doomed!
The United Nations has publicly stated its goal is not to 'solve' climate change, but to seek to redistribute wealth and expand its authority through more central planning. UN official Ottmar Edenhofer, co-chair of the IPCC Working Group III, admitted what's behind the climate issue: "One must say clearly that we redistribute de facto the world's wealth by climate policy … One has to free oneself from the illusion that international climate policy is environmental policy. This has almost nothing to do with environmental policy anymore."
EU climate commissioner Connie Hedegaard revealed: Global Warming Policy Is Right Even If Science Is Wrong. Hedegaard said in 2013, "Let's say that science, some decades from now, said 'we were wrong, it was not about climate,' would it not in any case have been good to do many of things you have to do in order to combat climate change?"
The UN is seeking central planning. UN climate chief Christiana Figueres declared in 2012 that she is seeking a "centralized transformation" that is "going to make the life of everyone on the planet very different." She added: "This is a centralized transformation that is taking place because governments have decided that they need to listen to science."
The UN and EPA regulations are pure climate symbolism in exchange for a more centrally planned energy economy. The UN and EPA regulations are simply a vehicle to put politicians and bureaucrats in charge of our energy economy and 'save' us from bad weather and 'climate change.'
Related Links: 
Flashback 2007: Former Czech Pres. Vaclav Klaus: 'As someone who lived under communism for most of his life, I feel obliged to say that I see the biggest threat to freedom, democracy, the market economy and prosperity now in ambitious environmentalism'