EVs are a financial car wreck:

Taxpayers subsidize EV charging at a rate equivalent to $17.33 per gallon of gasoline. https://t.co/4M8wcLNr3l pic.twitter.com/F0taCGBaIf

— Steve Milloy (@JunkScience) October 26, 2023
Full Report here:
Click to access 2023-10-TrueCostofEVs-BennettIsaac.pdf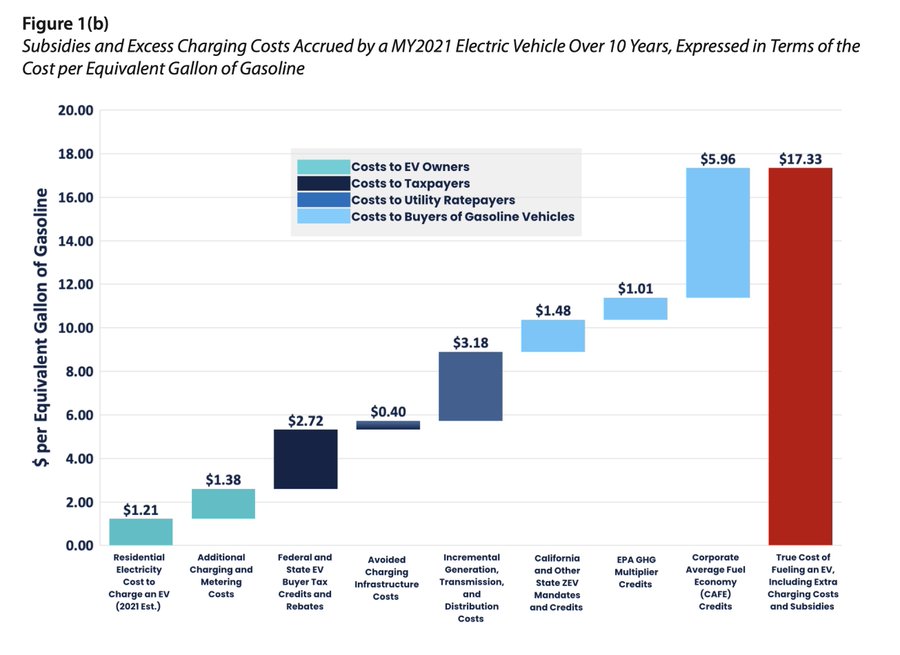 First-of-kind analysis reveals true cost of owning, operating EVs without govt. subsidies
A study by a conservative think tank has determined that electric vehicles would cost oodles more if it weren't for all the subsidies.
The study from the Texas Public Policy Foundation (TPPF) found, for example, that the average 2021 electric vehicle "would cost $48,698 more to own over a 10-year period without $22 billion in government favors given to EV manufacturers and owners."
"EV advocates claim that the cost of electricity for EV owners is equal to $1.21 per gallon of gasoline (Edison Electric Institute, 2021), but the cost of charging equipment and charging losses, averaged out over 10 years and 120,000 miles, is $1.38 per gallon equivalent on top of that. Adding the costs of the subsidies to the true cost of fueling an EV would equate to an EV owner paying $17.33 per gallon of gasoline," the report reads.