"The era of global warming has ended, the era of global boiling has arrived."

🤥🤥🤥🤥🤥🤥🤥🤥🤥

— Rita Panahi (@RitaPanahi) July 28, 2023
It's Official! Climate PSYOP replaces COVID PSYOP https://t.co/PTLFPgTM1i

— Marc Morano (@ClimateDepot) July 29, 2023
https://www.theblaze.com/news/un-antonio-guterres-global-boiling
United Nations Secretary-General António Guterres promoted the climate alarmism agenda during remarks on Thursday, even using the term "global boiling" during his
speech
.
"Climate change is here. It is terrifying. And it is just the beginning," he warned. "The era of global warming has ended," he asserted. "The era of global boiling has arrived. The air is unbreathable. The heat is unbearable. And the level of fossil fuel profits and climate inaction is unacceptable," he declared.
For instance, former Secretary of State Hillary Clinton, the Democratic candidate who lost the 2016 presidential contest to Republican Donald Trump, recently raised eyebrows by claiming that Republicans are to blame for high temperatures.
"Hot enough for you? Thank a MAGA Republican. Or better yet, vote them out of office," Clinton wrote.
She made the absurd accusation when retweeting a post in which the Center for American Progress Action Fund had claimed "MAGA Republicans are pouring fuel on the climate crisis fire."
President Joe Biden, who is also a purveyor of the climate alarmist agenda, has called climate change "the existential threat to humanity."
BlazeTV host Glenn Beck has pointed out that there is a history of climate alarmism. "In fact, the only constant over the last hundred years of climate fear-mongering," Beck said, is that "the experts insist that unless we do what they say right now, the world will end."
#
No, the Earth Did Not have an 'Unprecedented and Terrifying … All-Time High Temperature' on July 4th – Not the hottest in 100,000 years – NOAA & AP back away from claim
Meteorologist Anthony Watts: On July 3rd and 4th and the following days, multiple mainstream media outlets ran stories claiming that the Earth had experienced an unprecedented hot day(s). This is false. The data they cited was not official data, but from a private website and investigation shows the claim was a gross error.
Forbes: July 4 Was Earth's Hottest Day In Over 100000 Years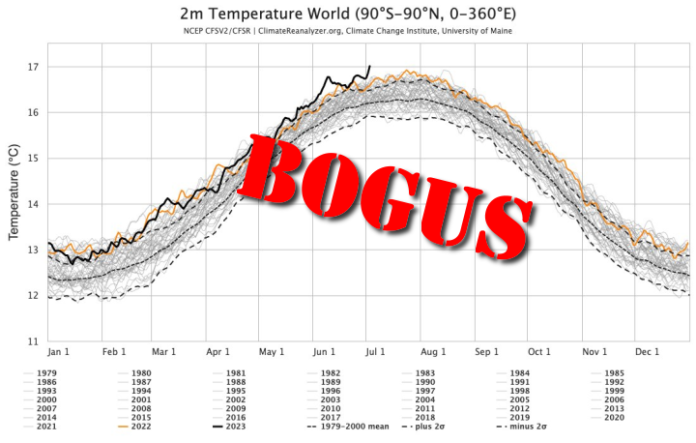 Apparently, all those people missed the fact that they were looking at the output of a climate model, not actually measured temperatures. Only one news outlet, The Associated Press, bothered to print a sensible caveat…The National Oceanic and Atmospheric Administration distanced itself from the designation, compiled by the University of Maine's Climate Reanalyzer, which uses satellite data and computer simulations to measure the world's condition….
The AP updated its story on July 7th to include this single yet very important paragraph: "NOAA, whose figures are considered the gold standard in climate data, said in a statement Thursday that it cannot validate the unofficial numbers. It noted that the reanalyzer uses model output data, which it called 'not suitable' as substitutes for actual temperatures and climate records. The agency monitors global temperatures and records on a monthly and an annual basis, not daily."
So, in the space of two days, we went from temperature data that was "[t]otally unprecedented and terrifying," to temperature data that was not suitable for purpose.