https://torontosun.com/entertainment/celebrity/eco-warrior-leonardo-dicaprio-takes-helicopter-from-yacht-to-dinner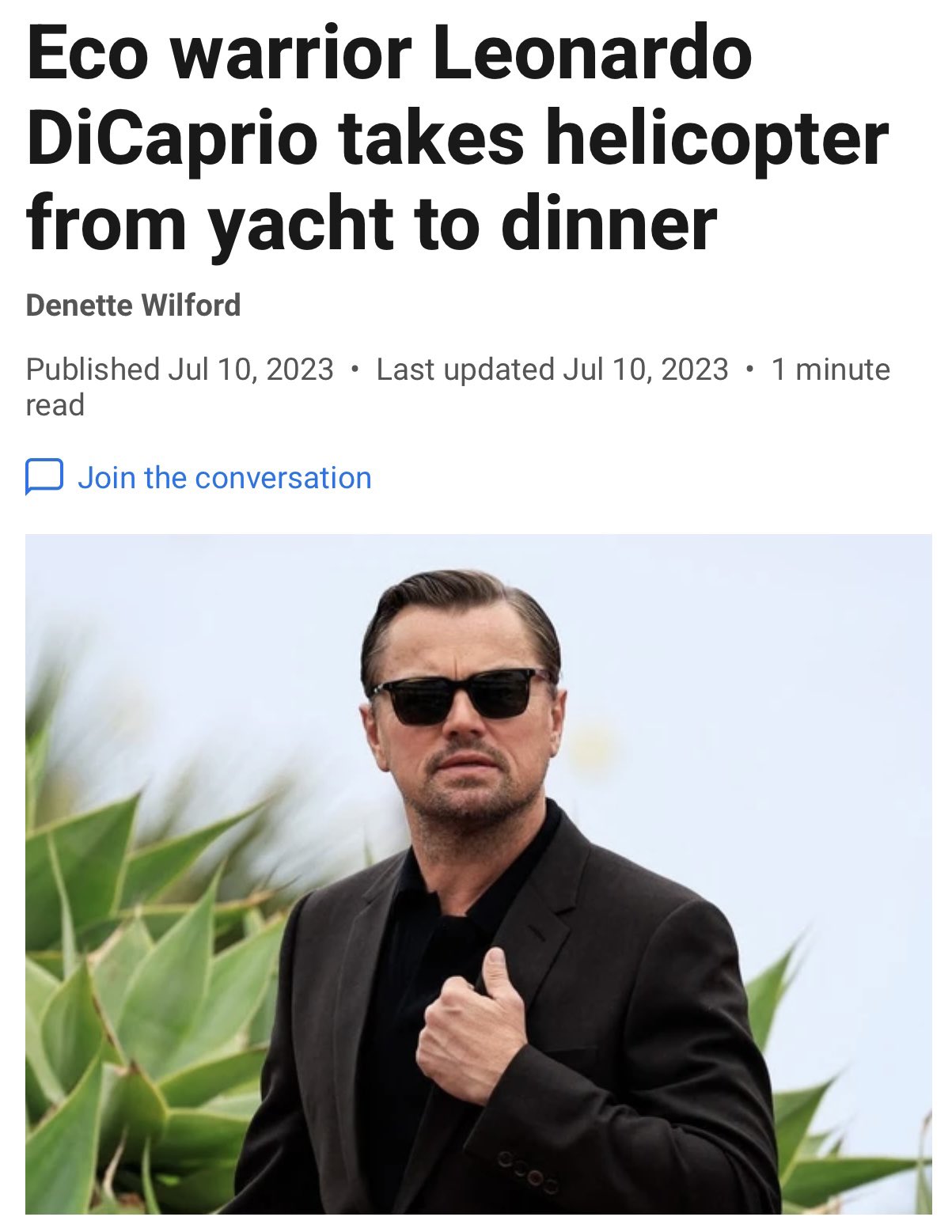 Leonardo DiCaprio goes on and on about his environmental activism but he's not above taking a helicopter from his yacht to land.
Go on Leo's social media feeds and while he is famous for not detailing his private life, he isn't lacking passion — albeit, about the environment and climate action.
But the Oscar winner doesn't always back up his beliefs.
The actor-activist is reportedly in Italy — more specifically, the waters near the Italian shore – where he is vacationing on his yacht, as celebrities do, according to German newspaper Bild.
For visits to the countryside, whether it be lunch or dinner or a nightclub, DiCaprio reportedly hops on a helicopter while aboard his luxury liner and heads to land — and back, of course.
La dolce vita at the expense of the environment? What would fellow celebrity climate activist Greta Thunberg say?
DiCaprio's shore excursions are short and anything but green, making his speeches about reducing carbon emissions all the more sanctimonious.
While it could be argued that the actor wasn't going to swim to shore, there are more environmentally friendly ways to travel, particularly for someone who preaches about stopping climate change and building a sustainable economic future.
In 2016, during the Cannes Film Festival, DiCaprio reportedly left the French Riviera by private jet for a brief trip to New York City — to accept an environmental award, the New York Post reported at the time.
He hopped back on another private jet the following day to attend a gala in Antibes, France — a reported 12.8 kilometres from the film fest — and nearly 13,000 kilometres of air travel in two days.