I've missed the old ritual headlines reporting SUVs doing so many awful things. Will we get headlines about how electric vehicles destroyed parking garage after parking garage or…will those just collapse pic.twitter.com/te0jOrNtu3

— Chris Horner (@Chris_C_Horner) January 10, 2023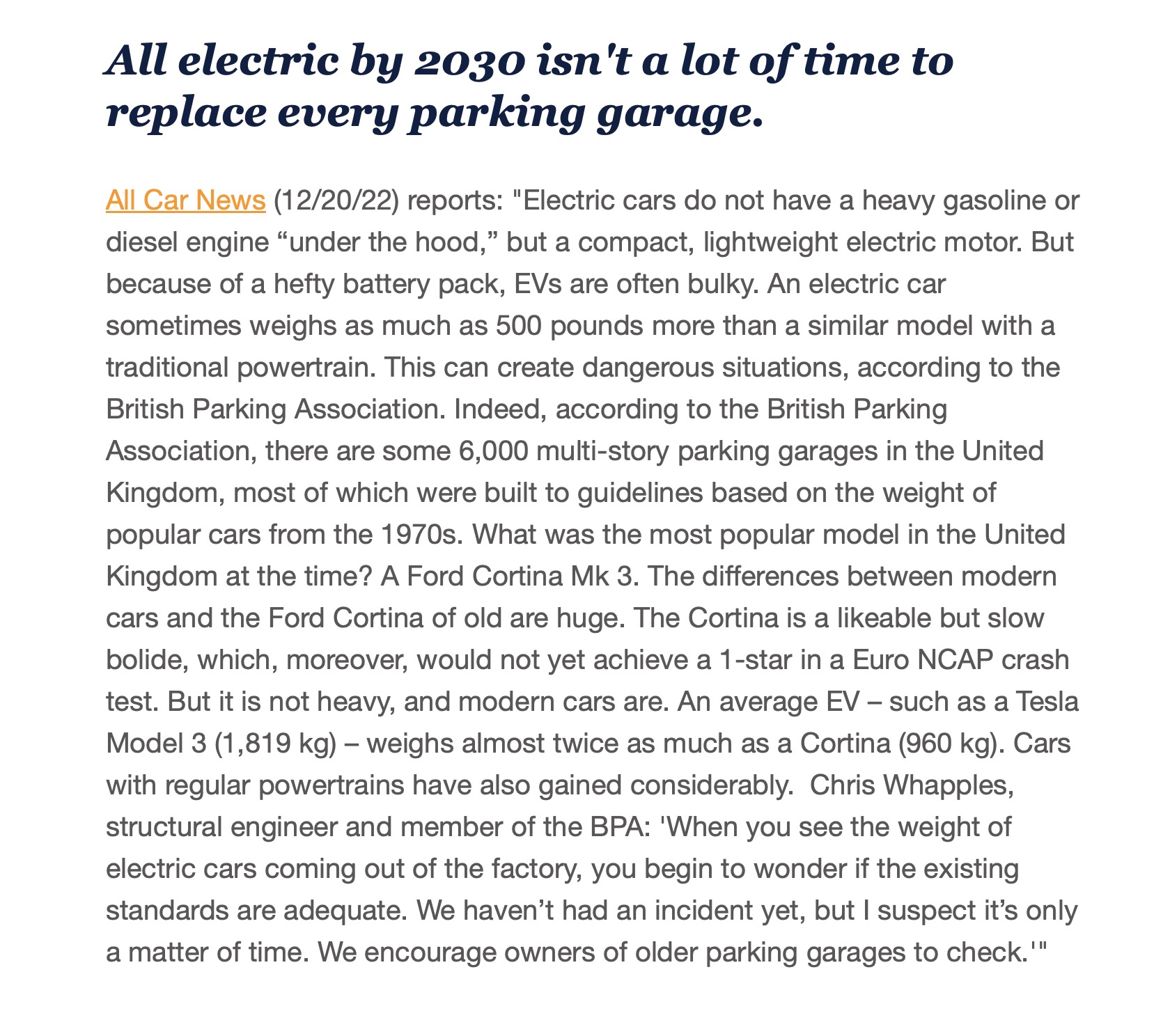 https://all-car-news.com/en/british-parking-association-weight-of-electric-cars-causes-collapse-of-parking-garages/
Dangerous situations
Electric cars do not have a heavy gasoline or diesel engine "under the hood," but a compact, lightweight electric motor. But because of a hefty battery pack, EVs are often bulky. An electric car sometimes weighs as much as 500 pounds more than a similar model with a traditional powertrain. This can create dangerous situations, according to the British Parking Association.
Indeed, according to the British Parking Association, there are some 6,000 multi-story parking garages in the United Kingdom, most of which were built to guidelines based on the weight of popular cars from the 1970s. What was the most popular model in the United Kingdom at the time? A Ford Cortina Mk 3.
Electric cars heavy
The differences between modern cars and the Ford Cortina of old are huge. The Cortina is a likeable but slow bolide, which, moreover, would not yet achieve a 1-star in a Euro NCAP crash test. But it is not heavy, and modern cars are. An average EV – such as a Tesla Model 3 (1,819 kg) – weighs almost twice as much as a Cortina (960 kg). Cars with regular powertrains have also gained considerably. A new Volkswagen Golf easily weighs 1,400 kilograms. Moreover, more and more people are opting for a large, heavy SUV. So it's not just electric cars that the BPA should be concerned about.
Chris Whapples, structural engineer and member of the BPA: "When you see the weight of electric cars coming out of the factory, you begin to wonder if the existing standards are adequate. We haven't had an incident yet, but I suspect it's only a matter of time. We encourage owners of older parking garages to check."