https://www.aspendailynews.com/news/skico-launches-climate-change-awareness-campaign-with-nonprofit-pow/article_9e0a818c-5d49-11ec-a0a6-27f5b7a3310a.html
Aspen Daily News Staff Report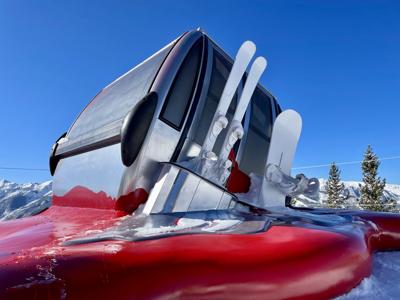 Visitors exiting the Silver Queen Gondola atop Aspen Mountain this winter will see a "melting gondola car" resting on a platform, overlooking Hayden Peak and the Elk Range.
A symbol of a warming planet, the new art installation launches the Aspen Skiing Co.'s new climate action campaign, in partnership with the nonprofit Protect Our Winters. The campaign is designed to mobilize outdoor enthusiasts in the fight against climate change, according to a news release.
Since Aspen-Snowmass first opened in the winter of 1946-47, the region's average temperature has warmed by three degrees Fahrenheit. In total, Aspen's ski areas have lost 30 days of winter since 1980 alone, the release says.
As part of Aspen's 75th anniversary this season, the "melted gondola car" has been installed as a push for people to think about the next 75 years and to draw attention to the urgent need to aggressively address climate change.
SkiCo has partnered on the campaign with Protect Our Winters — a community of athletes, scientists, business leaders advancing nonpartisan climate policies and others — and is asking visitors to bring #PowertoPOW through memberships and donations.
"We need a movement to create large-scale policy change on climate. POW is that movement, mobilizing the outdoor industry as a political force," Auden Schendler, SkiCo senior vice president of sustainability, said in a prepared statement.
"The ski and outdoor industry are enthusiastic, but have not historically wielded large amounts of power the way other industries like oil and gas or big pharma often do. We want to help bring that power to the fight against climate change," Schendler said.
The campaign also is geared toward empowering individuals as agents of large-scale change. Becoming a member of Protect Our Winters will provide people with information and steps to take meaningful action, the release states.
"The best way to be a part of the fix is to think systemically," Schendler continued. "Sure, that's voting, but it's also writing senators, it's pressuring your favorite businesses to use their voice and influence in Washington; it's getting into local politics and getting your town to implement fixes like code changes, electrification and clean energy standards. Joining Protect Our Winters will give you all kinds of action steps."
The melted gondola installation was fabricated entirely in Aspen's Roaring Fork Valley by artist Chris Erikson. The piece was inspired by James Dive and The Glue Society's "Hot with the Chance of a Late Storm," a potent message in sculptural form about our quickly warming world.
"We wanted to create a statement piece that represents not just our resort, but our whole industry," said Mark Carolan, creative director for SkiCo, in the release. "With it, we are encouraging dialogue, support and most importantly — through our close connection with POW — strong action."
Visitors to Aspen-Snowmass will be encouraged to visit the display throughout the season and to post pictures of the installation using the hashtag #PowertoPOW. The company plans to continue building on the campaign and its partnership with POW throughout the 2021-22 season, generating further opportunities for people to engage in the war against climate change.