Obama's EPA chief McCarthy insanely suggests that we can "see and feel and taste" CO2-induced climate change:

"They have really done everything humanly possible to try to convince people that what they see and feel and taste just isn't happening in front of them." https://t.co/ZOvtE3b7w8

— Tom Nelson (@tan123) October 18, 2020
BBC: Why the US election could decide battle against climate change – October 18, 2020
Excerpt:
Critics say the rollbacks on environmental regulations are part of an agenda to remove any reference to climate change across the federal government.
"The Trump administration has done everything they can to deny the science and denigrate scientists," says Gina McCarthy, the former head of the Environmental Protection Agency (EPA) and now the president of the National Resources Defence Council.
"They have really done everything humanly possible to try to convince people that what they see and feel and taste just isn't happening in front of them."
…
Scientists studying climate change say that the re-election of Donald Trump could make it "impossible" to keep global temperatures in check.
They're worried another four years of Trump would "lock in" the use of fossil fuels for decades to come – securing and enhancing the infrastructure for oil and gas production rather than phasing them out as environmentalists want.
Joe Biden's climate plan, the scientists argue, would give the world a fighting chance.
In addition to withdrawing from the Paris climate agreement – the international pact designed to avoid dangerous warming of the Earth – President Trump's team has worked hard to remove what they see as obstacles to efficient energy production.
#
Related links: 
Former EPA Chief Denies War On Coal While Sitting In Front Of A 'Coal Sucks' Poster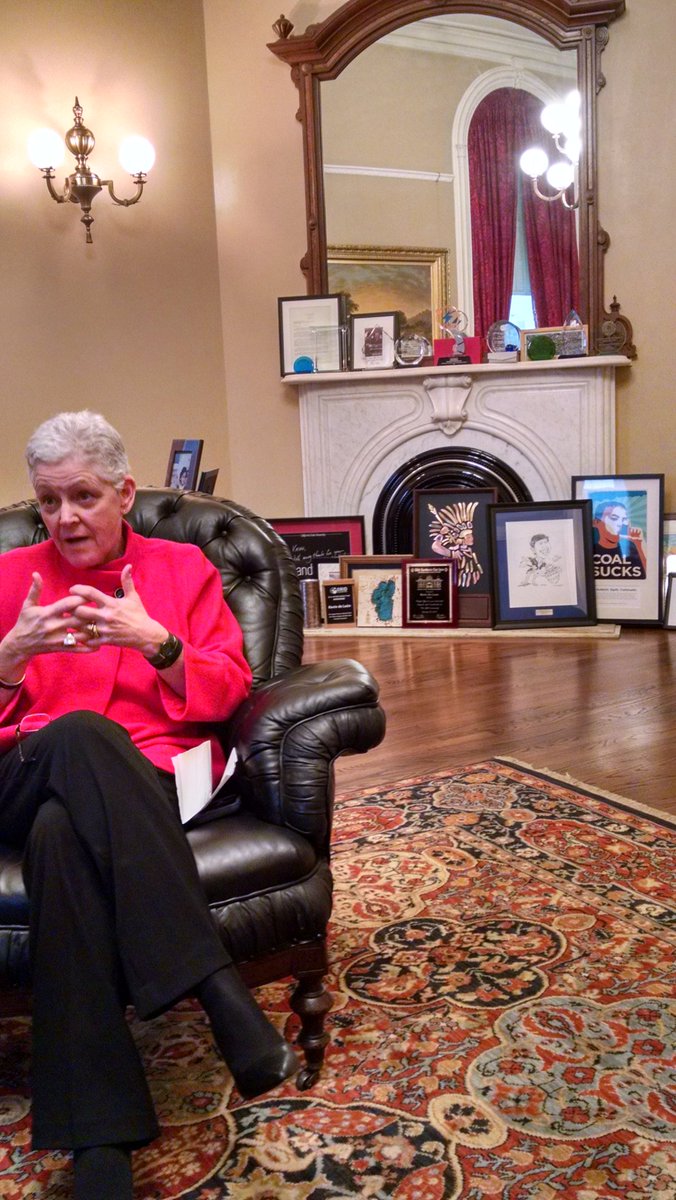 Escape & Evade: EPA's McCarthy refuses to quantify climate impact of Paris climate agreement
EPA Chief McCarthy blames Boston's 'worst winter ever' on global warming – Suggests EPA regs will prevent future massive snowfalls
'We have to get busy on climate change because if it gets any worse our cars will be buried for months on end, and our subway system will never work…'
Nine Experts Slam EPA Administrator Gina McCarthy's 'Clean Power Plan' Speech
Flashback Feb. 2011: EPA Air Chief Gina McCarthy Is CO2 'Clueless': 'Shouldn't she know how much CO2 is in the air?'
McCarthy: 'Well actually I don't have that figure.' Analysis: 'You don't have what? Please tell me this is a joke! The chief of the EPA's air programs and greenhouse gas regulations doesn't know how much carbon dioxide is in the air?'
EPA's Gina McCarthy: Global Warming 'affects everything and everyone we know and love. It affects our kids' – 'Don't Debate Climate Change Any Longer'
Watch: EPA Chief McCarthy: Unless you want to debate cigarettes & cancer, 'don't debate about climate change'
EPA Chief Gina McCarthy: 'Scientists are as sure that humans are causing climate change as they are that cigarette smoke causes lung cancer. So unless you want to debate that point, don't debate about climate change any longer.'
EPA Chief Admits Obama Regs Have No Measurable Climate Impact: 'One one-hundredth of a degree?' EPA Chief McCarthy defends regs as 'enormously beneficial' – Symbolic impact
Watch Obama EPA chief Gina McCarthy Testify to Congress: 'The value of this rule is not measured in that way. (Temperature impact) It is measured in showing strong domestic action which can actually trigger global action to address what's a necessary action to protect…I'm not disagreeing that this action in and of itself will not make all the difference we need to address climate action, but what I'm saying is that if we don't take action domestically we will never get started and we'll never…'
Flashback 2009: Former EPA Administrator Lisa Jackson: "U.S. action alone will not impact world CO2 levels.")
EPA Head Gina McCarthy is Simply NOT NORMAL!
Flashback: EPA's McCarthy on global warming 'pause': 'short lived' and 'doesn't represent climate'
The Daily Caller's Michael Bastach asks EPA Administrator Gina McCarthy about the 'hiatus in global warming for the last 15 to 18 years.' – Christian Science Monitor Breakfast – November 17, 2014
MCCARTHY: "I don't want to take a lot of time on that. That is a short lived issue that doesn't represent climate…"
EPA Chief Gina McCarthy at 'Environmental Justice' Rally Tells Rappers: 'We Need You' in climate fight
Gina McCarthy speaks at Broccoli festival in between rap performances
Rap lyrics at festival included: 'Looking at that white girl, trying to get that white money'
EPA Chief Gina McCarthy Can't Answer Jeff Sessions' Climate Questions
Obama names anti-coal, global warming advocate Gina McCarthy to head EPA
'You will hear a lot about how she worked for Mitt Romney so she's bi-partisan. Baloney. In those days, before the flip flops, Romney was one of the most liberal Republicans in the country and subscribed wholeheartedly to the global warming theory' — 'She has already been a central player in developing greenhouse-gas rules proposed last year that would effectively rule out new coal-fired power plants using existing commercially viable technology'