https://twitter.com/WEschenbach/status/1291433465913593857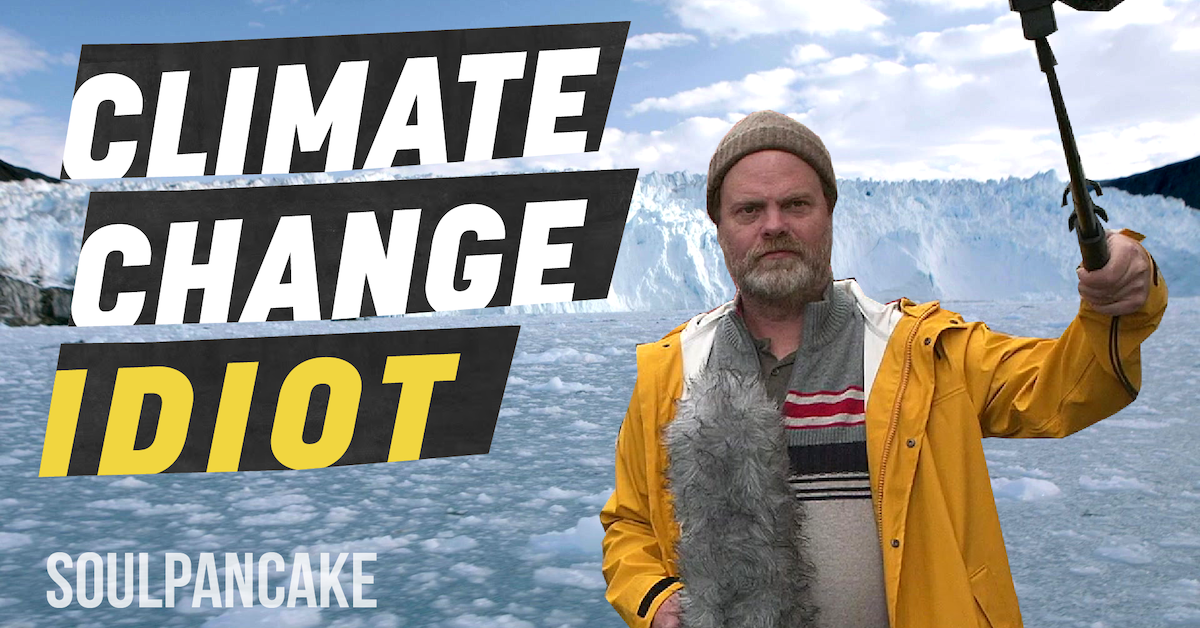 https://www.greenmatters.com/p/rainn-wilson-idiots-guide-climate-change
BY SOPHIE HIRSH
On The Office, Rainn Wilson's Dwight Schrute lets out his rage about the climate crisis with the alter ego Recyclops… who eventually renounces Earth Day, vows to destroy the planet, and trashes the Dunder Mifflin office. So it's safe to say that Dwight has a thing or two to learn about saving the planet — and so does Wilson. (And he's the first to admit it.)
Before the coronavirus pandemic struck, Wilson set out on an international journey through Greenland and Iceland (which he admits racked up a regrettably large carbon footprint, that he'll be offsetting) to learn about the climate crisis and how to be an activist. Wilson documented his travels for a new six-part docuseries called An Idiot's Guide to Climate Change, produced by his content studio SoulPancake. The series shows Wilson's transition from "an every-day, well-intentioned, but uninformed, liberal to strident climate activist" according to press materials sent to Green Matters.
"My trip to Greenland and Iceland was amazing," Wilson tells Green Matters exclusively via email. "I saw my first glacier and talked to more nerdy scientists than I ever have in my life. But I also left my trip feeling terribly concerned. My conversation with Greta Thunberg put things in perspective for me: I need to take action and use my platform to encourage people to learn more about the climate crisis and vote for platforms that support the science, so that's what I'm doing."
As pretty much any show with Rainn Wilson is guaranteed to do, An Idiot's Guide to Climate Change will certainly make viewers laugh — but it also aims to teach viewers what they can do to protect the planet and fight the climate crisis.
In each episode, Wilson sits down with a different climate activist or scientist to learn more about their area of expertise. His most high-profile meeting is with Greta Thunberg, who teases him by holding up a Get Smart DVD and asking for Steve Carell's autograph.