https://www.theguardian.com/environment/live/2019/mar/15/climate-strikes-2019-live-latest-climate-change-global-warming
Pictured below are students protesting outside Democratic House Speaker Nancy Pelosi's office in San Francisco, California. Both Pelosi and her fellow Democratic lawmaker, US Senator Diane Feinstein, have been criticized by climate change protesters.
Angelika S is a 14-year-old activist from Oakland, California. She shared with the Guardian why these protests are important to her.
When I learned about climate change through the internet, it terrified me. This made me feel helpless and hopeless. This fear was kept in the back of my head until I was introduced to Warriors for Justice, a student-led club and No Coal in Oakland, which was a campaign opposing to a developer named Phil Tagami who's building a coal terminal in West Oakland. This brought me relief because I was working for a cause and trying my best to create a change.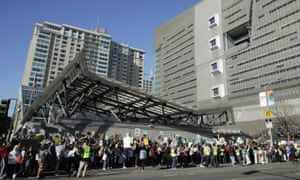 But this was the start of our battle. Climate change is real. Have you seen it snow in Hawaii and Los Angeles, places that are known to be hot? It's so abnormal! Have you seen the wildfires from last year? We had to wear to wear masks to even step foot outside of our home because on how toxic the air was. This is the reality we're living in.

Imagine the future for you, for me, the youth, your kids, your grandkids, and the animals roaming now. What will happen to all of them? Will they live up to the age of 30, without wearing a mask to go outside?

This is why we need to fight together, it's not but for the youth but for our home, earth. This strike is to help stop climate change from turning into something disastrous – it's not too late turn back. We're asking for renewable energy and to stop using fossil fuels for daily needs. We must cooperate to save this earth, to have a future.
US Democratic presidential candidate and Senator from New York Kirsten Gillibrand "happened across" the local Youth Climate March while she was in Portsmouth, New Hampshire this morning.
"Why not – as Americans today – say we are going to have a green economy in the next 10 years? Not because it's easy, but because it's hard, as a measure of who we are, how great we are, our innovation, our excellence, our extraordinary ability to solve big problems. Why wouldn't you try?

For those who say you can't possible get to net zero emissions in 10 years, well you know what – John F Kennedy didn't know he could put a man on the moon, but he tried.

So why wouldn't you try!"
Just wanted to take a moment to share reader contributions we've received from all over the world.
Students in South East Junior High School in Iowa City, Iowa – in America's corn belt – are protesting because "more than 60% of the energy for our school buildings is generated from coal-fired plants." They called on school leaders to request bids for solar projects at their schools.
Physicians for Social Responsibility in Boston tweeted they are "In solidarity!" with the student climate strikers.
Twitter user Jenny Farmer in Jinja, Uganda sent us this great video of kids protesting there.