https://www.bloomberg.com/news/articles/2019-02-25/europe-s-populist-right-threatens-to-erode-climate-consensus
Europe's Populist Right Threatens to Erode Climate Consensus
By William Wilkes
February 25, 2019, 6:01 PM EST Updated on February 26, 2019, 2:23 AM EST
European Parliament majority for green laws shrinking: study
Germany's AfD, Britain's UKIP most explicit warming doubters
Europe's consensus in favor of curbing greenhouse gas emissions is weakening due to rising support for right-wing populists, many of whom cast doubt over whether people bear the responsibility for climate change.
Those were the conclusions of environmental-policy researchers at Adelphi, who found that 21 right-wing populist parties across Europe either overtly deny or cast doubt on scientific agreement that human activity is behind global warming. The analysis, published Tuesday by the Berlin-based policy researcher, underscores the challenge climate advocates face entering European Union elections in May, which could challenge the durability of the bloc's goals amid broad social and economic uncertainty.
"Most of the narratives used to counter climate and energy policies are fundamentally rooted in economic or social justice grievances," according to the report's authors Stella Schaller and Alexander Carius. "Climate action is perceived as an elitist issue."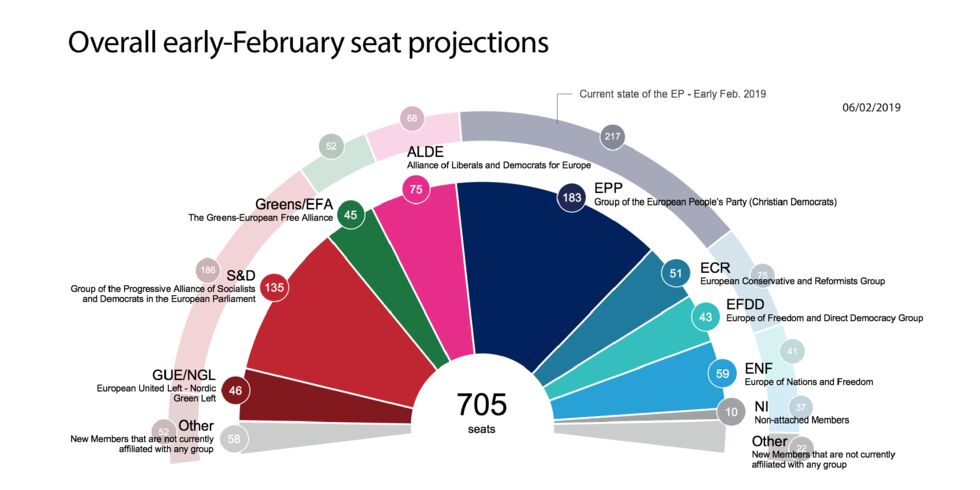 Support for right-wing populists looks set to surge in May's European elections, with parties like Italy's Northern League and Poland's Law and Justice likely to gain seats at the expense of established parties. As the majority of right-wing populists line up against EU climate and energy proposals, political barriers against climate policies will likely grow, the report found.
The European Parliament has a key role in shaping climate rules in the EU. Together with member states, it has the power to approve or reject legislation proposed by the European Commission. The final composition of EU laws is negotiated between those three institutions.
The researchers wrote that the populist wave poses "the danger that centrist parties will pander to climate-skeptic priorities or nationalist rhetoric, and shift from progressive to reactionary positions."
There are already signs that the right-wing wave has blunted attempts to introduce environmentally-friendly policies, with Germany's coal commission delaying the country's exit from burning the dirtiest fossil fuel. That's in part due to concerns about job losses in the Lausitz region of Saxony, where the AfD is catching up to more established parties ahead of September elections.
The AfD in its 2017 federal election program wrote that carbon dioxide "is not a pollutant, but an indispensable component of all life," adding that "the International Panel on Climate Change and the German government are suppressing the positive effects of CO2 on plant growth and thus global nutrition."
The researchers found the AfD and the United Kingdom Independence Party were the most active in objecting to environment legislation, with climate change denial "a key feature" of both parties' profiles. Only two right-wing parties explicitly support the consensus on climate change — Hungary's Fidesz and the extreme-right Latvian National Alliance.